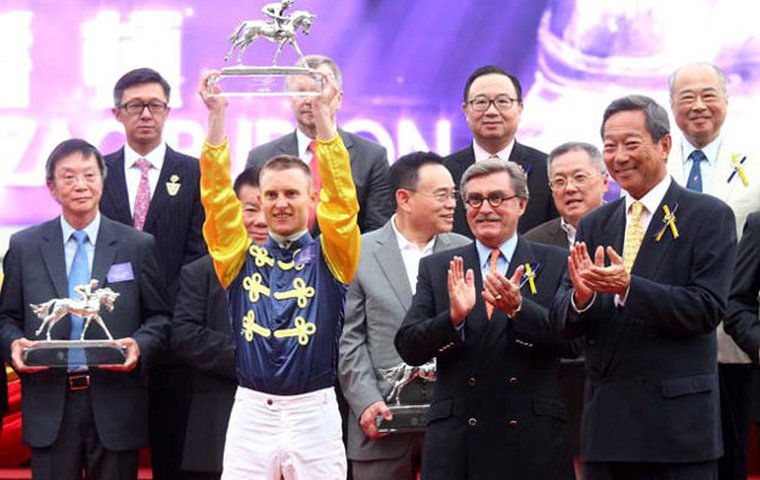 The 2013-14 Hong Kong racing season saw Australian rider Zac Purton break South African Douglas Whyte's stranglehold as the leading rider in the former British Colony, joining the late Noel Barker and Gary Moore as the only Aussies to achieve the feat.


Douglas Whyte had dominated the riding ranks in Hong Kong for the last 13 years setting the benchmark for other riders to follow, but in reaching those benchmarks Whyte has enjoyed considerable support from leading stables, whereas Purton surged to the top without anything like that support.
It is no secret there is considerable rivalry between the two outstanding riders but the effort by Purton to win the Jockey's Premiership this season was nothing short of amazing and clearly underlines his steely resolve to follow a carefully designed and brilliantly executed strategy.
Purton has been in the top echelon of riders in Hong Kong for the last few seasons finishing second 13 wins behind Whyte last year, with many believing he would have made the contest interesting had his season not been cut short due to illness.
This season Purton signalled his intentions early, reaching 50 winners faster than anyone else in history but as the season rolled on, the riding ranks in Hong Kong were bolstered by some of the world's best including Singapore's champion rider João Moreira, Australia's Tommy Berry, Mauritian Karis Teetan, and another Aussie in Hugh Bowman, arguably making competition for rides that much harder, but also making winning each race even tougher.
One might even argue Purton won the title against a group of riders, the quality of which has never been seen in Hong Kong previously.
Against this background, Purton remained unperturbed and confident in his own ability to deliver the outcome around the strategy he embarked upon from season's beginning.
While Purton just failed to equal Whyte's all time record winning season tally of 114 winners, falling just two short in the end, to even get close to this mark was indeed quite remarkable when considering the underlying statistics.
A break up of Purton's season's statistics reveal some interesting trends.
Purton seldom rode for the major stables in 2013-2014, John Size (no rides), John Moore (17 rides), Y S Tsui (23 rides), and Tony Cruz (7 rides) providing just 7.3 percent of his mounts for the season and nine of his 112 winners.
That said with a winning strike rate of 8 percent, Purton still out performed as a percentage of his rides for that group.
So where did Purton's winners come from?
Leading trainer Casper Fownes (62 wins) who defeated John Size (also 62 wins) on a count back was a supporter of Purton but even so Fownes' runners only accounted for 23.3 percent of Purton's mounts that delivered him 21.4 percent winners of his 112 season tally, which is significant in itself as the other major stable of Size did not contribute to Purton's success at all.
In fact Fownes was the only trainer in the top five on the Trainers Premiership that appears amongst Purton's top five most supportive trainers, three of those ranking 10th or higher in the final Trainers Premiership (C H Yip (10th), P O'Sullivan (17th) and Manfred Man (14th). The other two trainers were T P Yung (9th) and W Y So (6th).
Purton rode just 33 of his 112 tally for the five leading trainers on the premiership, the remainder of his winners coming from 18 individual trainers with nine of them providing five winners or more furthering illustrating the depth of support Purton received from other than the five major stables.
Purton's top five supporting stables provided him with 76 winners (67.8 percent) made up of Fownes (24), Yip (14), Yung (12), OSullivan (10), So and Man (8 each).
The average odds of Purton's winning rides was AUD$4.8 but his favourite statistics are even more impressive accounting for 23.4 percent of his mounts but winning 34 percent of the races.
By comparison runner-up in the Jockeys Premiership João Moreira (average winning odds AUD$4.2) rode 32.4 percent of his mounts as favourites for a 32 percent winning strike rate while Whyte (AUD$4.4) was 24.5 percent for a 25 percent winning strike rate.
Essentially this means that Purton exceeded market expectations to win the title when compared to his two major rivals both of whom rode horses that were deemed superior chances in the betting market.
As the market roughly aligns with the better quality horses in each race, a quantitative analysis of horse ability should confirm the market finding, that is, Purton was riding inferior chances compared to Moreira and Whyte.
Examining the horses ability that Purton, Moreira, and Whyte rode using Timeform ratings reveals the median Timeform rating of all Purton's mounts was 69.5 compared to Moreira 71.2 and Whyte 70.2 while the median Timeform values for winners was Purton (80), Moreira (83.2), and Whyte (83.4).
Once again Purton has performed above expectations, riding and winning on horses that overall were of slightly lesser ability than those ridden by his two major rivals who enjoyed the support of the major stables – reinforcing the findings from the market expectation.
A similar comparison to Whyte's 2012-13 season win is needed in order to put Purton's effort truly in perspective.
In the 2012-13 season Douglas Whyte won the Jockey Premiership with 101 wins from Purton on 88.
However of the top five list of trainers that supported Whyte in achieving this outcome contained four of the top five on the Trainers Premiership and contributed 74.25 percent of his total winners.
Of more interest is that third placed John Size on the Trainers Premiership provided Whyte with 49.5 percent of his season tally, Whyte riding 78.1 percent of Size's total of 64 winners that season.
Recall this season that leading trainer Casper Fownes contributed just 21.4 percent of Purton's season tally of 112 winners or 38.7 percent of Fownes' total winners for the season.
Further Whyte in 2012-13 rode winners for 17 stables but just five or more winners for just four stables, Size (50), Yip (12), Moore (9), and Gibson (5).
An examination of the market expectations and ability of Whyte's rides that season is, unlike Purton's this season, as it should be. That is Whyte rode the more fancied winners with superior ability to those of his main rival Purton.
The average winning odds for Whyte's mounts was AUD$4.2 (Purton AUD$4.73) and the median Timeform rating for Whyte's winners was 85.3 compared to Purton's mounts of 82.5.
On any measure, the performance by Zac Purton to win the 2013-14 Hong Kong Jockey Premiership was an outstanding achievement. You could say he defied the odds to outperform key metrics that underpin the industry for all participants but for me his success signals the arrival of a young man who with the right opportunities has the capacity for better still.
One thing is clear, the 2014-2015 Hong Kong Season is shaping as a mouth-watering contest between three fine riders in Purton, Whyte, and Moreira.