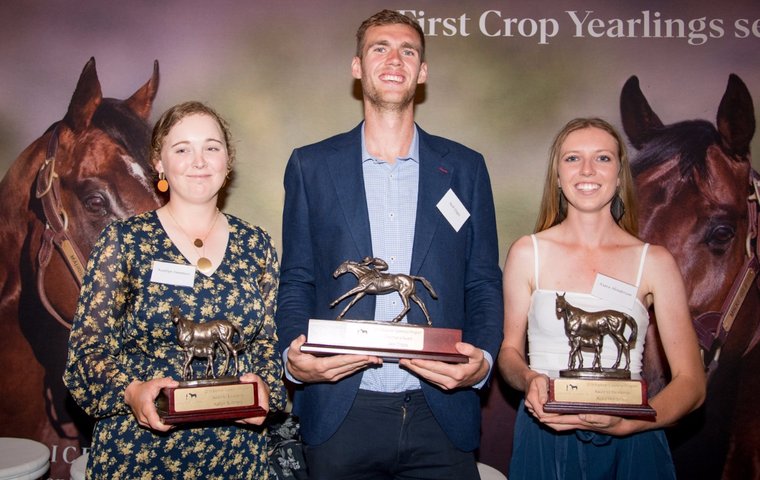 Twelve months ago, 22-year-old Jack Cripps was working in truck sales in rural Western Australia. Last Saturday night he received the prestigious Chairman's Award from Thoroughbred Industry Careers (TIC) for his attitude towards learning at the graduation ceremony of the inaugural intake of Explorer Cadets.

Cripps, who now has a full-time job with trainer Tony McEvoy's McEvoy Mitchell's base at Flemington in Melbourne, was a shining star among an impressive group of cadets who made the most of the opportunity to participate in the 12-month stud and stable training program, which includes three months vital hands-on horsemanship training (including track riding), as well as two paid work placements, firstly in a racing stable and then on to a stud farm.
For the first time in Australia, the country's leading stables and stud farms worked together to offer this innovative educational pathway managed by TIC.
Arrowfield Stud Chairman and industry leader John Messara highlighted the importance of young people to the future of the Australian racing and breeding during the graduation.
"Before Thoroughbred Industry Careers, it was very difficult for people without connections in racing and breeding to find their way into our industry – while on the other side of the equation, we're finding it harder to fill all the roles in our various businesses," Messara said.
"The Explorer Program has already filled that gap, and the fact the majority of the inaugural cadets are now in full-time employment or further equine-related study is the best possible evidence of its significant value to our industry."
Australia's leading trainer and a stakeholder of TIC, Chris Waller, said, "This program is a breath of fresh air. I myself started as a young person who liked horses and wanted to get involved, but didn't really know how and I'm sure there are plenty of people like myself.
"These young people bring to the racing industry passion and intelligence that will transpire into fresh ideas, and they are the future of the industry. I got a huge thrill seeing the cadets who were placed with us turn up each morning with a smile on their faces and keen to learn."
Two other cadets, Kiara Henderson from Murrabucca, New South Wales, and Kaitlyn Summers, from Mallanganee, NSW, were also recognised, sharing the Outstanding Achievement Award in all areas of horsemanship.
TIC CEO Lindy Maurice outlined why the three are a reminder of why TIC was developed. "If it wasn't for this initiative, these outstanding young people, along with the 50 or so others now on this program, most likely would never have realised a career in the Thoroughbred industry. They remind us all why we are going above and beyond to find, mentor and develop young talent," Maurice said.
Jack Cripps said, "The past 12 months have been full of new experiences that cover all aspects of the industry, and the structure of the program accelerated my development and understanding of the industry as a whole. To be the inaugural winner of the Chairman's Award is very humbling and is the cherry on top of what I've been able to be a part of over the last year."
Tony McEvoy says Cripps has fast become an asset to the stable. "Jack has just fitted into our team and is very invested in everything he does. He is a sponge for everything we do and we love having him. He is a big part of our team, and I think he can do whatever he wants in this industry," McEvoy said.
This training program is part of a wider push by not-for-profit Thoroughbred Industry Careers to promote careers in the industry.