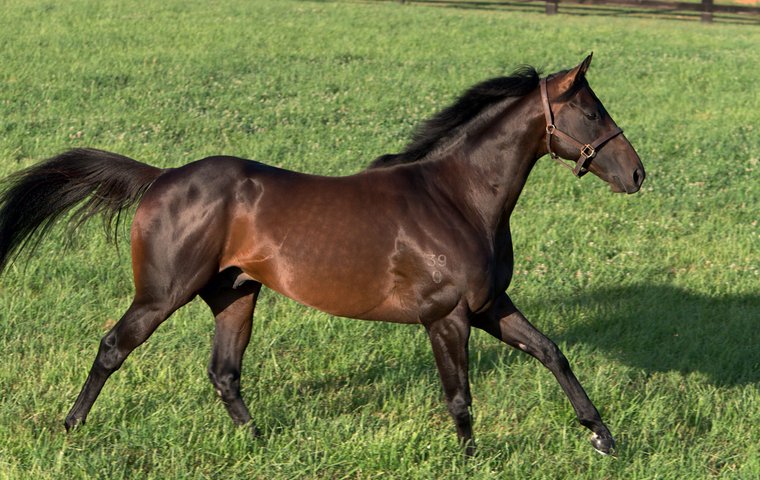 One of Queensland's most prominent Thoroughbred breeding properties is set to re-launch, and it will be standing promising young stallion Sidestep in an arrangement with Godolphin Australia.

Telemon Thoroughbreds comes into existence in June, when the lease to current occupant, Sun Stud, expires. Since it was first developed in the 1990s, the farm has been home to notable stallions such as Success Express, Mossman, Written Tycoon and Bel Esprit. And the outstanding performers it has produced include Gold Edition, Buffering and Zoustar.
Multiple G2-winning sprinter and Golden Slipper runner-up Sidestep will become the highest-rated son of leading stallion Exceed And Excel (currently #34 in the TRC Global Sires' Rankings) standing in Queensland.
Telemon owner Dan Fletcher said, "It's our privilege to offer a horse the calibre of Sidestep. He'd be one of the best 2-year-olds to stand up here in my time. The other horses that were at a similar level at two include Written Tycoon, General Nediym, Show A Heart and Brave Warrior, and they all made a massive impact."
Vin Cox, managing director of Godolphin in Australia, said, "It's a really exciting opportunity for all breeders in Queensland. I know the quality of the farm where he'll be standing from my time in Queensland so that was a huge attraction."
"There's absolutely no doubt Sidestep is a terrific chance to make it and, with his first yearlings currently entering the racing systems, we thought it made sense to position him in a market where we know he will be embraced."
Telemon General Manager in waiting Joe Heather needs no introduction to Queensland breeders and will commence his role on June 1.
"I can't wait to get started. When the owner of the farm told me Sidestep will be standing at the farm I was over the moon. With his credentials, and large initial crops of Hunter Valley foals on their way through various leading stables, including Godolphin's, he's a huge chance and Queensland breeders will love him," Heather said.
Telemon and Godolphin have committed to make him available to Queensland breeders for a minimum of the next two seasons. Breeders supporting Sidestep this season will be guaranteed they can access the horse in 2019 without paying an increased fee.
Darley stallions Head of Sales Alastair Pulford explained, "We think the opportunity is ripe to offer Queensland a genuinely elite colt. It's vital that breeders who support the horse have some comfort as well as incentive that he will be standing in Queensland for a minimum of two years."
He added: "He's been paraded at our recent Australian and European stallion parades, all of which are available on YouTube, so Queensland breeders don't have to wait to see him."
Sidestep, who will stand in Queensland at a fee of A$7,700, will return to Australia from his European shuttle duties in mid-August (he's at Darley's Haras du Logis in Normandy). Telemon will be making further announcements in relation to their Open Day as well as when the horse will be available for inspection.