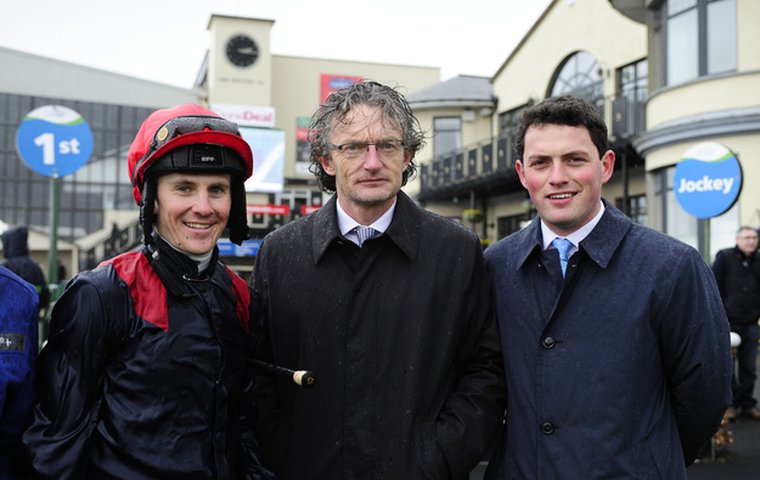 It was a fantastic boost for a young trainer -- not a big-race winner to grab the headlines, but something possibly even more important. In just his first full season with a licence, Michael O'Callaghan landed one of the world's biggest owners.

The 26-year-old's fledgling career received the boost when Sheikh Fahad Al Thani's Qatar Racing and Pearl Bloodstock purchased maiden winners Aggression and Letters Of Note to stay in training in the yard.
"That was the best case scenario for me," said the Irishman, now in his second full season and rapidly making a name for himself. "Selling horses to such a major owner is a great advertisement for the yard, and for them to trust me to continue training the horses is a huge bonus."
The 3-year-old Marju colt Aggression won his only start last year, at Dundalk in December. "He looks like a top-class sprinter in the making," O'Callaghan said. "He had a good introduction this year in Cork back in April, when Andrea Atzeni rode him for the first time. Sprinters need a lot of practice to learn their craft properly but he is a very exciting horse. We will take our time with him and look at where he can run next."
The filly Letters Of Note, also a 3-year-old, won at Dundalk in late January on her second start before the sale was brokered with Pearl Bloodstock. The daughter of Azamour went on to finish eighth in the German 1,000 Guineas at Dusseldorf at the end of May.
"We decided to go for the German option as the French and English equivalents came too soon for her and it is a race that not many people target. Unfortunately the ground went very soft before the race and [jockey] Oisin Murphy said the going didn't suit her. However, she was only beaten less than four lengths and we were delighted with her run after such a long lay-off, especially with an interrupted preparation."
She was then fifth in a Listed race at Carlisle last month. O'Callaghan said: "Letters of Note ran very well in a race where nothing went right for her. She showed a lot of pace and was a bit free early, and just ran out of gas in the last 100 yards, only beaten just over two lengths."
O'Callaghan believes he has a Group-class sprinter on his hands in the filly, whose next significant target is the Listed Sweet Mimosa Stakes over six furlongs at Naas later this month. The filly finished an encouraging second in a prep race for that at the track on Wednesday, beaten just a neck by Toscanini, who had been runner-up to Gleneagles in the G1 National Stakes at the Curragh last season.
O'Callaghan has created quite a reputation as a trainer of 2-year-olds. He won the first juvenile race of the 2015 Irish flat season with State Of Emergency at the Curragh in March. Success with 2-year-olds is no coincidence -- the young Kerryman began his career as a commercial pinhooker of horses for breeze-up sales so knows just what to look for.
"I always had an interest in flat racing and I wanted to get as much experience as possible," he said. "After stints with [jumps trainer] Tom Cooper, preparing yearlings at Kilsheelan Stud, and working with stallions at Castlehyde Stud, I started the Irish National Stud training course in 2008. I stayed on there afterwards to do the yearling prep and for a breeding season.
"My father and I set up Mill Grove Stud, just off the Curragh in Rathangan, soon afterwards and that is when we started to prepare horses for breeze-ups. We did that successfully for a few seasons, but I began to be fed up with being left with one or two horses every year that didn't sell and having to subsequently pay training fees for them. I decided to take out a trainer's licence to train the unsold horses myself and hopefully sell them as horses-in-training later on.
"In the first season, we recorded a couple of places and ended up making more money that way than with the breeze-up horses."
In 2013, which was their last season selling breeze-up horses, five of the six 2-year-olds went on to win for their new connections. "That was the real catalyst," he said. "I didn't want to continue doing both as it would be a conflict of interests, so I decided to concentrate on training."
With the help of his father, also Michael, O'Callaghan set up base at Crotanstown Stud, on the Curragh, 18 months ago. "I feel very lucky as a new trainer to have such amazing facilities available to me as those on the Curragh," he said. "I knew very little about the past of Crotanstown before I moved here, but researching its history has been fascinating. It is one of the most famous old yards on the Curragh and produced 12 classic winners last century."
Last year, in his first full season as a public trainer, O'Callaghan had 11 winners, and he is on target to beat that figure this time. Currently, he has 34 horses in the yard, the most so far.
"it is filling up all the time," he said. "It is a great position to be in, but I need to get used to having that many horses so I would like to keep it like that for a while. I am in no rush to move yards again. I have always been wary of getting too big too soon."
Michael's father has been a strong source of support to the young trainer's career. "I owe everything to my dad and I wouldn't be where I am without him," he said. "We buy all the horses together and they run in his colours. He advises and helps me in every aspect of training.
"Noel Hayes [former director of Tote Ireland and now director of sportsbook for bookmaker BetBright] has also been a great help in setting up many syndicates for me. I appreciate my owners very much as I wouldn't be able to do what I love without them. I consider myself very lucky to have had some excellent owners from the very beginning and some exciting new associations to look forward to in the future."