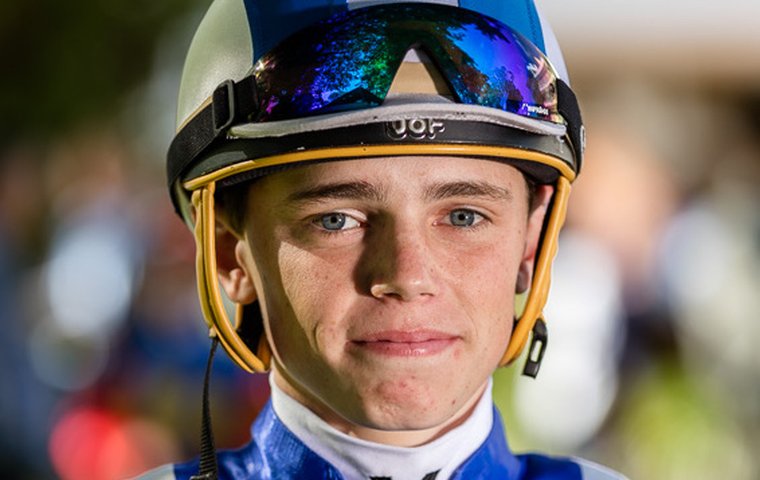 A little over a week ago, TRC identified the exciting young South African rider Callan Murray as an Emerging Talent after scaling the world jockeys' rankings by a record 31 points and 160 places following his G1 treble on South Africa's Champions Day meeting at Turffontein on 6 May.

The ink had hardly dried when an announcement came that the 20-year-old had received a call up to ride on a short-term contract for Hong Kong.
Most people will be asking, 'Callan who?', which is understandable as he has been a fully fledged jockey only since January, but this young man has had very firm plans for his career right from day one and it seems they are falling neatly into place.
Despite having no previous riding experience, the young man from Johannesburg applied to the South African Jockey Academy on the recommendation of a family friend. He was accepted and started his tuition in January 2012.
After mastering the basics, he was just about to start race riding when he injured his hip falling off a young horse. "The injury put me out for three months, but it made a big difference to my career," he says. "I gained a bit of weight, which I think was necessary at the time, and the break made me really keen to get back into it. Once the doctors gave me the all clear, I got straight into race riding and haven't looked back."
What the statistics say
Callan's first book of rides came on 3 November, 2013, and he came home with a second and a third from two outings. Callan's first win came at his next meeting, with a ¾-length victory aboard Tennessee Strategy - Ingrid and Markus Jooste (who now race as Mayfair Speculators) and trained by Charles Laird. Despite not having ridden for a full season, Callan closed his first riding year 16th on the apprentice log with 13 wins, a four percent win and 34 percent place strike rate.
He improved his statistics in 2014-15, jumping to third on the apprentice log with 41 wins and six percent win and 38 percent place strike rate. He notched his first Graded win in the G2 Victory Moon Stakes on 11 November, 2015, riding Mayfair Speculators' Deo Juvente for multiple SA Champion trainer Geoff Woodruff.
Callan finished top of the apprentice log in 2015-16, closing the season on 78 wins with a seven percent win and 42 percent place strike rate.
Callan is exceptionally media friendly. Actually, he's friendly full stop, and his cheerful disposition, coupled with a strong work ethic and obvious ability, has earned him fans across the board as well as the nickname 'Sir Smiley' from the Port Elizabeth stable of Tara Laing.
The other standout is how thoroughly clear-minded and determined he is about his career. For his final apprenticeship year, he set two goals – firstly to travel to away centres and establish a base to help him make the tricky transition from apprentice to fully fledged rider. The second was to win the apprentice championship. He achieved both.
Focussing ahead
Checking in with Callan after his title triumph, he was characteristically focussing forward, with his sights set on winning his first G1 and gaining international exposure. Thanks to making a favourable impression on Australia's Matt Pumpa, a former jockey turned apprentice riding coach in Victoria, on a visit to South Africa, Callan was invited for a six-week stint with David Hayes' Lindsay Park Stables.
As always, Callan weighed it carefully. "I was quite lucky, when the opportunity came I was very involved with the Mike de Kock team. I consulted with [assistant trainer] Mathew de Kock first and he said any international experience is huge. They said I could go over and still have their support when I got back.
"You need support from everyone, that goes without saying, but if you come back and even have just one person's support, it's a base. Six weeks was enough not to lose too much in South Africa and would allow me to get back to where I was quite easily."
Callan was fortunate to ride at a number of different tracks and brought home four winners and a number of places from his 14 rides Down Under. When interviewed shortly into his Australian stint, Murray said he would move to Australia in a flash if offered a job, but he changed his mind as time wore on.
"When it dawned on me how big a move it would be, I realised I would have to wait. It would have to be a relatively good offer for me to pack up here and go. The money is good, however, and it opens the door to Hong Kong."
He arrived back in South Africa as a fully fledged jockey and hit the ground running, notching a winner on his first ride back the day he landed. "It was a tiring ride," he admits, "but I was excited to get back. I've been getting good rides and into the winner's enclosure, which is what matters."
Right on schedule, Callan posted his first G1 win aboard Heavenly Blue in the SA Classic on 1 April, 2017. Fittingly, it was for trainer Mike de Kock, who gave him his very first ride a little over three years ago.
And then came that spectacular G1 treble on Champions Day. While the first two may have been fairly straightforward, the third win, on Deo Juvente in the Premier's Champions Challenge, required a cool head and a confident ride and Callan delivered, keeping Deo balanced and focussed enough to fight off dual SA Horse of the Year Legal Eagle, as well as the top-flight Nother Russia, from the Mike de Kock yard.
It seems a silly question, but what does a G1 treble feel like? "What do you think?" laughs Callan. "Crazy. I couldn't believe it. Shock, disbelief, but so happy. Everyone on course was loving it, my family were all there, so that was nice. It was a really special day." His post-race celebrations were vintage Murray. Instead of a night on the tiles, it was home early and a good night's rest for an early flight to Durban for the following day's rides.
The success has helped lift Callan to #107 in the world rankings, where he's currently the joint third-ranked South African-based rider.
No wonder he caught the attention of the Hong Kong Jockey Club.
Lies, damn lies and statistics
Callan arrived in Hong Kong yesterday and has a respectable five rides on Sunday's ten-race card at Sha Tin.
There are already those questioning whether Callan is overhyped in his home country and whether he'll to live up to expectation in the cauldron of competition that is Hong Kong racing, where he'll be racing all the time against mighty practitioners such as Joao Moreira, Zac Purton, Neil Callan and fellow South African Douglas Whyte. Despite only being a senior rider for five months, there is no reason he shouldn't, but he will need support.
More importantly, he will need the right support and, in that respect, a lot of races are won off the track rather than on them. But he has a lot in his favour. He is young, but he is a quick study and his riding has improved with every challenge. He is extremely likeable, he works hard and he can actually ride a bit. So he will be going in with realistic expectations - to learn what he can, lay some foundations for the future and hope for a bit of luck.
Yes, Callan's statistics look impressive, and yes South Africa is a relatively small racing jurisdiction, but off a small base it has produced the likes of Michael 'Muis' Roberts, the first – and to date only – South African to win the British jockeys' championship, Felix Coetzee, 13-time Hong Kong champion jockey Whyte, Basil Marcus, Weichong Mawing, Kevin Shea, Anthony Delpech, the list goes on.
Numbers don't always paint an accurate picture, but then again, sometimes they do. Either way, the story will be told out on the track. Chapter one starts on Sunday.