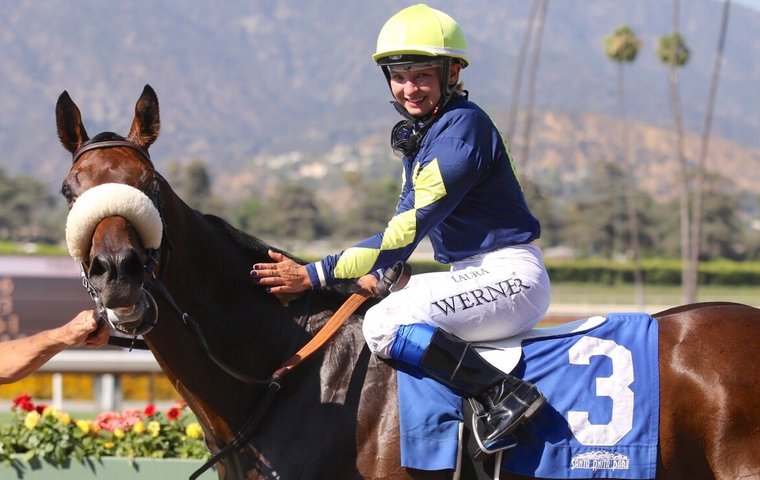 The idea behind the notion of six-degrees of separation is that all individuals anywhere in the world are connected to one another by a chain of family and acquaintances no greater than six. It's a theory shot through with holes, but it holds much more water when focused on the insular little world of horse racing.

Just take Laura 'Midge' Werner, the new California-based apprentice who in a few short months has corralled a loyal band of followers there. On the surface, British-born Werner is a racing neophyte. Mum's a nurse. Dad's a building surveyor. Brother's a London banker.
Dig a little deeper, however, and the branches of the genealogical tree stretch to a certain Jimmy Frost, who in 1989 steered a horse by the name of Little Polveir over 30 gruesome fences and four and a half miles to victory in the UK's most famous race: the Grand National at Aintree.
"I think he's my mum's second cousin," Werner said one toasty-hot morning at Del Mar racetrack about a relative she's yet to meet, or even talk to.
When she first started riding, she read Frost's autobiography, Touched by Frost, "and I was like, 'I want to be a jump jockey.' Obviously, I'm never going to be a jump jockey because I'm way too small. But it helped to kind of kick things off."
Revealing comments
What it helped kick off is a riding career that has already criss-crossed three continents, leading her to a jockey colony that couldn't be made any tougher if Pat Day, Jerry Bailey and Angel Cordero all discovered the elixir of life and made a triumphant west coast return to the saddle.
It's a career, however, that's fast delivering its own growing set of triumphs.
At time of writing, 21-year-old Werner has won six races (seven, if you include a Quarter Horse victory), from less than 50 mounts, having only been granted an apprentice license this May. By the time of going to print, Werner had added another three victories to that total, one on Pacific Classic day at Del Mar.
But it's the comments made from eagle-eyed trainers who have already spotted her talents that are perhaps most revealing.
"She's got great hands and she's very intelligent," said trainer Anthony Saavedra, who was all set to give up on a highly-strung filly with "real ugly form" before Werner steered her to third and second place finishes. "[Werner] executes exactly what I tell her – that's such a luxury, let me tell you."
"She's got a great seat on a horse," said trainer Leonard Powell, who delivered Werner her first winner on U.S. shores – Nights Watch, at Santa Anita on June 25. "New guys coming in, they're still in the process of learning. It's unusual to see that level of confidence on a horse in an apprentice."
Fat little ponies
The roots of Werner's riding career will sound familiar to anyone acquainted with the work of Norman Thelwell, the British cartoonist famous for images of fat little ponies terrorizing generations of young equestrians. Think of some shaggy-maned devil with a pot belly slamming the brakes on before a water jump, catapulting its poor rider skyward, as though shot from a cannon.
The diabolic creature at the start of Werner's riding career was a Welsh Mountain Pony by the name of Toffee, who possessed two gears only: stop and flat out.
"Mostly he liked going fast," said Werner, who has mostly derogatory things to say about Toffee's steering and brakes. He excelled, however, at jumping.
"He was very brave - he taught me a lot. Everyone has this one crazy pony that you click with and they teach you. He thought he was a Thoroughbred."
Werner didn't have to wait too long before she got her hands on an actual Thoroughbred. At 14, she started working for Michael Gates, a Stratford-based trainer in the English Midlands, which proved to be a baptism of horsemanship fire.
She would head to Gates' stable, cycling miles from her home there and back, on weekends and after school, exercising a horse in the evening twilight with a miner's lamp strapped to her helmet. When, at 16, she graduated secondary (high) school, she worked for him full-time.
'She'd get serious bollockings off me'
Gates — who helped forge the career of 2015 Cheltenham Gold Cup winning jockey Nico de Boinville — is drawn to racing's odds and ends, horses that come with dicey qualifiers like 'quirky' or 'nuts'. Being a small yard, Werner was expected to handle all these quirky and nutty horses, and she proved adept at knocking off some of their rougher edges.
Watch House, for example, was a-17-hands-plus Sherman tank of a steeplechaser who routinely barreled off with his male riders. With four-foot-nine-inch Werner on his back weighing in at a little over 100 pounds, the Sherman tank proved a Siamese cat, amenable and relaxed and, most importantly, happy.
"Laura always wanted to sit on him, and I used to tell her, 'you've got no chance'," Michael Gates told me over the phone. When the trainer eventually relented, "the horse quickly realized she wasn't a threat … She was literally in her element riding this big beast of a horse."
These years were hardly a bed of roses. As Gates describes it (with a certain amount of pride, it must be said), "She'd get serious bollockings off me. I was a very hard mentor. I was really, really, really, really tough."
The bollockings can't have been too off-putting though, for Werner describes Gates — not without a certain degree of affection — as a "dysfunctional father" kind of figure.
(Oh yeah – to get back to that whole "six degrees of separation" thing – Gates ended up buying a horse for his son to pony race from none other than Jimmy Frost)
'There's a lot of experienced female riders that can give you advice'
At 18, Werner was at a crossroads. She'd enjoyed two wins and a second place finish from only three rides in charity races, and the race-riding bug was raging dengue-fever hot.
Werner contemplated going to Newmarket, but feared getting lost amid the deep ranks of one of the town's larger stables. Gates encouraged her to head to the States, where he thought female jockeys stood a greater chance of getting started. "I didn't have any confidence in the system over here for girls," he said of the UK's apprenticeship program.
Werner had other ideas. She emailed a hatful of Australian trainers, and the first one to reply was someone who didn't do too shabbily with a smart little sprinter by the name of Black Caviar.
"[Peter] Moody's a genius," Werner said about her first Antipodean employer. "He must have had about 500 horses on his books, and he knew absolutely everything about every single one off the top of his head."
After six months with Moody, she spent another six with trainer Ciaron Maher, a relative up-and-comer who last year won the G1 Caulfield Cup with the filly Jameka. The problem was that immigration restrictions made it near impossible for Werner to race-ride in Melbourne.
The same restrictions aren't in place in New Zealand – and so, to New Zealand, naturally, is where she headed, to trainer Kevin Myers in Wanganui, about a couple hours north of Wellington, to a large stable in the middle of the country. The stable doubled as a cattle farm, and the equine bluebloods doubled as herding horses when cows strayed onto the gallops..
There, the lessons learned came thick and fast. From nearly 60 rides, Werner had four wins. More importantly, in Myers she had trained on her the keen eye of someone with a proven record of nurturing apprentices into top-class riders – hot shots in the saddle like Michael Dee, who has made a name for himself in Australia these past couple of seasons.
It helped, too, that New Zealand has proven adept at nurturing its female riders. "That's good because when you're in the jock's room, there's a lot of experienced female riders that can give you advice."
Krone clone
There's a through-thread binding together these experiences - from Toffee's white-knuckle thrill rides over ditch and hedge, to the iron-jawed old chasers at Michael Gates' home for equine misfits.
From the dozens of Australian barrier trials — mini races, essentially — she rode on Ciaron Maher's 2-year-olds, to the sometimes harsh criticism that Melbourne Cup-winning jockey Michelle Payne imparted on her younger colleague.
"Everything had to be perfect, to the second," Werner explained, about Payne's approach to her craft. "But that's good for me because I learned a lot."
All of these life lessons have played a major part in shaping what former jockey Julie Krone describes in glowing terms as a "multidimensional" rider.
"Her horsemanship is sooo good," said Krone. "I see her get on a horse and she just makes it better."
The Krone connection is an interesting one. The Belmont Stakes-winning jockey happened to be at the San Luis Rey training center one morning last year, when she spotted Werner — who, physically, is a veritable Krone clone — hustling mounts.
'Tiny little adjustments'
They struck up an instant friendship. And Krone has remained at Werner's side since, routinely offering all sorts of riding and career advice, alongside that given by Werner's agent, former on-air personality Carolyn Conley.
So, what is it that impresses the former top jock? It's more than Werner just having soft hands, Krone said. It's the "tiny little adjustments" that riders make every second on a horse that Werner does so adroitly, and her ability to "make these adjustments really, really fast, so that it gives the appearance of softness", she added.
Lurking in the shadows is the ubiquitous issue of gender in a sport still top-heavy with male riders. As Werner sees it, "the only difference I find is girls have to prove themselves first, and then we get the opportunities."
Does Krone agree? "Probably," she said. "But you can make it matter, or you can go out there and work and make it not matter. And that's one of my favorite parts about hanging out with her – she gets that."
'She's very professional for such a young rider'
If her parents had much say in the matter, Werner, an accomplished artist, wouldn't be doing what she's doing today. A self-professed 'nerd' at school — she said she received seven A*s, four As and one B in her GCSEs — Werner was encouraged by her parents to become a veterinary surgeon.
"Within a few months of Laura coming to help out, her parents asked me more or less to persuade her not to pursue a career in racing," Michael Gates explained. "I had a real battle with them to begin with. But eventually they became very, very supportive of her."
Of course, the career they're now very supportive of is in many ways still in its infancy. In the months and hopefully years ahead, inevitable obstacles will appear in various guises. The moments of self-doubt when the winners dry up, and the trainers look elsewhere. The agonizing physical aches and pains. The frustrations when nothing, no matter what, will click.
(Indeed, she's had a little taste of this frustrating side to riding, having already fallen foul of the California stewards, leading to two short suspensions – "at least it shows I'm trying," she said).
As a tonic to these blues, stubbornness and determination are good traits in any successful athlete, just as long as they're tempered by a strong sense of self-awareness, and the ability to see, and then to tackle, one's flaws and weaknesses.
Career aspirations
In her first ever ride in the U.S., Werner broke on her horse's mouth, scuppering from the get-go her chances in the race. She was mortified.
"She was so mad with herself," said California safety steward and former jockey Luis Juaregui, with whom Werner sits down once a week to review her races. "But she corrected that immediately … she's very professional for such a young rider."
The work evidently paid off.
"We'd hang out at [Bob Baffert's] barn every now and then, and he'd ask: 'how the hell do you get your horses to jump so good?'" Werner said, of the Triple Crown-winning trainer. "And that's how I ended up picking up a ride for him."
Strength and style in the finish are areas she singles out for improvement moving forward. "Julie's giving me lots of good advice about that." As for career aspirations, "I want to win as many races as I can. I also really want to win a race where I get the flowers."
And, after a few years of gypsy living, Werner's eager to make California a base for as long as possible. This despite a whole cavalcade of people advising her that she should kick-start her career in a less competitive environment. "They're probably right, in a way," she admitted. So why doesn't she heed their advice?
"Why would I want to move all the way around the world to ride at a little track, when I can be at arguably one of the best racetracks in the world riding against the best jockeys in the world?"
Her response reveals much about a lofty ambition. But come to think of it, that type of ambition isn't too different to the sort a jockey by the name of Jimmy Frost would have needed to conquer a race like the Aintree Grand National.
Small world indeed, this world of horseracing …