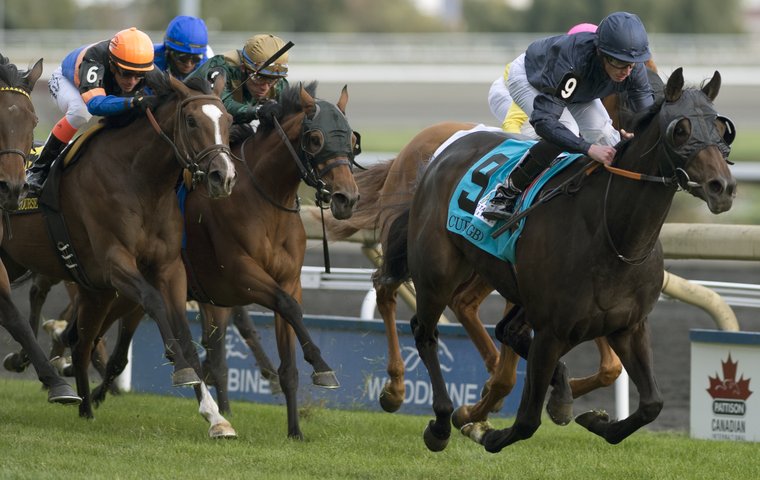 It may be one of the most important horse races in Canada as it is, but Woodbine's E.P. Taylor Stakes - the 61st edition will be run a week today - has become one of the most significant races in the world as far as breeding is concerned, as Emily Shields explains.

It is often thought that, when a great racemare gives her all on the track, she is unable to replicate herself in the breeding shed.
There are notable exceptions, such as undefeated Hall of Famer Personal Ensign producing three graded stakes winners and six stakes horses overall from nine winning foals, and brilliant Mariah's Storm throwing European Horse of the Year Giant's Causeway among her seven group winning or placed horses. In both of these examples, the female family remained dominant, as their sons and daughters went on to flourish in the shed for generations to come.
They are the exception, though, not the rule. For every blue hen such as Dance Smarty or Serena's Song, there is a Lady's Secret, a Genuine Risk, a Sunline, or a Zenyatta, who are unable to produce a standout either due to inability or sheer bad luck.
As a whole, however, the winners of Canada's G1 E.P. Taylor Stakes are phenomenal broodmares.
The sheer numbers are staggering: 75 percent winners from starters, 57 percent winners from all foals, with 29 percent of those winners going on to be stakes horses. They are responsible for 49 total stakes winners, another 17 stakes placed runners, and seven G1 winners, with champions in two countries.
Those numbers only represent the winning mares. Those that lost Woodbine Racetrack's E.P. Taylor include Urban Sea, the dam of Galileo and Sea The Stars, and Charming Sassafras, who produced Canadian Horse of the Year Mt. Sassafras.
Run on the same card as the $1 million Pattison Canadian International, the $500,000 E.P. Taylor Stakes often gets lost in the shuffle, but it has quietly been a pillar for the sport.
A different identity
The E.P. Taylor Stakes was not always known under that moniker. The 10-furlong turf contest, run at that distance since 1968, was originally the Nettie Handicap and did not become a Grade 1 event until 1999. Woodbine's resident historian, Tom Cosgrove, said: "The Nettie Stakes Handicap was re-named the E.P. Taylor Stakes in 1981."
Edward Plunket Taylor, a Canadian businessman and philanthropist, was also a well known Thoroughbred breeder. Eight years before his death in 1989, his name was given to the race, which now shares its title with the racetrack's famous mile-and-a-half turf course.
"The E.P. Taylor turf course was originally called the Marshall turf course named after Colonel K.R. Marshall," Cosgrove said. "The name was changed to the present in 1996, when most of the course was completely changed and modified in preparation for the Breeders' Cup contested here that year. Only a portion of the original course was saved."
Flying Trapeze won the first edition of the race in 1956, and quickly went on to produce five winners from six starters.
Just five years later, the race was won by Victoria Regina, dam of three winners from three foals. Her second foal was Viceregal, Canada's Horse of the Year and Champion Two-Year-Old in 1968, who sired three champions himself. Third foal Vice Regent, sire of nine champions, was among the leading sires and broodmare sires in both Canada and the United States for over a decade.
Overshadowed
Protectora, winner in 1974, was the first to produce a G1 winner. Her Protection Racket, by Graustark, won the Irish St. Leger in 1981. L'Attrayante, the 1983 heroine, followed; she threw French 1,000 Guineas winner Madeline's Dream.
Lady Shirl's victory in the 1991 E.P. Taylor is overshadowed by her career as a blue hen broodmare; she threw four stakes winners and one stakes-placed runner. Her Perfect Shirl won the 2011 Breeders' Cup Filly and Mare Turf, while Shakespeare returned to the site of his dam's big win to take the 2007 Woodbine Mile.
De La Rose in 1981, Wandering Star in 1996, and Zomaradah in 1998 all produced G1 winners.
De La Rose's colt Conquistarose won the Young America Stakes as a juvenile in 1986. Wandering Star is the dam of War Command, victorious in the 2013 Dubai Dewhurst Stakes, while Zomaradah is the dam of Dubawi. That three-time G1 winner is now a world-class sire of horses like Dubai World Cup winner Prince Bishop and current European standout Postponed. Nine of Wandering Star's 12 runners won, while all of Zomaradah's six starters went on to the winner's circle.
Truly A Dream, E.P. Taylor winner in 1994, has the distinction of being the dam of G2 winner and multiple G1-placed Dream Peace. She ran third in the E.P. Taylor twice but could not duplicate her dam's victory. Truly A Dream is also the dam of Catcher In The Rye, second in the French 2,000 Guineas and a classy sire in Ireland, Australia, and Argentina.
Indisputable impact
Square Angel's influence may have the furthest reach among E.P. Taylor winners. She was the 1973 Canadian Champion Three-Year-Old Filly, having also won the Canadian Oaks in addition to the Nettie Handicap that season. Her second foal, Kamar, was also named as Canada's top sophomore filly in 1979, as well as the U.S. Broodmare of the Year in 1990. Kamar's runners include millionaire Gorgeous, $714,536-earner Key To The Moon, Jood, the dam of $8.4 million earner Fantastic Light, and Kentucky Oaks winner Seaside Attraction, dam of Eclipse Champion Golden Attraction and Florida Derby winner Cape Town.
Another Square Angel daughter, Stellarette, won the G3 Barbara Fritchie Handicap and was trained by Cosgrove himself. "I had the chance to train for Frank Stronach," Cosgrove recalled. "She won the Hendrie Handicap in 1982 at Woodbine." Stellarette is the dam of G1 winner Cuddles, dam of $410,947-earner Katz Me If You Can, while another Stellarette daughter, Nuryette, is the dam of major American sire Northern Afleet.
Square Angel's reach is even further as the dam of Love Smitten, a seven-time stakes winner in the United States, including Oaklawn Park's Apple Blossom Handicap. Love Smitten is the dam of Swain, the G1 winner who was famously third in both the Breeders' Cup Turf and the Breeders' Cup Classic. Swain has sired 149 winners.
The impact of these mares across the world is indisputable.
Momigi (1976) and Commercante (2004) both produced Japanese group winners in Royal Silky and Best Deal. Senorita Poquito (1979) is the dam of Poquito Queen, third in the Epsom Oaks in 1984. Reine Mathilde's (1984) son Brook Lodge was the Champion Imported Stayer in Slovakia in 2001.
Majestic Kahala (1977) produced four stakes winners from eight starters, while Devalois (1985) has nine winners from 10 starters, including four stakes horses.
Greater glory
More recently, Arravale's (2006) first foal, Nancy O, was third in the G2 Natalma Stakes in 2012, and Folk Opera (2008) has two winners from two starters. Miss Keller (2011) is the most recent E.P. Taylor winner to have offspring old enough to race, and her first and only runner, Balletusa, won her debut in Australia.
Even though winning mares have been producing standout foals for years, Cosgrove and his assistant and friend, Colin Nolte, were quick to point out that the race's losers have been among its best broodmares, too. "Urban Sea was second in the race behind Hatoof in 1992, and although she didn't win, she's appropriate to mention."
Urban Sea, who would go on to greater glory by winning the Prix de L'Arc de Triomphe in 1993, is even better known for her foals, such as Epsom Derby and Arc winner Sea The Stars, Tattersalls Gold Cup hero Black Sam Bellamy, and Diana Stakes heroine My Typhoon, with her greatest achievement coming in the form of multiple G1 winner and the world's current leading sire, Galileo. The prolific son of Sadler's Wells has sired 231 stakes winners and 11 champions, including Frankel.
Infamy, who finished third behind Khariyda in 1987, went on to defeat males in the Rothmans International (now known as the Pattison Canadian International) the following year. Nolte said: "She produced multiple graded stakes winners Innuendo and Moon Queen, as well as Italian champion 2-year-old Barafamy." Innuendo then produced multiple graded stakes winner Criticism for the Darley Stable, and Moon Queen threw French stakes winner Beauty Parlor for Joseph Allen.
"In summary," Nolte said, "The E.P. Taylor Stakes, and its predecessor, the Nettie Handicap, has staged the dams of Galileo, Sea The Stars, Dubawi, Shakespeare, Perfect Shirl, Madeline's Dream, Love Smitten, Kamar, Stellarette, Viceregal, Vice Regent and Conquistarose. Also in further generations came Swain, Fantastic Light, Gorgeous, Key To The Moon, Northern Afleet, Mt. Sassafras and all the great colts and fillies sired by the outstanding stallions that were produced by participants of this particular race."