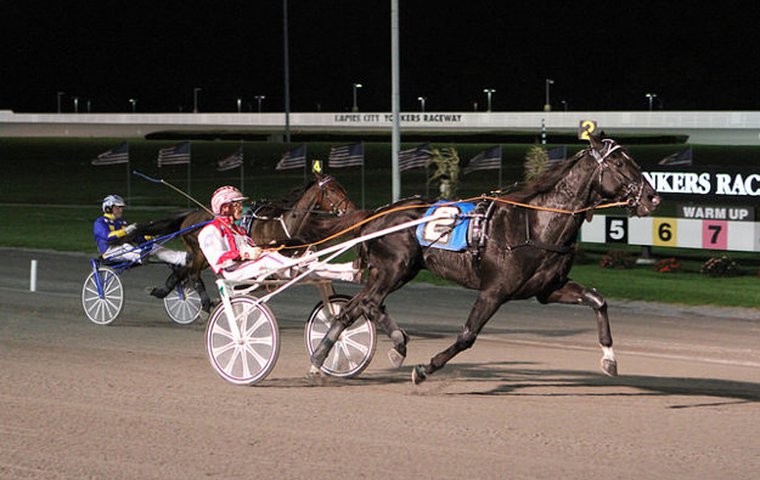 The race to become the first American track to have its racing regularly simulcast live in France - tapping into a different and potentially lucrative pari-mutuel betting pool - has just been won, not by Belmont Park or Santa Anita or Churchill Downs or any other prestigious U.S. operation, but by a half-mile harness racing circuit just outside New York City.

Yonkers Raceway has had five of its meetings shown in France already, and they were so well received that another 30 were scheduled for 2015.
Televising American racing in France, with its strong pari-mutuel pool and affinity with harness racing, has always seemed a good idea financially, but, aside from the Breeders' Cup, the U.S. Triple Crown races, and the Hambletonian, the trotting equivalent of the Kentucky Derby, very few races from the States have ever made it to French TV screens. There were always too many obstacles.
Obstacle No. 1 - the timing. Afternoon racing in the U.S. is at night in France (six hours ahead of U.S. EST), which means low demand. The French don't bet that much at night, which explains the relatively poor returns from top American racing that has been shown there. In fact, the Hambletonian would routinely handle more in France, where trotting is popular, than the American Thoroughbred classics because it would go off before 9 p.m. there, while the Preakness, for example, would be off at around midnight.

Obstacle No. 2 - the use of medication. France Galop and its trotting counterpart, the Cheval Français, were reluctant to offer their customers races packed with what they see as "doped" horses.

Obstacle No. 3 - new French tax regulations have made it harder and less profitable to commingle pools with foreign countries.

Obstacle No. 4 - the hassle of dealing with America's different organisational systems, particularly regarding entries.
The problems were eventually overcome - but not without a lot of effort, and the breakthroughs would never have come without the willingness of the Standardbred Owners' Association (SOA) of New York and the Empire City Casino at Yonkers Raceway organization, which runs both gaming and racing activities of the Yonkers racino - or that of the track's owners, the Rooney family (of Pittsburgh Steelers legend Art Rooney), who showed a level of interest in horseracing rarely seen from casino operators.
Yonkers had to go to great lengths to meet the requirements of the French authorities.
They had to move some Tuesday evening meets to Sunday matinees (early evening in France), the only available time slots in the French program, despite the predictable loss in U.S. handle. The races had to start just after 11 a.m. each Sunday, more than an hour before any other North American signal.

Only races for trotters - and none for pacers - would be simulcast to France. Trotting (where the horses move their legs in diagonal pairs) is the only form of harness racing in France, but it makes up barely 25 percent of the harness cards in the U.S. (the other 75 percent is for pacers - horses who move their legs in lateral pairs).

They had to lengthen their races from one mile to a mile and a quarter, an unusual distance in American harness racing, where the mile is the "standard" distance for Standardbreds. This wasn't just to emulate the longer European races, but to offer larger fields to suit the French punters' craving for exotic bets and big dividends.

To allow more than the usual eight horses to take part, a second tier behind the gate became necessary. For these "trailers" not to end up as no-hopers over a half-mile track, the races needed to be extended. (As it happens, these trailers, often producing previously unheard of 12-runner fields on such a tight track, did rather better than expected over the new distance.)
The Americans had done their bit. It was up to the French to do theirs.
The Cheval Français overlooked the medication issue. Races from Argentina, Chile, and Uruguay have been simulcast in France for three years, with horses under medication performing for French punters. "Guarantees" that medication rules would be enforced in Graded stakes had been seen as sufficient for France Galop to give the nod. So the precedent had been set.
Commingling still wasn't an option at this stage because of punitive tax regulations in France. However, with separate pools, Yonkers receives 3 percent of the French PMU turnover on its races. Since the French bet more than the Americans on the U.S. races broadcast in France, it is still a huge benefit.
Estimates by the French PMU set the threshold between failure and success at a €1 million turnover for five races on a Sunday evening, a difficult time because most of the 12,000 French betting outlets are closed at that time.
Another issue was a requirement for American breeders to set up a U.S. version of the Cheval Français stud book, which has now been done.
As the Rooneys and the SOA felt they were given an opportunity that simply couldn't be missed, special efforts were made to get French fans to discover and understand U.S. harness racing.
"We all knew this was such a great opportunity to expand the global market for American harness racing," said Alex Dadoyan, executive director of the SOA of New York. "We wanted to do everything we could to work with the French to make this venture a success – from altering our schedule to changing our race sizes and distances, providing as much information as possible to the French punters."
A website, Yonkers-France.com, was set up in French to provide news, PDF race cards and past performance data, videos, translated drivers' interviews, and tutorials about American harness rules. Pages were booked in the main racing papers and synchronized press coverage organized to single out Yonkers in France's ever busier international racing schedule. Yonkers France was also very busy on the social front via Facebook, Twitter, Pinterest, and a YouTube channel.
The big test came at lunchtime on Sunday, Nov. 9. The pressure was intense at both ends, but it was passed with flying colours as more than €1.5 million were wagered in France on the five Yonkers races, which is triple the total handle from Yonkers that day. At the completion of the "French matinees" meets of 2014, more than €6 million, or $7.5 million, had been wagered from France on the American harness races.
This success convinced the French to extend the deal to 30 meetings in 2015. There will be eight Sundays and 22 Tuesdays, including five races scheduled from 9 p.m. to 11 p.m. in France, (3 p.m. to 5 p.m. in New York). It also means no more slots are available in the French market for other foreign partners.
The venture has produced some unexpected surprises for the Americans.
First, the American betting public did not reject the new format, even though football takes over early on Sunday afternoons at this time of year. Soon the handle from these matinees reached a level close to that generated by a normal night-time card.
Second, the 10-furlong, 10- to 12-horse fields were not unpopular. In fact they received the backing of leading harness trainer Ron Burke, who applauded the new races on his Twitter account, and many fans were pleased with the novelty and soon asking for more.
Indeed, the races are livelier than the usual mile contests because they give drivers the opportunity to be more aggressive. The French-Canadian driver Daniel Dube has won seven of the 25 races shown in France so far, with a return of 80 percent if you had backed him blindfolded in every of these races. As Dube speaks French, it has helped French fans feel more connected with Yonkers, even though they hadn't heard of anyone there before Nov. 9.
Certainly the French matinees at Yonkers have opened a refreshing debate on the harness racing routine and that alone is a victory for all involved.
Meanwhile, there are other trotting connections between the U.S. and France.
The American mare Maven traveled to Vincennes, the prestigious trotting track in Paris, to compete in the Jan. 25 Prix d'Amérique, trotting's equivalent of the Arc, but was automatically disqualified after breaking stride. French-trained Up And Quick was victorious. And at the end of November, the top driver Brian Sears went to Paris to take part in an invitational drivers' contest. He finished third with a 44-to-1 no hoper but was suspended two days for interfering in the last stretch - another American paying a price for success in France.
----------
Emmanuel Roussel set up Yonkers-France.com, manages the Yonkers social media pages in France, and occasionally appears on Equidia, France's racing channel, as a pundit for the French coverage of Yonkers Raceway meetings.