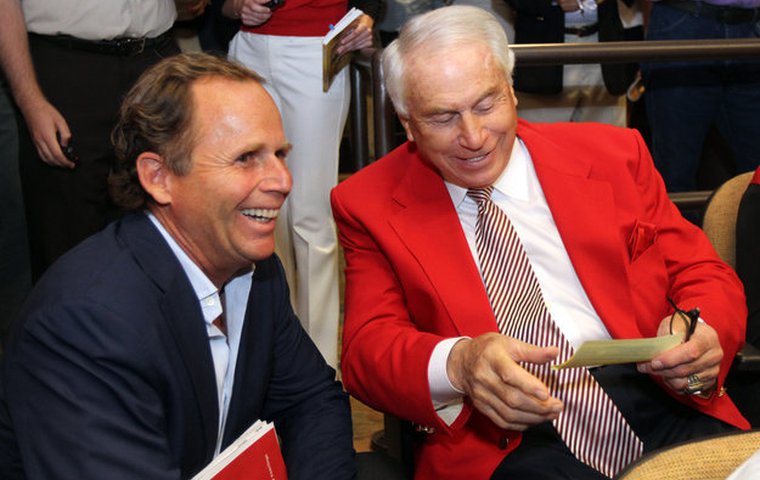 Consignors can approach the next few months of the American yearling sales season with growing confidence following the performance of the Fasig-Tipton Saratoga Selected Yearling Sale this week in New York.

The boutique sale, staged during the evenings of Aug. 4 and 5 in the sale company's Humphrey S. Finney Pavilion, recorded total sales of $33,284,000 for 114 horses sold, up 4.4 percent from 2013, when six fewer horses changed hands. The average of $291,965 dipped marginally by 1.1 percent, while the median fell by 5 percent to $237,000.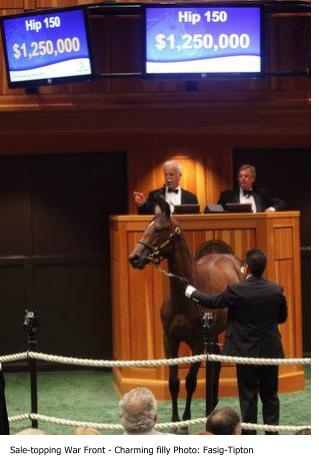 Leading the way was a War Front filly consigned by Eaton Sales, who will carry the same colours as last year's U.S. champion 3-year-old colt Will Take Charge after selling to his trainer, D. Wayne Lukas, on behalf of owner Willis B. Horton for $1.25 million.
One of only two yearlings catalogued by War Front, whose international profile continues to go from strength to strength, she is also a half-sister to Lukas' highly regarded 2-year-old Take Charge Brandi. That filly found only Fashion Alert too good in last month's G3 Schuylerville Stakes at Saratoga and could bid to enhance the family further on Sunday in the G2 Adirondack Stakes.
The pair are two of the first three foals out of minor winner Charming, herself a $3.2 million yearling back in 2006. The Seeking The Gold mare was the first foal produced by triple G1 winner Take Charge Lady, who has since found further fame as the dam of Will Take Charge and 2012 Florida Derby winner Take Charge Indy.
The War Front - Charming filly headed a trio of yearlings, all fillies, to break the seven-figure barrier, compared to two in 2013. A total of 17 sold for $500,000 or more, compared to 13 in 2013. They were spread between 11 buyers, one more than last year.
Another particularly encouraging aspect of the sale was the buyback rate, which hit as low as 9.9 percent following the first night. Even after the second session suffered a slow start, the sale concluded with a very respectable figure of 19 percent.
"I've never seen a ten percent RNA rate at any sale ever, especially at a boutique sale," said Headley Bell, a managing partner of Mill Ridge Farm in Kentucky, which sold $1.95 million worth of yearlings. "That alone on the first night was remarkable, though we came back to reality the following night.
"It's a sale where, as a consignor, you've got do your work on what to bring, and I think the consignors were pleased for the most part. Boutiques are limiting. But there was a great atmosphere and it's very positive going forward."
Another highlight was the return to prominence of Sheikh Mohammed's racing advisor, John Ferguson. Fasig-Tipton, which was bought by the Dubai-based Synergy Investments in 2008, has played host to a number of high-profile buys from Ferguson in recent years; in the period from 2009 to 2012 he signed for seven million-dollar Saratoga yearlings, while in 2011 he came away with 13 yearlings worth $8.53 million.
However, by contrast, he signed for just one hip in 2013, a $400,000 Medaglia d'Oro colt.
Despite departing the grounds before the start of this year's sale, he was far more active this time around, with representatives of Darley signing his name against 11 yearlings worth $4.68 million, enough to make him leading buyer. The group was led by the only Bernardini yearling catalogued, who was the most expensive colt sold, at $800,000.
There was also first time participation from Al Shaqab Racing, who paid $650,000 for a Kitten's Joy colt.
While the sale of the War Front filly during the second evening headed proceedings overall, it was a pair of Tapit fillies that dominated the first evening when selling for $1.15 million and $1 million. Their sales further underlined the particularly fierce demand that is currently prevalent for well-connected fillies - indeed they accounted for the top three hips and half the top 10.
Agents Alex Solis and Jason Litt signed on behalf of an undisclosed client for the $1.15 million filly, sold by Bluewater Sales on behalf of breeders Mike and Nancy Mazzoni. She is the second foal out of the 2009 champion two-year-old filly She Be Wild, another Mazzoni homebred who was only retained by her breeders after failing to sell for $19,000 at the OBS Two-Year-Olds in Training sales. Sent to Wayne Catalano, she went on to win four races at 2, capped by a victory in the 2009 Breeders' Cup Juvenile Fillies at Santa Anita Park.
The third yearling to hit seven figures was a Tapit filly out of Rote, who blossomed from a bold $550,000 Keeneland November pinhook by John Moores and Charles Noell of Merriebelle Stable into a $1 million yearling. Nat Rea's Regis Farm purchased the filly, whose dam is a Tiznow half-sister to G1 winner Magnificent Song. She was sold through Bluegrass Thoroughbred Services, Inc.
The pair were the only yearlings by their sire to go through the ring, meaning that Tapit recorded a remarkable sale average of $1.08 million. With the winners of nearly $9 million to his credit already this year, among them Belmont Stakes hero Tonalist and Kentucky Oaks winner Untapable, Gainesway Farm's son of Pulpit is well on his way to recording his first American sires' championship.
"Tapit was the leading sire by gross at last year's Keeneland September Sale [38 sold for a total of $15,670,000], and two yearlings by him sold for an average of over $1 million this week," said Michael Hernon, director of sales at Gainesway Farm, where Tapit stands for $150,000. "He's getting great books of mares from a broad spectrum of breeders."
Alluding to the fact that Tapit's memorable season has continued into the Saratoga meeting, Hernon added: "Tapit can get you any kind of horse, good fillies and colts. He has a good sprinter, Coup de Grace, who just won the Amsterdam Stakes and is heading to the King's Bishop Stakes. And Belmont Stakes winner Tonalist is heading to the Travers Stakes.
"He can also get you a good turf horse, so hopefully we'll start to see more heading over to Europe."
It was a particularly productive sale for Gainesway, who sold nine of their 10 yearlings through the ring for an average of $364,444. They included the sale's most expensive colt, a son of Bernardini out of Tweeter that sold on behalf of Marylou Whitney for $800,000 to John Ferguson.
"This is a sale which has a strong tradition of selling top horses - Tonalist being an example - and it was a good, strong sale," said Hernon. "The clearance rate was particularly good.
"It must bode well for Keeneland September - their new format was successful last year and I see no reason why that shouldn't continue to be received positively."