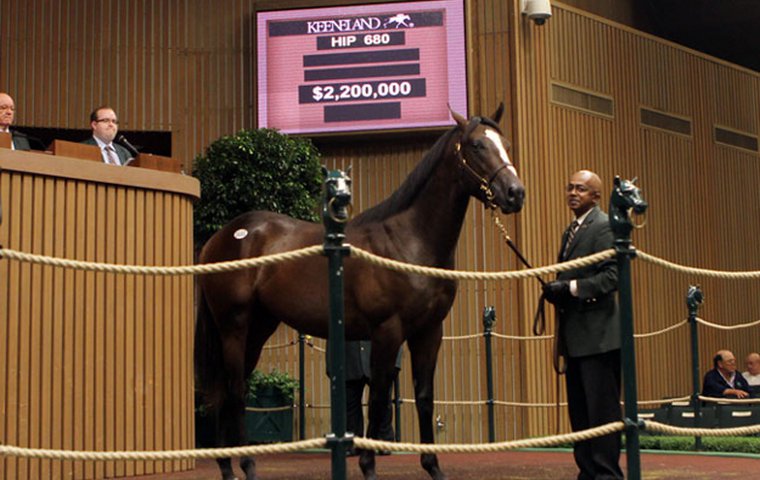 Cautious optimism abounded in the days leading up to the Keeneland September Sale in Lexington, Kentucky, which followed off the back of highly satisfactory renewals of the Fasig-Tipton Saratoga and Arqana August Sales. And once again, few left disappointed with demand from a broad domestic and international buying base for the cream of American bloodstock resulting in gains across-the-board.

Led by 13 million-dollar yearlings, the average for the four-day book, which finished yesterday, rose 7 percent to $300,535. The median rose 15.6 percent to $240,000, while the clearance rate ended on a par with 2013 at 73 percent. While the number of seven-figure yearlings dropped from 18 to 13, there was an increase in the number that brought $500,000 or more from 48 to 63. Given that Keeneland catalogued 13 percent fewer horses than in 2013, which resulted in 9 percent fewer sold, a fall of 7.4 percent in gross sales to $142,153,000 was not surprising.
"The increase in the median price and especially the depth of the upper middle market stand out," said Geoffrey Russell, Keeneland's director of sales. "We cataloged fewer horses in Book 1 and the results prove that was the right thing to do. Less became more in some departments. Obviously, the gross was going to be down, but the average and median are up. There were better percentages than we had hoped for."
This was the second year that Keeneland adopted a four-day format for Book 1, which was formerly staged over two boutique evening sessions. The change, which provides buyers with a broader mix of horses, was generally welcomed last year and appeared to work well again. However, not every session represented an improved market; trade during the third day of selling experienced drops across-the-board as well as a moderate 68 percent clearance rate.
"I would describe it as very solid," said Mark Taylor, of Taylor Made Sales, which sold $16,412,000 worth of yearlings. "Perhaps a few of the sellers were a little aggressive - with the new format, you've got low-end six-figure horses alongside seven-figure horses and, with the big-book era, you've got some stallions who are siring both. So, unless you really do your homework, I think it can be hard sometimes for the seller to differentiate between what's going to bring big money."
The top end of the market was fuelled by the unrelenting demand for the progeny of American super sires Tapit and War Front.
It was at this sale last year when vendors really cashed in on the meteoric rise of War Front, whose progeny averaged $401,629 off a $15,000 fee. He again hit the headlines last month when supplying the $1.25 million sale-topper at the Fasig-Tipton Saratoga Sale in New York, so it was no surprise to see him once again assume centre stage in Kentucky.
The Coolmore operation have made no secret of their admiration of War Front in recent years, and MV Magnier duly led the charge by signing for a total of $3,990,000 for three colts. They included two seven-figure yearlings; the $2.2 million joint sale-topper, a half-brother to G1 winner Contested sold by Claiborne Farm, and a colt from the famous Phipps family of Educated Risk and Inside Information who was sold by Denali Stud for $1.3 million.
War Front was also responsible for one of the talking points of the sale in a colt out of Italian Oaks winner Meridiana, who was retained by breeders Jon and Sarah Kelly for $1.95 million.
War Front returned a Book 1 average of $545,000 for 14 yearlings sold but in that department, he was overshadowed by Tapit, whose 32 yearlings sold averaged $652,813. Like War Front, Tapit is a stallion who has made his name by upgrading his mares – each of his first 11 G1 winners were bred off fees no greater than $15,000. Since then, the Gainesway Farm stallion has built upon his better books, as illustrated by his position as the dominant American sire of 2014. That current status, combined with the fact that his yearlings are his best-bred yet produced when his fee hit six figures at $125,000, made his progeny some of the hottest commodities at Keeneland.
Tapit was responsible for four million-dollar yearlings, led by a half-brother to Breeders' Cup Juvenile winner New Year's Day sold by breeder Clearsky Farm for $2.2 million to Shadwell Farm. MV Magnier signed at $1.2 million for a Tapit half-brother to G1 winner Dreaming Of Julia, who was out of two-time G1 winner Dream Rush.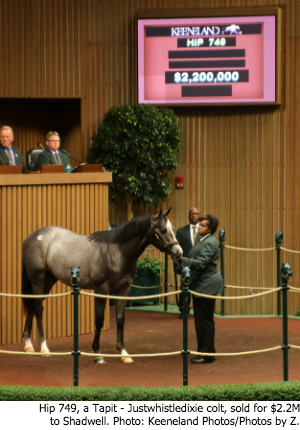 With seven yearlings bought for a total of $7,140,000 and average of $1,020,000, Magnier's expenditure was up 21 percent on his overall spend last year. Also active was Sheikh Mohammed's advisor, John Ferguson. Even though Ferguson's Book 1 outlay of $7,300,000 for 20 yearlings was a far cry from previous years -- notably in 2005, when he paid $41,875,000 for 27 yearlings -- it was a welcome increase on his activity in 2013, when he signed for $2,775,000 worth of yearlings.
Particularly well-bred fillies often boast the power to entice seasoned operations to dip into the market, as was evident on several occasions. On Wednesday, the Niarchos family's Flaxman Stables Ireland, Ltd. made their only foray into the Book 1 market when paying a session-topping $1.45 million for a Dubawi daughter of 2003 Epsom Oaks heroine Casual Look. Asides from boasting a classic-winning dam, she is also the only yearling by her European sire to pass through an American sale ring this year.
The dearest filly to sell during Thursday's session was a Medaglia d'Oro half-sister to American Oaks heroine Nereid. Sold for $1.5 million, she was the only purchase made by the Haefner family's Moyglare Stud Farm. The Florida-based Bridlewood Farm, which was bought by Liberty Media Corp. Chairman John Malone in August 2013, also purchased with an eye to the future when going to $1.1 million for a Curlin half-sister to Beholder and Into Mischief.
By contrast, Mandy Pope's Whisper Hill Farm, usually associated with buying well-bred fillies, departed from the norm when shelling out $1.6 million on an Unbridled's Song half-brother to Preakness Stakes winner Oxbow.
In all, 13 million-dollar yearlings fell to 10 different buyers. Particular mention must go to celebrity chef Bobby Flay, who bred and sold two of the million-dollar fillies through Stone Farm, including a Tiznow filly for $1.1 million to Stonereath Farm. Out of the G3-placed Countess Lemonade, a half-sister to Ruler Of The World and Duke Of Marmalade, she was a real collectors item.
Although the market was described by participants as patchy in some areas, one very encouraging aspect of the sale was the increase in activity from international buyers, notably those from Japan. For instance, Japanese agent Teruo Ono paid $925,000 for a Bernardini half-brother to G1 winner R Heat Lightning, who had been a $300,000 pinhook by his vendor Baccari Bloodstock, while six-figure purchases were also made by K. K. Eishindo, J. S. Company, and Mitsu Nakauchida.
There was also welcome participation from Qatar, primarily through Sheikh Mohammed bin Khalifa Al Thani's Al Shahania Stud, a new name to the buyers' list, who paid $3,005,000 for seven hips, and David Redvers, who signed for $955,000 worth of yearlings on behalf of Sheikh Fahad al Thani. Meanwhile, Chilean operation Don Alberto Corporation, which purchased Kentucky farm Vinery in October, paid $1,315,000 for four fillies led by a $775,000 daughter of Tapit.
The Keeneland September Sale resumes Sept. 13 with Book 2 and continues through Sept. 21.