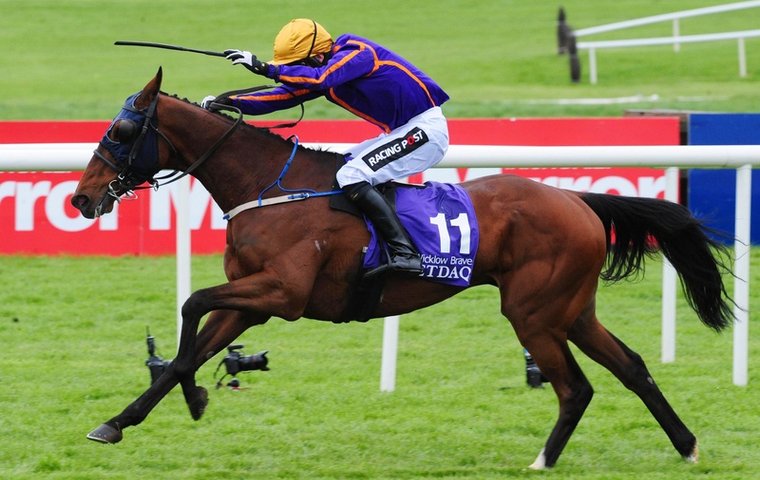 He's won two of Europe's most prestigious races in the past eight months, and he's run (mostly with distinction) in countless others around the world over the past five seasons, yet probably none of you would even have him in your thoughts if you set out to compile a list of favourite racehorses of the last couple of years.

Even in his native Ireland, Wicklow Brave might struggle to get votes for, say, a national top ten. And it's no guarantee he'd be particularly high in a poll of the most popular horses in his own stable.
Yet the 8-year-old son of Beat Hollow has a CV that surely no other Thoroughbred anywhere can match in terms of versatility at the top level in the mixed disciplines of flat and jumps racing.
Just look at this incredible list of the famous races he's run in:
March 2014 - G1 Supreme Novices' Hurdle, Cheltenham Festival (6th)

April 2014 - G1 Champion Novice Hurdle, Punchestown Festival (fell)

March 2015 - G3 County Hurdle, Cheltenham Festival (WON)

June 2015 - Queen Alexandra Stakes, Royal Ascot (4th)

July 2015 - Galway Hurdle, Galway Festival (11th)

August 2015 - Ebor Handicap, York Ebor Festival (2nd)

Sept 2015 - G1 Irish St Leger, Curragh (3rd)

Oct 2015 - G2 British Champions Long Distance Cup, Ascot (3rd)

Nov 2015 - G1 Morgiana Hurdle, Punchestown (3rd)

Nov 2015 - G1 Fighting Fifth Hurdle, Newcastle (3rd)

May 2016 - G3 Ormonde Stakes, Chester (2nd)

June 2016 - G2 Hardwicke Stakes, Royal Ascot (6th)

July 2016 - G2 Goodwood Cup, Goodwood Festival (4th)

Aug 2016 - G2 Lonsdale Cup, York Ebor Festival (3rd)

Sept 2016 - G1 Irish St Leger, Curragh (WON)

Nov 2016 - G1 Melbourne Cup, Flemington (22nd)

March 2017 - G1 Champion Hurdle, Cheltenham Festival (8th)

April 2017 - G1 Punchestown Champion Hurdle (WON)
Wicklow Brave has run in 15 races over hurdles (winning four), 12 on the flat (winning three), and, in his first season back in 2013, five National Hunt flat races, of which he won three.
How long is it since a horse has been campaigned with such vigour in such a variety of contests? How long is it since there's been one with the constitution and fortitude to flourish over such a range of competition?
Of course, it helps that he's trained by a master - perhaps the master. If there's anyone with the skill and foresight to produce a horse fit to do himself justice time and again in such a variety of circumstances, it's Willie Mullins, the man who has just clinched his tenth consecutive Irish jumps trainers' title thanks in no small part to Wicklow Brave's win in the Punchestown Champion Hurdle on the penultimate day of the season on Friday (see YouTube video below).
The gelding has been ridden by some of the greatest flat and jumps jockeys in the business, including Frankie Dettori, Pat Smullen, Andrea Atzeni, William Buick, Ryan Moore and Ruby Walsh, plus of course the man who has partnered him the most and who was aboard for that memorable win at Punchestown last Friday - the trainer's amateur jockey son, Patrick Mullins.
Mullins Senior said after the race: "I had the horse entered at York on the flat next week but I thought he was needed more here. In another year he might have gone there. I'm delighted for his owner, Nick Peacock, who is a very loyal supporter of the yard."
Yet Wicklow Brave is not widely recognised as one of the biggest stars of the Mullins stable - you'd write down the names of Hurricane Fly, Faugheen, Vautour, Annie Power, Douvan, Nichols Canyon and Quevega at least before you even paused to think of others (and even then it might take a moment or two before you remembered the Brave).
Indeed Walsh, the Mullins first jockey, has ridden him only once in the past two years - because he's very often been the stable's second or third string in these races.
Even the punters don't seem to take a lot of notice of our hero. He started at 12-1 when he won last week, he was 11-1 when he beat Order Of St George in the Irish St Leger in September (see YouTube video above), and the last time he started favourite for anything was in November 2015 (when he was 2-1 joint-favourite for a G1 hurdle at Newcastle - he was third, but he did, at least, finish ahead of the other joint-favourite.)
So what I want to happen now is for TRC readers to say I'm wrong - that Wicklow Brave is no unsung hero, that he's in fact hugely appreciated, hugely popular, one of the most loved racehorses - at least in Ireland.
Or, of course, you could come back with suggestions for other runners who are or have been just as versatile.
Whatever you say, I hope you're all looking forward as much as me to the next time Wicklow Brave sets foot on a racetrack.