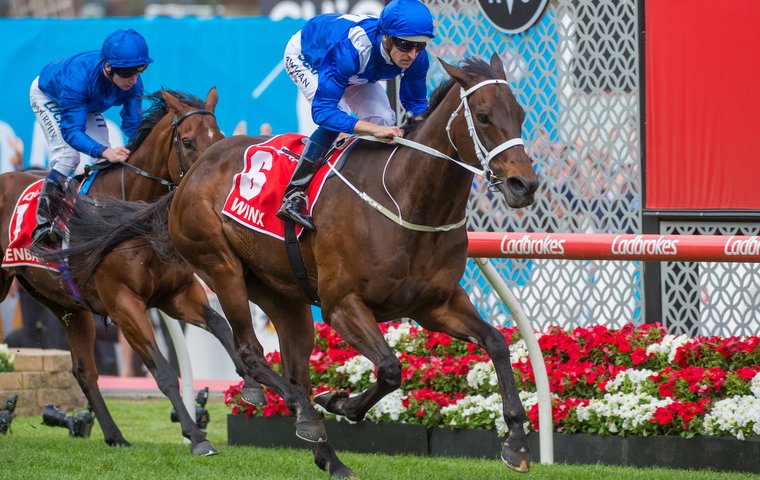 You may be surprised to learn that not everyone is entirely transfixed by the subject of racehorse ratings. Perish the thought, but there are those who consider that Shakespeare must have had at least one eye on the international rankings when he wrote one of his comedies. Much Ado About Nothing.

Be that as it may, the racing year looks set to end as it began, amid yet another row over the numbers. In January, Arrogate was controversially crowned the 'World's Best Racehorse' (their title) for the second year in a row at the annual Longines World Thoroughbred Rankings ceremony in London.
Although the Juddmonte flagbearer achieved an official rating of 134 for his spectacular last-to-first Dubai World Cup success, he was beaten on each of his three remaining career starts by an aggregate of more than 22 lengths. Controversy duly reigned, as he took the title of de facto world champion on the basis of a one-off performance, thereby relegating Winx to second place on 132.
Fast forward ten months and we might be forgiven a sense of deja vu after another kerfuffle involving the most recent list of interim world rankings published by the IFHA in November after the Breeders' Cup.
An article of faith
For much of the year, Winx has stood clear atop the world rankings with a mark of 130 from the Queen Elizabeth at Randwick in April – only for Cracksman to join her on the same rating for his emphatic six-length triumph in the Qipco Champion Stakes at Ascot. Given that Cracksman achieved that mark once, on favourable testing ground, his exalted status has prompted much wailing and gnashing of teeth. Especially in Australia, where Winx's supremacy is an article of faith, though her own rating is not copper-bottomed either.
None of these assessments are written in tablets of stone, however, no matter how scientific the method employed by the handicappers concerned. Despite huge advances in modus operandi over the decades, it is hard to escape the idea that official handicappers can be prey to certain political influences from the world's racing jurisdictions.
Detractors have also long since claimed that they tend to favour performances in certain races instead of simply calculating performance merit; they also seem to have an eye on historical legacy. That said, gone are the days when Dancing Brave was rumoured to have been given an extra pound in the end-of-year ratings as a retirement gift to long-serving senior handicapper Geoffrey Gibbs!
Other respected professionals diverge markedly from the official line. Consider Racing Post Ratings, for example. For the second year running, on their scale Cracksman is the world's number one on turf – on his own. Cracksman has an RPR of 131 for his Ascot romp; Winx, for her part, is adjudged to have done no better than the 126 she was given for her unprecedented fourth victory in the Cox Plate, fully four pounds beneath her 2017 best.
Enough already with the figures, for the case of Winx seems to offer an object lesson of where handicapping can be wholly deficient, as even Sam Walker, the Racing Post international ratings guru, admitted when he was discussing Winx before the Cox Plate.
"You can't knock Winx for her reliability and longevity, but you can definitely pick holes in a lot of her form," suggested the excellent Walker. "The truth is that on her day – like when she won the 2016 Cox Plate by eight lengths – she is one of the best in the world and has the RPRs to back it up, but most of the time she doesn't need to be anywhere near her best because her opposition is limited."
Established place in folklore
Handicappers by nature are seldom the most romantic of individuals and here – as much as any in the modern era with the possible exception of Zenyatta, with whom she shares a sire in the late Street Cry – is a horse who really should not be defined or diminished by any ratings barometer. It is just too prosaic. Put simply, Australia's wonder woman is a phenomenon.
Winx entered 2018 at the halfway point of her 6-year-old campaign with her place in racing folklore fully established after she became only the second horse to complete a hat-trick in the Cox Plate, Australasia's premier weight-for-age contest.
Okay, a half-length victory wasn't necessarily the stuff of legends – and she had made us sweat elsewhere thanks to her dramatic come-from-behind style – but it was hard to quibble with a perfect nine-out-of-nine record in 2017 that extended a famous winning streak to 22 (at a variety of distances on all types of ground).
Seven more victories, all of them G1s, were to follow during 2018 as Winx stretched her unbeaten sequence to 29, among them a world record 21 successes at the top level, most recently with an unprecedented fourth victory amid rapturous scenes in the Cox Plate – a race that was described locally, with only a trace of hyperbole, as the most anticipated in Australian racing history.
The magic mare may never have left her native country but she is a household name, superstar status unquestioned, well beyond the shores of Australia – hence the immense disappointment when a much-discussed trip to Royal Ascot was ruled out, though in retrospect it seems likely it was never seriously entertained given that history was on the line at home at Moonee Valley.
Winx's name is spoken of in company of the all-time Aussie greats like Carbine, Phar Lap and Black Caviar, whose winning streak she surpassed in August at Randwick on her 7-year-old debut with her 26th win in a row in the former Warwick Stakes (now renamed the Winx Stakes).

She has not been beaten since the autumn of her 3-year-old season in April 2015; she has been odds-on for every single appearance since her first Cox Plate in October 2015.
Even those who quibbled about the quality of Winx's opposition, or rued that she had never been tested abroad, were often forced to bring out the big guns to support their argument, with Frankel's name often mentioned. Few, presumably, needed reminding that the legendary colt himself also never raced abroad. It did not seem to tarnish his reputation enormously.
Even if Winx never sees another racehorse, she has done more than enough to go down in the annals of the sport as a true legend. Her legacy is assured.
As brilliant as he was on his day, can the same really be said about Cracksman?