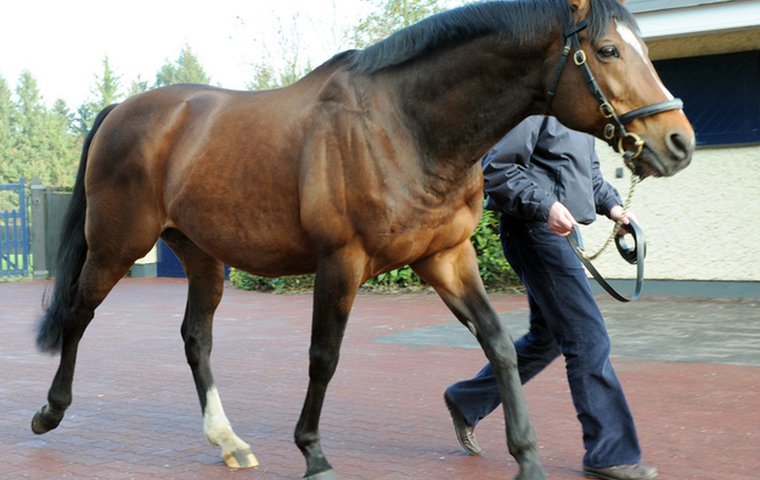 Click here for the world's top ten most expensive sires for 2019

The most expensive sires of 2016 comprise the usual mix of established and upwardly mobile horses, ranging from Galileo and Deep Impact to the likes of Tapit and War Front, both of whom once stood for less than $15,000.

This year, there are two unproven stallions on the list in Frankel and American Pharoah, each a colossus of the sport in their respective domains. Frankel's first crop will be racing within a matter of months but, before then, he will commence his fourth season in Newmarket for Juddmonte Farms at a fee of £125,000.
Meanwhile, Triple Crown hero American Pharoah will stand his first season at Coolmore's Ashford Stud in Kentucky for $200,000, making him the most expensive horse to retire to stud since Ghostzapper in 2006.
1. GALILEO
1998 b Sadler's Wells - Urban Sea (Miswaki)
Stands: Coolmore, Ireland. Fee: private
This will be Galileo's ninth season at a private fee and, judging from various off-the-record reports of recent figures, we can assume that he remains the most expensive stallion at stud worldwide.
Galileo will end 2015 as the champion sire of Britain and Ireland for the seventh time thanks a prize-money haul of close to his previous record of £5.8 million, set in 2012.
Anglo-Irish 2,000 Guineas hero Gleneagles was the star act of his season but there were nine other G1 winners, among them champion 2-year-old filly Minding, fellow 2016 Classic prospects Ballydoyle and Johannes Vermeer, and Breeders' Cup Turf winner Found. In other words, it was business as usual for Europe's flagship sire.
He also continues to make significant inroads as a sire of sires: Teofilo was represented by Irish 1,000 Guineas and Yorkshire Oaks heroine Pleascach, New Approach appears to have a solid classic prospect for 2016 in G2 winner Herald The Dawn while Roderic O'Connor's first crop included G2 winner Biz Heart.
2. DUBAWI
2002 b Dubai Millennium - Zomaradah (Deploy)
Stands: Dalham Hall Stud, Newmarket. Fee: £225,000 ($335,000)
Dubawi earned a fee hike of £100,000 from 2014 off the back of an outstanding year that was highlighted by 11 G1 winners. The list contains 3-year-olds of the ilk of New Bay, successful in the Prix du Jockey Club, and Arabian Queen, who claimed the scalp of Golden Horn in the Juddmonte International, to complement a group of older flagbearers such as Al Kazeem, Postponed and Prince Bishop.
As a result, his 2015 yearling average stands at 668,605gns, a figure buoyed by sale-toppers at both the Arqana August Sale (a colt out of Pacifique that sold for a sale record of €2,600,000 to John Ferguson) and Tattersalls October Sale (a filly out of Loveisallyouneed that sold for 2,100,000gns to MV Magnier).
Dubawi's incredible 2015 was not enough to topple Galileo at the head of the leading European or British and Irish standings. But it must be remembered that not one of his crops on the track to date was bred off a greater fee than £75,000. His first £100,000 crop runs next year, thereby setting the stage for another interesting clash with the Coolmore colossus.
3. TAPIT
2001 gr Pulpit - Tap Your Heels (Unbridled)
Stands: Gainesway Farm, Kentucky. Fee: $300,000
Tapit officially reigns as America's most expensive stallion for the second year in a row.
His fee was doubled to $300,000 for 2015 following a year in which he was crowned North America's champion sire thanks to a single-season earnings record of $16,813,536.
It was a record that didn't last long. With G1 winners such as Frosted, Tonalist, Ring Weekend and Untapable among this year's armoury, Tapit surpassed that mark in late November, and at the time of writing, has accumulated close to $18 million in progeny earnings.
Breeders also continue to reap the rewards of his success in the sale ring. He returned a 2015 yearling average of $615,250 in the northern hemisphere and once again provided the Keeneland September sale-topper, in this instance a colt out of Silver Colors who sold for $2.1 million to Whisper Hill Farm.
Connections will be hoping that he can follow the example set by the 2014 joint sale-topper Mohaymen, recently successful in the G2 Remsen and G2 Nashua Stakes at Aqueduct.
4. DEEP IMPACT
2002 b Sunday Silence - Wind In Her Hair (Alzao)
Stands: Shadai Stallion Station, Japan. Fee: 30,000,000 yen ($241,000)
Sunday Silence left behind a number of successful sire sons but none have filled the void quite like Deep Impact, who is on course to land his fourth consecutive Japanese sires' championship.
Deep Impact was represented by his first runners in 2010, since when his progeny have become the dominant force within Japanese racing.
There have been two winners of the Japanese Derby (Deep Brillante and Kizuna), four winners of the Japanese 1,000 Guineas (Ayusan, Gentildonna, Harp Star and Marcellina) and two winners of the Japanese Oaks (Gentildonna and Mikki Queen).
Mikki Queen was a domestic highlight of 2015 as was Shonan Pandora, who led home a one-two for the stallion in the Japan Cup. But the year also provided further evidence that Deep Impact is more than a Japanese phenomenon with Real Impact taking the George Ryder Stakes at Rosehill and A Shin Hikari landing the Hong Kong Cup at Sha Tin.
Next year, a select group of European-based juveniles will include a colt out of Peeping Fawn in training with Aidan O'Brien. Expect his international stature to continue to grow.
5= AMERICAN PHAROAH
2012 b Pioneerof The Nile - Littleprincessemma (Yankee Gentleman)
Stands: Ashford Stud, Kentucky. Fee: $200,000
The most expensive horse to retire to stud since Adena Springs' Ghostzapper took up stud duty at $200,000 in 2006.
Few horses have been so dominant as Zayat Stables' American Pharoah. Not only did he sweep the Triple Crown but also recorded bloodless victories in the Breeders' Cup Classic, Belmont Stakes, Preakness Stakes and Arkansas Derby, on each occasion scoring by in excess of five lengths. In the process, he earned close to $9 million.
However, there is far more to the American Pharoah story than figures and rankings. By becoming the first Triple Crown winner in 37 years, he gave what the racing public desperately craved and, in turn, became an ambassador for the sport - in July, he appeared on the front cover of Vogue, while over 15,000 people gathered to watch him gallop at Saratoga before the Travers Stakes.
He is understandably set to cover an outstanding book of mares and his first foals will be eagerly awaited worldwide.
American Pharoah is from the second crop of Pioneerof The Nile, another G1-winning Zayat homebred. Available for $15,000 only three years ago, the WinStar Farm resident will be the fifth most expensive stallion in the US next year at $125,000.
5= WAR FRONT
2002 b Danzig - Starry Dreamer (Rubiano)
Stands: Claiborne Farm, Kentucky. Fee: $200,000
It's remarkable to think that War Front's fee actually dipped to $10,000 in 2011, the year his first 2yos took to the track. Five years on, the son of Danzig is one of the most sought-after stallions in the world, capable of throwing horses that appeal to high-end European and American users.
Owner-breeder Joseph Allen and Claiborne Farm have long been firm supporters of the horse, but his swift ascendancy can also be attributed to the support of Coolmore, which campaigned Declaration Of War and War Command in partnership with Allen. And this year, Ballydoyle houses two top 2yos by the stallion in champion Air Force Blue and the unbeaten Hit It A Bomb.
Another son, The Factor, was a brilliantly fast dirt performer for Bob Baffert who won the Malibu and Pat O'Brien Stakes. His first 2yos run in 2016.
Such versatility has naturally stood War Front in good stead commercially; after supplying four million-dollar yearlings in 2014, he was responsible for another five worldwide in 2015, including a $1.45 million filly out of Betterbetterbetter.
A filly foal out of Take Charge Lady also sold for a record $3.2 million to Whisper Hill Farm at Keeneland in November.
7. FRANKEL
2008 b Galileo - Kind (Danehill)
Stands: Banstead Manor Stud, Newmarket. Fee: £125,000 ($186,000)
No horse in Europe has quite captured the imagination in recent years like Frankel, and consequently all eyes will be on his first 2yos when they debut in 2016.
Unbeaten through a 14-race career, Frankel racked up the longest winning sequence seen in Europe since Ribot, foaled in 1952. Each win was achieved with a degree of dominance but several performances live long in the memory, among them his six-length win in the 2,000 Guineas, in which he made all the running, and his 11-length victory in the Queen Anne Stakes.
Trainer Sir Henry Cecil summed up the horse best when he said: "He's the best I've ever had and the best I've ever seen. I'd be very surprised if there's ever been better."
Frankel's first yearlings averaged 463,308gns for 17 sold in Europe. Two yearlings, fillies out of Alexander Goldrun and Platonic, sold for €1,700,000 and €1,150,000 at the Goffs Orby and Arqana August Sales, while at Goffs in November 2014, another filly out of Finsceal Beo set an Irish auction record for a foal when knocked down for €1,800,000 to Dermot Farrington.
Those lofty figures are reflective of the esteem that Frankel is held and of the support lavished upon him by breeders, who supplied him with 38 G1 winners and 25 dams of G1 winners in his first book. They did so in the knowledge that, as a son of Galileo from a good Juddmonte family, Frankel owns a pedigree to back up his race record. All in all, he certainly has every chance to justify his fee.
8. MEDAGLIA D'ORO
1999 b El Prado - Cappucino Bay (Bailjumper)
Stands: Darley, Kentucky. Fee: $150,000
Medaglia d'Oro sired one of the greats in his first crop in Rachel Alexandra, who followed up her 20-length win in the 2009 Kentucky Oaks by defeating colts in the Preakness Stakes, Haskell Invitational and Woodward Stakes.
Fast forward to 2015 and he is responsible for another dominant filly of her generation in the unbeaten 2yo Songbird, who signed off her juvenile campaign with a wide-margin win in the Breeders' Cup Juvenile Fillies.
In between, there have been 11 other G1 winners on turf and dirt in the northern hemisphere, among them Plum Pretty, Mshawish and Violence. He also broke through in Australia earlier in the year as the sire of G1 Golden Slipper Stakes hero Vancouver.
Medaglia d'Oro has a number of young sons at stud but he has also been quick to make inroads as a broodmare sire, with his daughters responsible for G1 performers Rock Fall and Rachel's Valentina (out of Rachel Alexandra) in 2015 alone.
9. SEA THE STARS
2006 b Cape Cross - Urban Sea (Miswaki)
Stands: Gilltown Stud, Ireland. Fee: €125,000 ($136,000)
Before Frankel, there was Sea The Stars. Christopher Tsui's colt marched through his 3-year-old campaign unbeaten in six G1 starts, starting with the 2,000 Guineas over a mile and ending with a victory over Europe's best in the Arc. In between, there were victories in the Derby, Eclipse Stakes, Juddmonte International and Irish Champion Stakes to mark Sea The Stars down as one of the best horses of the modern era.
Although Sea The Stars' retirement to stud coincided with the recession, he was still able to command a first-year fee of €85,000, which jumped to €125,000 this year when his first crop of 3-year-olds yielded three G1 winners - an achievement reminiscent of that achieved by his half-brother Galileo back in 2006. Taghrooda, the wide-margin Oaks heroine who later defeated colts in the King George, was the star act but there was also the runaway German Derby hero Sea The Moon as well as Vazira, who was awarded the Prix Saint-Alary.
While no G1 winner has been forthcoming out of his second crop to date, it does include Storm The Stars, a resilient G2 winner who was placed in both the Epsom and Irish Derby.
To date, he is the sire of 23 stakes winners and 40 stakes performers.
10. INVINCIBLE SPIRIT
1997 b Green Desert - Rafha (Kris)
Stands: Irish National Stud, Ireland. Fee: €120,000 ($130,000)
Invincible Spirit has been on an upward trajectory since his first crop (bred off €10,000) yielded a record 35 winners in 2006. In 2016, he will stand for a personal high of €120,000, up from €100,000 in 2015.
The rise follows a year that was highlighted by a brilliant 2yo in Shalaa, winner of the Middle Park and Richmond Stakes, and Territories, winner of the Prix Jean Prat. Their exploits boosted Invincible Spirit's G1 tally to 12 while other classy performers of 2015, G2 winners Ajaya and Muthmir, also appear as G1 winners in waiting.
Meanwhile, his reputation as a sire of sires continues to strengthen. Lawman, already the sire of Just The Judge and Most Improved, was again to the fore in 2015 as the sire of Racing Post Trophy winner Marcel. Zebedee's first crop included G2 winner Ivawood while, in Australia, I Am Invincible was the leading first-crop sire of 2013-14 and, as a result, is now one of the most sought-after stallions in the southern hemisphere.