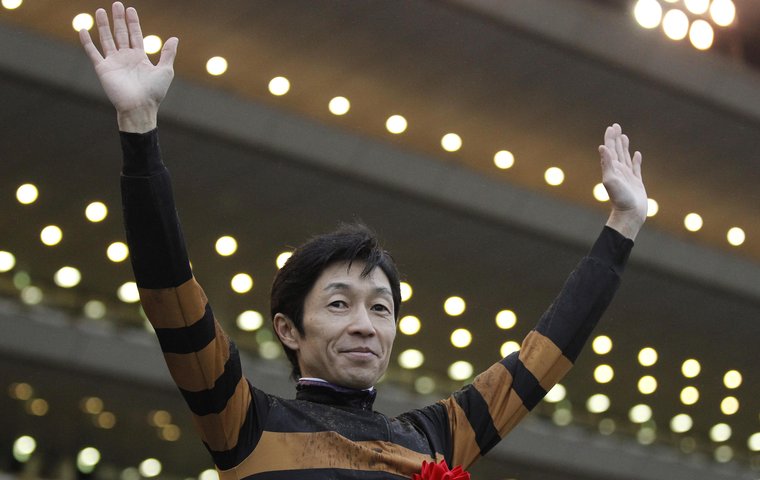 He's won at least one G1 for each of the last 23 years and one Graded race for each of the last 31. He's ridden nearly 4,000 winners worldwide and holds a world-leading figure for the most prize money won in a single year - $38.9 million. No wonder the legendary Yutaka Take has been chosen to receive one of the most prestigious awards in world racing.

The 48-year-old will be presented with the 2017 Longines and IFHA International Award of Merit, which recognizes distinguished horsemen and horsewomen for lifelong contributions to Thoroughbred racing. He will be honored on Thursday December 21, in Japan ahead of the 2017 running of the G1 Arima Kinen at Nakayama three days later.
A legend in Japan, Take made his riding debut in 1987. As of 11 December 2017, the Japan Racing Association credits him with 3,940 wins, of which 322 came in Graded stakes, while 74 have come in G1s.
Take, currently 14th in the world jockeys' rankings, also has the most victories in a year in Japan, 212, as well as the most prize money in a single year, that figure standing at ¥4,414,042,000 (about USD$38,931,850).
"It is a great honor to receive such a prestigious award," said Take. "As a jockey, I am happy to fly with a saddle back and forth locally as well as internationally as requested. It doesn't matter if there is a difference in the rules and language, I have been riding the same way everywhere, and therefore did not recognize that I was making a contribution to the achievement and improvement of global horse racing.
"If my attitude to horse racing has delivered me international recognition with this award, I will make a continuous effort to the development of global horse racing."
Born in 1969, Take followed in his father's footsteps, as Kunihiko Take was also a famed jockey.
In 1987, the younger Take notched his first career victory at Hanshin Racecourse aboard a horse named Dyna Bishop. He ended the season as the champion apprentice with 69 winners. Two years later, he was the overall champion jockey, and Take held that title continuously until 1999, with the exception of 1991.
Although Take has ridden a number of champions, he is most associated with legendary racehorse and champion sire Deep Impact. The pair won a total of seven G1s, including the 2005 Japanese Triple Crown, and Deep Impact has gone on to be the premier sire in Japan. He is currently the third-ranked stallion in the world standings. Currently, Take is known for riding Kitasan Black, the reigning Japanese Horse of the Year, whose final race will come in the Arima Kinen.
Take has also shown his abilities abroad. He has over 100 wins to his credit in eight different countries, including Australia, France, Germany, Hong Kong, Korea, United Arab Emirates, United Kingdom, and the United States. His international victories include G1 wins in the Prix d'Ispahan (France), July Cup (England), Hong Kong Cup (Hong Kong), and Dubai Duty Free Stakes (UAE).
Taking part in the presentation ceremony will be Juan-Carlos Capelli, Vice President of Longines and Head of International Marketing, as well as Louis Romanet, Chairman of the International Federation of Horseracing Authorities (IFHA), and Winfried Engelbrecht-Bresges, the Chief Executive Officer of the Hong Kong Jockey Club.
As the Official Partner and Official Watch of the IFHA, Swiss watchmaker Longines and the IFHA jointly created the Award of Merit in 2013 in order to honor public figures for their outstanding contribution to the world of horse racing.
Previous winners include France's Romanet family, Irish trainer Jim Bolger, French trainer Alec Head, U.S. breeder Seth Hancock, and the late Chilean horseman Marcel Zarour Atanacio.