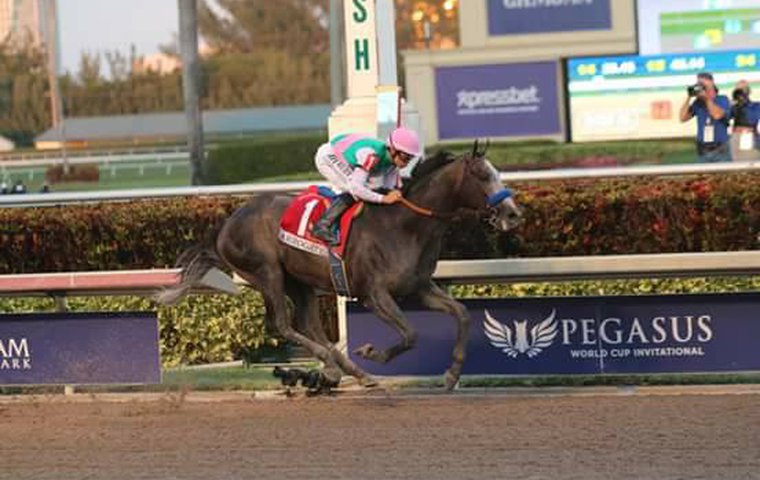 It was the kind of match-up – and performance – worthy of the first edition of the world's richest race. On a picturesque Saturday afternoon at Gulfstream Park, the inaugural $12 million Pegasus World Cup brought together two newly minted champions for one last dramatic showdown that will be long remembered as a passing of the torch of greatness.

What was supposed to be a grand farewell for two-time Horse of the Year California Chrome instead turned out to be another tour de force for Juddmonte Farms' incredible Arrogate, who romped to a decisive 4 ¾-length victory in just his seventh career start to run off with a historic $7 million paycheck for Prince Khalid Abdullah's famed international operation.
"This wasn't just a victory," said Garrett O'Rourke, Juddmonte's United States racing manager. "It was a display."
A display of greatness that underscored what happened in England last Tuesday. Second to California Chrome in the Eclipse Awards voting for Horse of the Year despite beating him by a half-length in the Breeders' Cup Classic, Arrogate found a proper level of acclaim overseas when he was honored as Longines' World's Best Racehorse for 2016.
After Saturday, when California Chrome never fired in the final race of his illustrious career and was diagnosed with some fluid in his knee after finishing ninth, Arrogate ended any debate about the merits of the two champions.
Getting right to the heart of the matter, Bob Baffert said with conviction that "Arrogate is definitely the No. 1 horse in the world".
For Baffert, himself the third-ranked trainer in the world, the Pegasus continued a highly charmed and incomparable run that has seen him segue from American Pharoah's Triple Crown season of 2015 into a different yet equally impressive triple with Arrogate.
In the Juddmonte colt's last three races he has won three races worth more than $19 million – the Travers, Breeders' Cup Classic and Pegasus – by a combined 18 ¾ lengths.
'Comparing your children'
"It's like comparing your two children," Baffert said about the two great champions that have graced his barn in recent years. "One won the Triple Crown. This horse, he's just coming around."
And that might be the most mind-boggling part of what happened in the very first Pegasus. As a newly turned 4-year-old with just seven career starts and three stakes appearances to his credit, Arrogate's best days just might be ahead of him.
"I still haven't gotten to the bottom of this horse," said Hall of Fame jockey Mike Smith, currently the world's tenth-ranked jockey, after Arrogate's sixth straight win. "With all due respect to everyone else in the field, I think he ran a tremendous race and I felt there was more there. It was just incredible."
Equally incredible is what Arrogate has accomplished in such a short amount of time. He became the first horse since at least 1975 to win the Travers without previously racing in a stakes – and he didn't just win, he cruised to a 13 ½-length win in track record time. Then, after a 10-week layoff, he beat 'Chrome' at the Breeders' Cup. Now, he has cemented his legacy by winning the Pegasus off 12 weeks' rest while missing a prep race due to a sloppy track at Santa Anita, having his training schedule impacted by Mother Nature and developing a small abscess in his hoof due to the wet grounds.
"He had an excuse to falter but he didn't, which says a great deal about this horse. We've all seen brilliant performances but, if you use the term 'great' on a horse, to me the longevity of the horse matters," O'Rourke said. "You have to back it up, and back it up and back it up and now this horse put in back to back to back great performances and only tremendous and special horses do that. That's what today means to me."
What happens next?
What Saturday also means is that, as California Chrome heads to the breeding sheds with record earnings of $14,752,650, the racing world now belongs to Baffert, Smith and Juddmonte (ranked fourth in the world owner standings), thanks to Arrogate.
The son of Unbridled's Song (36th in the global sires' rankings) turned the Pegasus into a smashing success with an utterly memorable performance and now his every move will be closely monitored.
Where he appears next is a question eagerly awaiting an answer.
The $10 million Dubai World Cup in March and, well beyond that, a return trip to the 2018 Pegasus for his final start seem fitting spots for a horse of his caliber. But, at this point, only the Breeders' Cup Classic at Del Mar in November is being mentioned as a target.
"We totally trust Bob's judgment of the horse," O'Rourke said. "We want, of course, the horse to have a championship season. So the end of the season is very important. But at the moment we won't think about anything until we get out a few weeks and we will leave it to Bob to come back and tell us what it is and his judgment of the horse at that time.
"It would be unfair for me to make a decision," O'Rourke added about future plans, "because Prince Khalid owns the horse and makes the final call. Obviously he enjoys racing the horse and, at this stage of his life, having a horse like this is something you hope happens again but you never take for granted.
"He's very willing to race his horses as older horses, as 4-year-olds and 5-year-olds. That's why I don't want to get ahead of myself and say we'll point to this race or that race. Historically we've never done that. We'll take care of him and, if that means we can have more of him for longer, that's while we'll do."
For his part, Baffert did not rule out a start in the Dubai World Cup, but he understands the key element in the decision-making process.
Lofty dream
"Right now, I wouldn't have any objections about running in Dubai," Baffert said, "but at the end of the day, Prince Khalid is the boss."
So until a decision is made on Arrogate's next start, what will have to suffice is the image of another majestic performance in a grandiose setting.
The Pegasus, the creation of The Stronach Group founder and honorary chairman Frank Stronach, seemed a lofty dream when it was first broached a year ago. Yet 12 stakeholders anted up $1 million and then ran either their own horse – as California Chrome LLC did – or worked out a deal for their spot – as Coolmore did with Juddmonte.
The finances were heavily tilted in the winner's favor as, after $7 million in purse money went to Arrogate for his victory as a 4-5 favorite ($3.80), $1.75 million went to the runner-up, Shaman Ghost, who is owned by Stronach, and $1 million to Starlight Racing's Neolithic, who was third, 8 1/4 lengths behind the victorious Arrogate at the Stronach-owned track.
Yet there was indeed a field of 12 when the starting gates opened and there was a buzz among a paid crowd of 16,653 throughout the day. Total wagering checked in at a record $40.217 million, shattering Gulfstream's old mark of $32.082 million set on Florida Derby Day 2016, and offering hope to the connections of the fourth through 12th finishers – who received only $250,000 in purse money - that there would be a bump in the added revenue they will receive.
"This was our first one, so we tried new things. We're going to learn from it. I think next year we'll get better and better. And I think there's been such a vibe in the Miami area and the whole city has been looking forward to this," said Belinda Stronach, President and Chairman of The Stronach Group, who said she would be in favor of keeping the Pegasus in Florida as opposed to shifting it to the company's significantly larger Santa Anita facility for next year. "So we want to create an epic racing event."
Judging by yesterday's debut – when the sport was treated to yet another masterful performance by Arrogate – the Pegasus has indeed taken wing and is well on its way to 'epic' status.