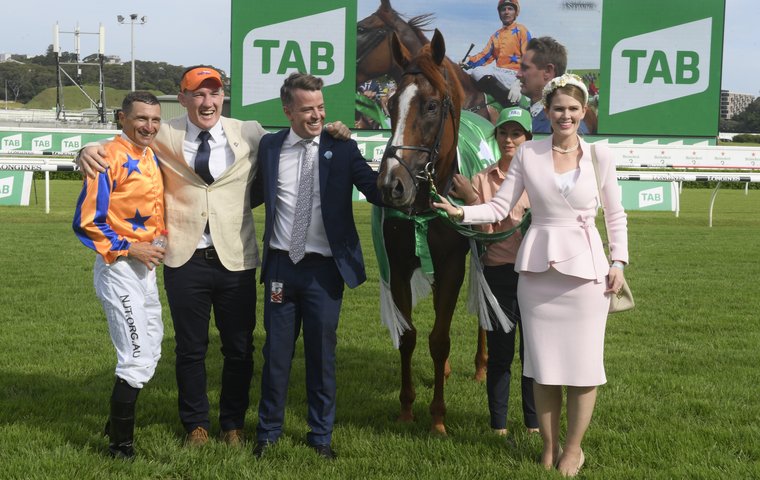 For the second week in succession, New Zealand trainer Jamie Richards is one of the big movers of the week in the TRC Global Rankings after winning two G1s (for the second week in succession). Here we take a look at the career so far of the new world #6.

Jamie Richards was persuaded to take some very rare time out to celebrate his Ellerslie Group One double last Saturday night, but it wasn't long until his constant lengthy routine kicked in the following day.
After Cool Aza Beel won the G1 Sistema Stakes (1200m) and Avantage took the G1 Bonecrusher New Zealand Stakes (2000m), as well as two other stable winners on Saturday, Richards joined his Te Akau Racing Stables boss, David Ellis, and wife Karyn, along with owners and friends, to celebrate the feat over dinner in Auckland. Though he admitted to feeling a bit dusty the next day, he wasted no time switching back into his daily routine.
"We usually don't get time to celebrate at this time of year so it was an exception," Richards said. "It's our busiest time with all the carnivals on. We usually leave it until winter when it's quieter for any celebrations."
On Sunday, Richards was inspecting the horses who had run the previous day and getting further organised for the upcoming week, then on Monday it was the usual early morning trackwork followed by a weekly staff meeting and various other duties, including trot-ups.
It's a never-ending treadmill that Richards is on, but he doesn't see it as an ordeal.
It's a career the 30-year-old has chosen and he considers himself extremely lucky.
Lucky to have been given the opportunity to train for such a high-profile stable established by Ellis, lucky to have a team of so much quality, lucky to be enjoying so much success and lucky to have such a good hard-working staff alongside him.
"There is nowhere else I would want to be," he said. "It's a routine for sure and you get in the rhythm. This time of year is our harvest time, when all the hard work Dave does buying these horses comes to fruition. It's carnival time and we want to be there with our best horses. At the moment we're having a huge run and we're doing our best to try and make it continue."
Richards is currently 21 wins clear on top in the New Zealand Trainers Premiership with 92 wins. He has 16 black-type winners in New Zealand (more than double his nearest opposition) and also leads the prize money table in New Zealand (NZ$3.65 million).
But even more importantly he has amazingly produced 11 G1 wins this season, seven of them this year, and those triumphs include three in Australia.
The previous weekend before his Ellerslie double, he did likewise on the high-profile Sydney stage with Probabeel and Te Akau Shark recording G1wins, while a month earlier stablemates Cool Aza Beel and Probabeel completed the Karaka Million double with the latter becoming the first dual Karaka Million (2YO & 3YO) winner.
Great teacher
Richards has amassed a total of 31 G1 wins, 18 of which are since training solo, and it's all come about in a training career that began less than five years ago.
"It all happened so quickly," Richards said. "I didn't expect it. I was presented with a golden opportunity and I was in the right place at the right time when Te Akau was restructuring and Steve [Autridge] was brought back in to train.
"Steve was a great teacher and is a wonderful horseman. He's laid-back and he gave me a good grounding of what is needed with this amount of horses and staff. He was a great mentor and I still bounce ideas off him."
Despite having a large team (100 horses) being worked each morning at the Matamata track, Richards is a hands-on trainer and likes to be involved in each of the three Te Akau barns, though each has its own foreman and assistant foreman.
He dismisses the long hours he puts in as just part and parcel of a successful stable determined to do better. He is up each morning well before the stable lights go on at 3.30am and is down at the Matamata track when work begins an hour later.
"It's a long day and I usually try to get to bed by 8pm to get six hours sleep," he said.
Richards' work ethic is not surprising. It's something instilled in him from a young age when brought up in Mosgiel by his parents, Paul (a highly successful jockey with over 1,000 wins) and Leanne, who became involved with racing administration and was later President of the Otago Racing Club.
"Dad was still riding when I was young and he was supplementing his income training a small team and breaking-in," Richards said. "I saw how much of a worker he was – and he still is.
"My sister, Libby, and I helped out around the stable when we could and I rode trackwork for Dad and some other trainers at Wingatui on weekends. We were lucky Mum and Dad sent us away on summer holidays. One of those holidays I spent with Steven Ramsay and I got to travel horses away for Mark Walker when he was training for Te Akau [and managing Pencarrow Racing]. Another summer I spent with Mark Kavanagh at Flemington.
"When I was young I wanted to be a jockey more than a trainer. I was infatuated riding horses fast, but, with my mother tall and father short, I was in the middle in stature and soon became too big to be a jockey. I was lucky I had a good education to stand me in good stead."
Amazing experience
A former Otago Boys' High School pupil, Richards graduated from Otago University with a degree in Management and Accounting (B.COM) before completing a postgraduate diploma in Marketing, and his first major move in racing was when being awarded a Sunline Scholarship by the New Zealand Thoroughbred Breeders' Association.
The scholarship involved employment at Cheveley Park in Newmarket, Coolmore Stud in Ireland and Taylor Made in Lexington.
"I didn't have a lot of understanding of breeding and yearling preparation when I got the scholarship and it was an amazing experience and I learnt some more when I worked for Waikato Stud later on," Richards said.
Richards did get to fulfil his riding dream, competing in races as an amateur rider and established a fine strike rate of four wins from eight rides.
"I was probably a bit lucky in that Dad set me up with Never Plead Guilty for my first win," he said. "He went on to win a Dunedin Gold Cup. And I won a race on Highly Likely for Te Akau in the Fortuna colours."
Now, almost six years after his win on Highly Likely, Richards is enjoying the highlights of training for Te Akau Racing. "There's a lot of things that drive me and the main one is being successful and doing the best with every horse for the owners," he said.
"Seeing the thrill Dave [Ellis] gets is really special. He's enjoying it and it's come from all the hard work he has put in to build it up over the years."
Training partners
Richards was first seeing eye-to-eye with Ellis when he was a part-time spotter at the National Yearling Sales for New Zealand Bloodstock, and he joined Te Akau Racing in March 2014 as Racing Manager. He became a training partner for the operation with Stephen Autridge in May 2015, then in July 2018 he took over as sole trainer for Te Akau Racing in New Zealand.
His first success with Autridge came with Stella Di Caprio in the listed Castletown Stakes (1200m) at Wanganui within his first month of training, and the partnership's first full season resulted in 104 winners for stake money of NZ$2.15 million with ten black-type winners, including four at G1 level. As well as winning that New Zealand Trainers Premiership, they were crowned 2015-16 champion trainers.
Coming into this season the Te Akau Racing Stables team had set a couple of goals. "We wanted to have horses to go over to Australia to compete at the top level and also to give the [New Zealand] Trainers Premiership a good crack and have a pretty good strike rate," Richards said.
He and his team have achieved the first goal, are on target to also achieve the second and have certainly maintained a good strike rate of 4.89 in New Zealand.
Close-knit family
Richards has already won three G1s in Australia this season with Melody Belle, Te Akau Shark and Probabeel and this weekend he and stable jockey Opie Bosson (who is up to world #19 after partnering the latest Richards G1 scorers) will be back in Australia chasing victory in the A$5 million All-Star Mile at Caulfield with champion mare Melody Belle, while further G1 missions await Probabeel and Te Akau Shark.
Melody Belle provided Richards with his first five G1 wins on his own account and four G1 wins this season, including the Empire Rose Stakes (1600m) at Flemington.
Melody Belle has been in good hands in Melbourne, in the care Richards' father, who is travelling foreman, while sister Libby is Racing Manager of Te Akau Racing Stables.
"It's great to have my family so involved," Richards said. "We're a close-knit family and they're a great support to me.
"As for the success we're having this season, if you said I was going to have 11 Group 1 winners by the first week in March I'd say you've got to be joking."
As for being in the top ten in the TRC Global Rankings, Richards says, "It's pretty humbling really. It's a bit of a bonus to be recognised internationally."