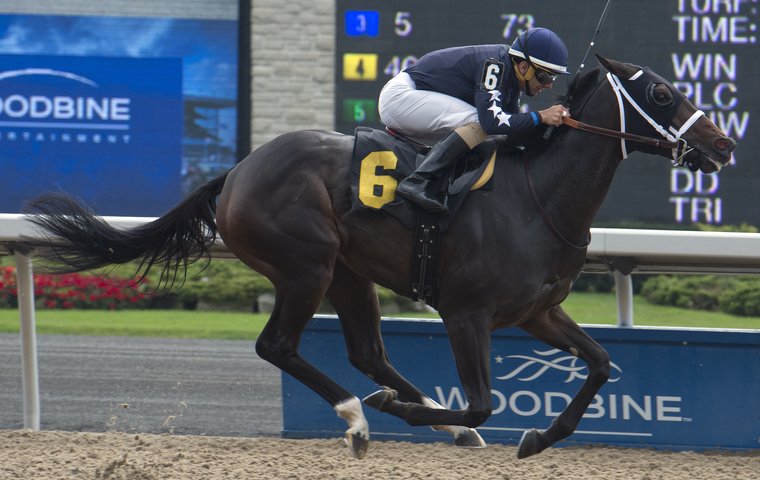 After a training program that focuses on developing young horses for long-term success, there are promising signs in respect of eye-catching 2-year-old filly Clickity Clack, who will compete in Sunday's $225,000 Princess Elizabeth Stakes at Woodbine Racetrack.

"I like to be very patient and get a really solid foundation to my 2-year-olds," said trainer Tony Gattellaro, who campaigned filly EllanVannin to a late-season stakes victory in last year's Ontario Lassie for his first stakes win. "I'm not a guy who gets a lot of horses. These are horses I'd like to think are going to last me until their 4 and 5-year-old season, so I like to take my time and make sure that they're able to withstand the vigors of racing."
One of nine horses currently in his boutique stable, Clickity Clack was one of Gattellaro's top picks from the Canadian Thoroughbred Horse Society's 2016 yearling sale. Bred in Ontario by Woodbine outrider Robert Love and his wife Michelle, the filly is by Silent Name out of the Two Punch mare Boama.
"When I looked at her, I thought she was going to grow up into a nice tall horse, which she is starting to do right now," said Gattellaro, who purchased the filly for $20,000 with four of his high-school friends.
"She had a really pretty head to her, a nice kind eye, so a lot of attributes that I like to look for, but the main thing would definitely have to be her athleticism.
"I got her broken with Saul McHugh up at Global Equine and he did a great job with her. She's been pretty straightforward. I'd say her number one attribute is she's classy and she has a nice free-flowing, long stride to her."
Clickity Clack has progressed in her first three career starts and heads into the Princess Elizabeth off a maiden-breaking victory going seven furlongs at Woodbine on October 7.
"I would say her last start is by far her best start," said Gattellaro. "I think the horse that we're going to see on Sunday is probably going to be an improvement off of that last start. Since then, she's just been training forwardly and I'm actually really excited to see her run."
Clickity Clack will stretch out to a mile and a sixteenth for her biggest test to date, but Gattellaro is not concerned with the added distance.
"Looking at the pedigree, one would think that it would be more of a shorter pedigree, but working with Silent Name in the past – I did work with Adena Springs for close to eight years – I tend to think that the Silent Names will stretch out and, with this filly specifically, like I said, she's very athletic and she's got a nice free-flowing, long stride to her," noted Gattellaro. "There is that concern from a pedigree standpoint of things, but just knowing the filly and watching her train, it's really not a concern of mine."
Other Canadian foaled 2-year-old fillies she will face in the Princess Elizabeth include Graded stakes starters Avie's Mineshaft, a freshman with experience over a mile and a sixteenth in the Mazarine for trainer Josie Carroll, and Mo Big Cat, a six-figure yearling purchase who competed in the Natalma Stakes for Woodbine's leading trainer, Mark Casse. The Casse stable also supplemented Safe To Say, the CTHS sale topper who defeated Clickity Clack by a head in the Gattellaro trainee's career debut. Hell N Wild, Gizmo's Destiny and Its'nicetobenice complete the field.
The $225,000 Princess Elizabeth Stakes is scheduled at the eighth race on Sunday's program, which also features the $125,000 Overskate Stakes as race six. First race post time is 1 p.m.