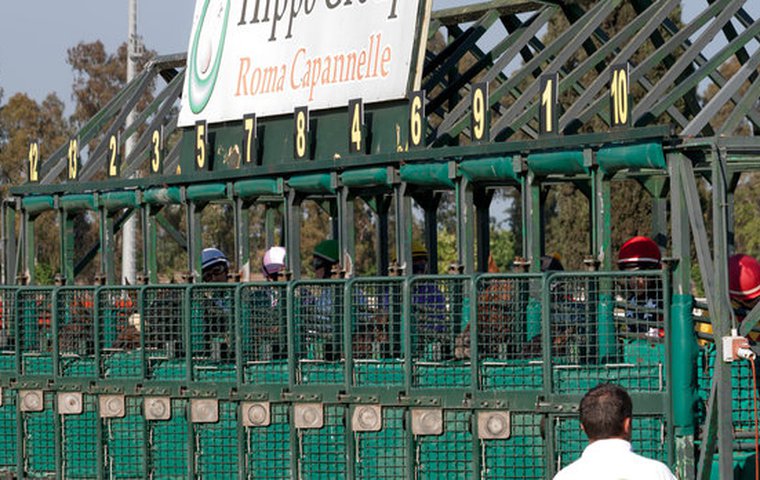 The plight of horse racing in Italy is one of the most desperate situations the sport faces anywhere in the world. But how did it come to this? In part one of a three-part analysis, the International Racing Bureau's James Crispe reports on the history and current state of Italian racing.

-----------
Italy, a nation with a proud racing history and a founding member of the European Pattern, is on the brink of losing its place among the continent's elite.
Against the background of betting turnover falling at an alarming rate, the annual foal crop almost halving inside three years, and bureaucratic chaos caused by the abolition of the country's racing secretariat in favour of direct government from the Ministry of Agriculture, some prize-money won 16 months ago has still not been paid.
So, when representatives of Europe's major racing nations got together for the annual meeting of the Pattern Race Committee in Paris on Jan. 16, it was widely expected that Italy would be demoted from Part 1 of the International Cataloguing Standards and thus lose the right to stage Group races recognised as such across the globe.
Instead, despite lobbying for more punitive action from Germany (the country most affected by the unpaid debts), Italy was granted a stay of execution. If all prizes for both 2012 and the whole of 2013 are paid in full by the end of March, its place in Part 1 will remain, for the time being at least.
Franco Castelfranchi, who served as General Manager of the Italian breeders' group, Associazione Nazionale Allevatori Cavalli (ANAC) for 30 years, was one of two Italian representatives at the meeting.
"The Committee has shown its willingness to help save Italian racing and has, quite correctly, put the ball back in the Ministry of Agriculture's court," Castelfranchi said afterward.
Italy has long been a major player on the world racing stage. Way back in 1908, the Neapolitan Chevalier Ginistrelli shocked the British Sport of Kings when he bred, owned, and trained Signorinetta to win both the Epsom Derby and, two days later, the Oaks – a feat that has never been repeated.
The pre-eminent name in Italian racing history is Federico Tesio, who for a 35-year period beginning in 1919, bred and trained numerous champions, including Nearco, who went on to be one of the 20th century's great sires. Tesio's crowning glory was the dual Prix de l'Arc de Triomphe winner Ribot, though his career on the track started a few months after Tesio's death in 1954.
More recently, in 1975, the Italian owner-breeder Dr. Carlo Vittadini won three of Europe's most prestigious Derbys (in England, Ireland, and his home country) and went within a head of taking the France's version, the Prix du Jockey Club. Grundy, the horse responsible for two of those Derby successes, subsequently beat Bustino in the 'Race Of The Century,' that year's King George VI and Queen Elizabeth Diamond Stakes at Ascot.
To the present day, Britain's most recognisable racing celebrity is the Milan-born Frankie Dettori, whose fame took off with his seven triumphant flying dismounts at Ascot on Sept. 28,1996, and has continued unabated thanks to restaurant launches, plane crashes, and drug suspensions, not to mention countless Group 1 victories.
With such a rich heritage, it comes as no surprise that Italy is home to a substantial racing industry. Government figures suggest that more than 30,000 people are employed within racing, and though there are 19 active racecourses, only two - San Siro in Milan and Capannelle in Rome – really matter from an international perspective as they have staged all the country's Group races since 2006.
Substantial it still may be, it used to be a great deal bigger. In 2005, almost 5,900 races were run, compared with 3,269 in 2013, and the breeding industry is in similar free fall – in the corresponding nine-year period, the foal crop has plummeted from 2,184 to 850.
Moreover, monies accrued through sponsorship and attendance fees are negligible, so the industry's only real revenue stream is betting or, more specifically, the chunk of every horseracing bet that is returned to the sport.
It is here that we come to the crux of the matter. If you wanted to bet in Italy, racing and trotting were your only options until 2000. Then sports betting was legalised and, thanks to an explosion in the levels of slot machine income, racing now accounts for just one per cent of Italy's gambling turnover.
To make matters worse, racing is competing on disadvantageous terms with soccer. Given that the takeout on some racing bets is four times the amount paid on similar soccer bets, is it any wonder that punters are deserting the sport in their droves? In 2011, betting on horse racing (including trotting) turnover amounted to €1.4 billion ($1.9 billion) – almost exactly half the figure of four years earlier.
The final piece in a calamitous jigsaw came with the Euro crisis in late 2012. Faced with the need to take severe austerity cuts in order to maintain its position within the eurozone, the Italian government decided to withhold payment of prize-money won in the last few months of that year. Six months later, in a supposed cost-cutting measure, it abolished Agenzia per lo Sviluppo del Settore Ippico (ASSI), the body tasked with organising prize-money payment.
Now, slow payment of prize-money is not a new phenomenon in Italy – back in 1979, when the authorities arbitrarily decided to pay up just twice a year, Newmarket trainer Robert Armstrong had a lengthy wait to get what was due to him for the Group 1 triumph of Noble Saint simply because the race in question, the Premio Roma, fell just on the wrong side of the six-month threshold.
But the delay period currently being suffered is much greater. In September and October of 2012, Sorella Bella and Sandreamer, trained in England by Mick Channon, raced four times in Milan achieving two wins and two places. Yet, by late January 2014, none of their €97,400 ($132,800) in prize-money had been received.
"We still haven't been paid and it's a disgrace," said Gill Headley, financial director of Mick Channon Racing. "Italy have always been the slowest payers but [the process of chasing up this money] has been very frustrating – like having your teeth pulled."
Of course, the people suffering the most in the crisis are the Italians themselves. For example, Franca Vittadini, who took over from her father, Carlo, on his death in 2007, reports that their broodmare band, which numbered 20 during the glory years, has now dropped to five.
Speaking from her stud, the Agricola Oriano, near Lake Maggiore, Vittadini said, "It is very sad that in 2014 the Vittadini family will not have a single horse in training in Italy for the first time since the 1950s."
---
TOMORROW: What does the future hold for Italy?