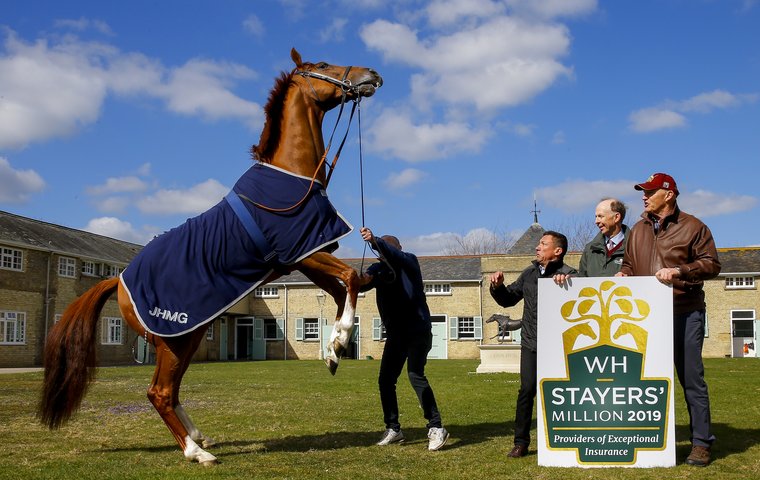 Ascot Gold Cup winner Stradivarius is parading for the media under clear blue skies at John Gosden's Clarehaven Stables, but this is Newmarket and it's still March. Warm it's not.

We are here for the launch of the Weatherbys Hamilton Stayers Million 2019, the bonus which when first announced a year ago was widely dismissed as unachievable but which Stradivarius snared at the first attempt.
Stradivarius will be having another go, and he's looking terrific. He's full of himself, rearing up on his hind legs and generally showing off, but that's just him, apparently.
"He's bit of lad," admits Frankie Dettori, "but he's good once you are on board."
He certainly is. So good of course that last year he made short work of winning what was then one of four possible preliminary qualifiers, the Yorkshire Cup, before cleaning up in the Ascot Gold Cup, the Goodwood Cup and then back at York in the Weatherbys Hamilton Lonsdale Cup to clinch the sponsor's £1 million. Then, as if he still had something to prove, he added the British Champions Long Distance Cup for another £300,000.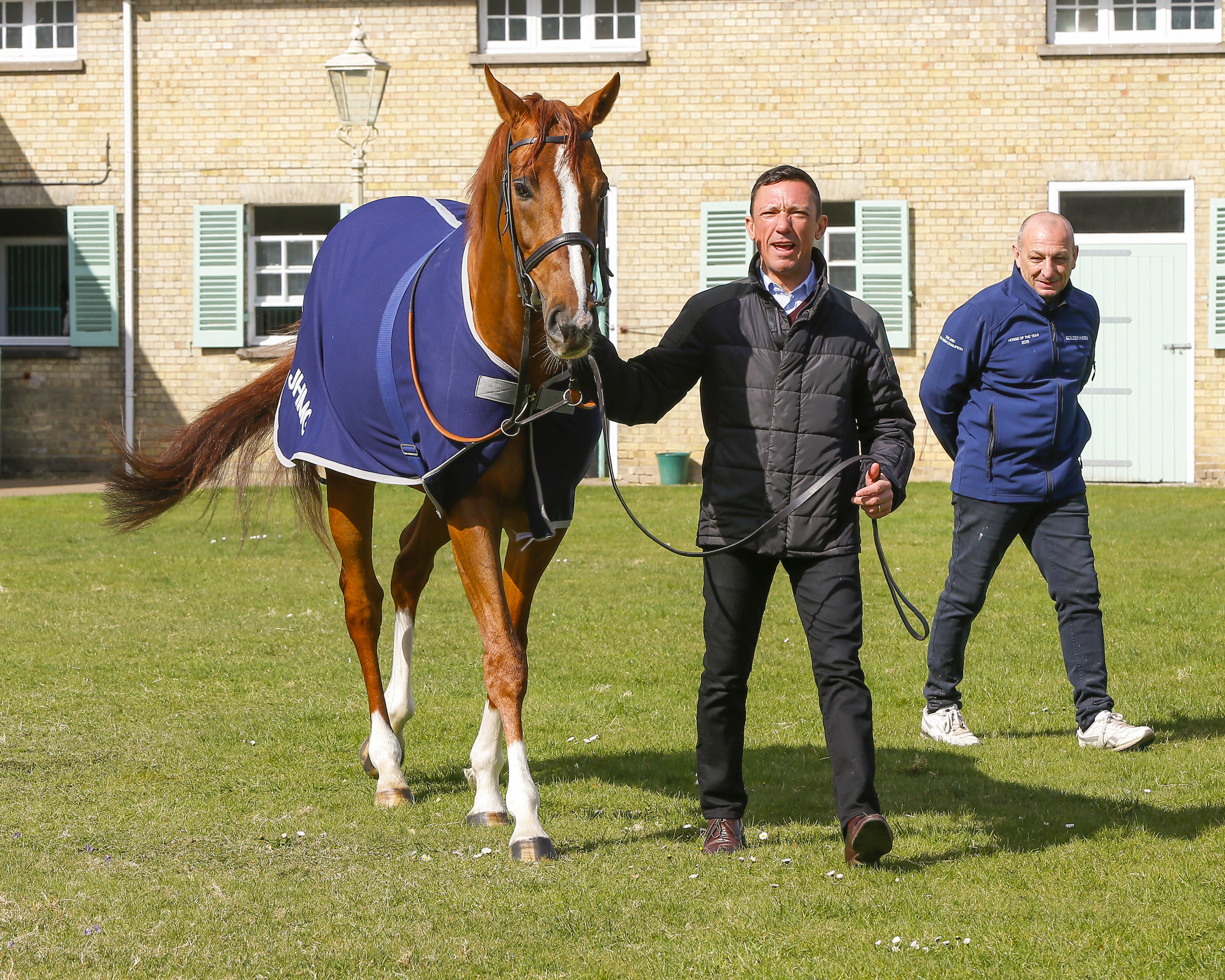 Dettori is looking well too, and why wouldn't he. He's struck an enviable balance between life's priorities.
He says: "I'm going to be 50 in 20 month's time, but I don't see why I can't go on for another five years or so. I'm only riding in around 300 races a year these days, not the 1,200 I once rode in."
Those days are long gone for Dettori, who has made just two appearances on the track in Britain so far this year for an impressive four winners from five rides. In between he's been in and out of Dubai, and he's back there this weekend to ride Gosden's St James's Palace winner Without Parole against the brilliant Japanese filly Almond Eye in the Dubai Turf.
The following day he'll be relaxing at the Bahrain Grand Prix, and he's also looking forward to joining pals at Aintree for the Grand National. Then it's back into action at home, when high on a long list of dates to look forward to is the return of Stradivarius in the Yorkshire Cup - one of eight qualifying preliminaries this time in a programme encouraging international participation by the addition of the Dubai Gold Cup, the Vintage Crop Stakes, Germany's Oleander-Rennen and France's Prix Vicomtesse Vigier.
Dettori, who won the first of six Gold Cups on Drum Taps way back in 1992, is a big fan of stayers and points to one priceless asset Stradivarius has that few others racing over long distances can match, which is that "he's a stayer with a turn of foot".
Gosden loves a stayer too, although he had never previously won the Gold Cup. He says: "The stayers have been ignored for too long because of the endless commercial appetite for speed on speed, so this promotion of distance horses is fantastic. It certainly captured the imagination in its inaugural year and it deserves all the support we can give it.
"The great thing about the competition this year is that, with up to eight winners heading to Ascot, there's a very good chance that the bonus will still be alive after the race."
Gosden has a second WH Stayers Bonus candidate this time in Weekender, the Frankel 5-year-old who excelled himself when chasing home stablemate Muntahaa under a massive weight in last year's Ebor Handicap. Weekender was due to take on Melbourne Cup winner Cross Counter in the Dubai Gold Cup this Saturday, but that plan has been shelved following a minor hiccup.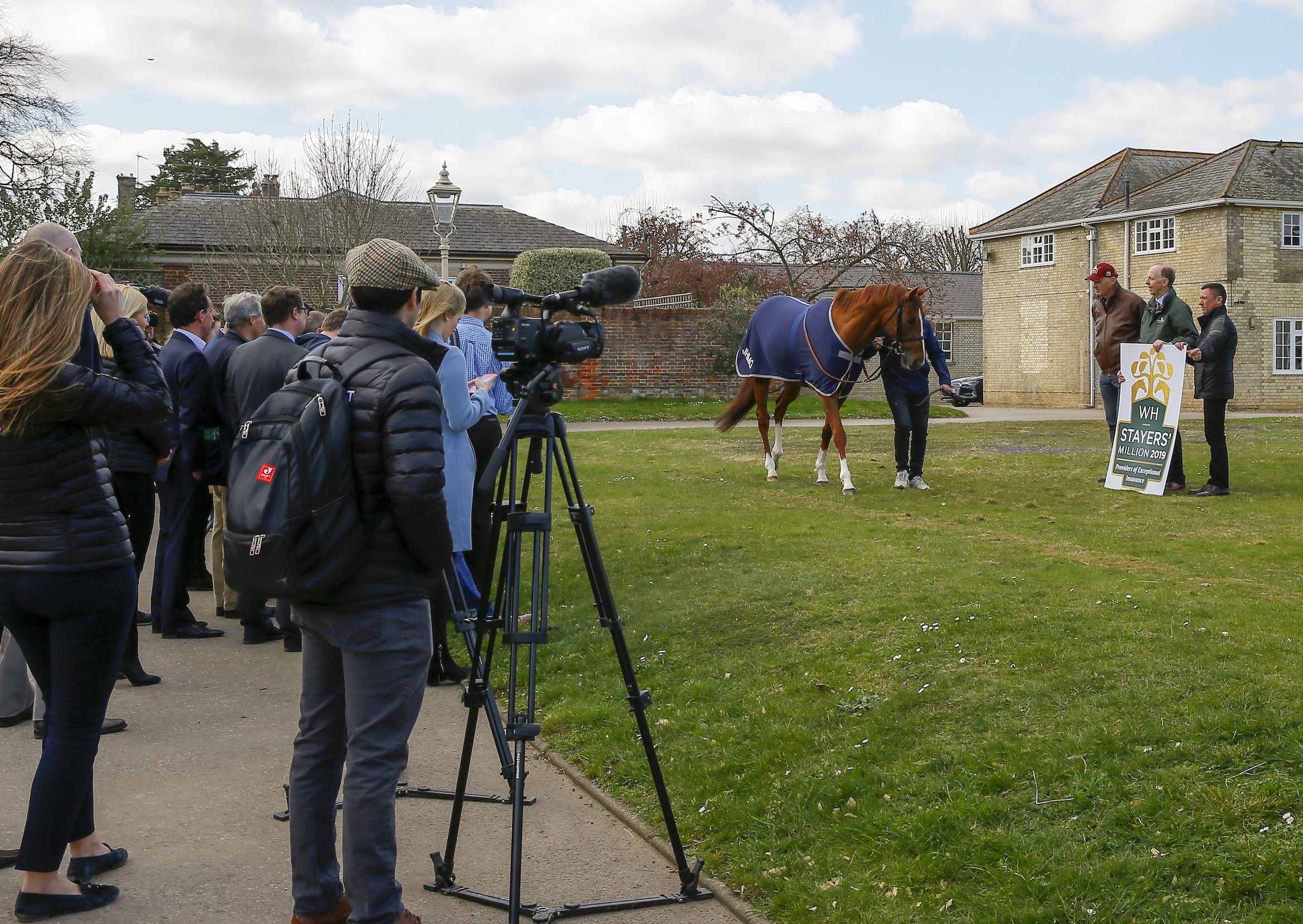 Teddy Grimthorpe, racing manager to owner Khalid Abdullah, describes Weekender as "a scopey, more typical staying sort than Stradivarius" and adds that he is "looking at the Weatherbys Hamilton initiative very strongly". He is expected to be ready for either the Ascot or Sandown qualifier.
The maroon and gold Roaring Lion cap that Gosden is sporting is a reminder of one champion that is no longer at Clarehaven, and a passing reference to a Newmarket maiden in which Stradivarius was only fourth to Cracksman recalls another.
However, while the "galaxy of stars" Gosden says he was lucky enough to have at his disposal in 2018 has been broken up, there is not a trainer in the land who wouldn't bite off his hand if offered the 2019 intake in some kind of swap.
Pride of place belongs to dual Arc and Oaks winner Enable, who took her earnings past the £8 million mark by adding the Breeders' Cup Turf at Churchill Downs last November and is being trained for an unprecedented third win in the Arc. Last year we didn't see her until September, but this time Gosden has pencilled in Epsom at the end of May.
He says: "We are pointing towards the Coronation Cup, but it's all about the first Sunday in October. She's enjoyed the winter and is loving her exercise. She's in great order and even bigger and stronger now, so it's fingers crossed."
Gosden also has good news of Winter Derby winner Wissahickon, who misses Meydan at the weekend but is back on course for the Easter Classic at Lingfield on April 19, and also Lah Ti Dar, who he says took too long to get rolling in the St Leger and is due to reappear in York's Middleton Stakes. However, it was Lah Ti Dar's younger brother that everyone wanted to hear about and, once again, it was good news.
Gosden says: "Too Darn Hot is training nicely and we are pleased with him. Frankie sat on him at the weekend and was very pleased with his development from two to three, so we are building towards the Greenham with him. He's a bundle of energy, like a very hyperactive 'I want to get on with it' kid. He's a pleasure to train."
Too Darn Hot, officially rated as good a 2-year-old as Frankel, is understandably a red-hot favourite for the 2000 Guineas, but he also heads the market for the Derby, although Gosden isn't counting on him staying a mile and a half. Far from it.
He says: "His mother stayed a mile and a half and his sister was second in the St Leger, yet he had another sister who was purely happy at a mile and a quarter. He does have a lot of speed and is very powerful. Beyond a mile and a mile and quarter I simply wouldn't know."
While Too Darn Hot is the stable's number one classic colt, he's not the only one.
Calyx, injured after impressing in the Coventry, is pleasing, though it sounds as if he might not be ready for the Guineas. There are also no fewer than 16 entries for the Derby, though that's because the race closes so early rather than because they are all regarded realistic Epsom hopes.
Derby possible
Gosden reminds us of the old adage that "if you think you have more than one Derby colt you probably haven't got any", but he might still have one even if Too Darn Hot turns out best at shorter distances.
That's Dubai Warrior, and if you missed him at two it's because his one and only start was on a low-key evening card on the all-weather at Chelmsford in November. Don't underestimate him though.
Gosden clearly thinks a bit of him and says: "Any of ours that win first time out, it's usually a positive sign as they are not usually drilled to win first time. He's a big horse who has taken a bit of time to come forward, but I'm looking forward to running him over a mile and a quarter straight away, possibly in one of the trials or else at the Craven meeting in what used to be a maiden but is now a novice for horses that have run once."
A morning which began with coffee and biscuits at Newmarket's historic Jockey Club Rooms ends there too, with Gosden and Dettori still taking questions while the rest of us enjoy a glass of wine and a light lunch.
It draws to a close after a short film about last year's WH Stayers Bonus, which includes Dettori showering the York winner's podium with £20 notes after the presentations, and Gosden is almost out of the door before there is any mention of the horse that might be Clarehaven's next big thing once Enable and Too Darn Hot have followed Cracksman and Roaring Lion into retirement.
We haven't heard much about Too Darn Hot's younger brother since he was bought at Tattersalls for £3.5m on behalf of Sheikh Fahad just days before the Dewhurst, and now is the time to ask.
"He's not named yet, but he's doing fine," Gosden replies, before adding that "he's not precocious".
They don't have to be precocious to be good. Just look as Stradivarius.