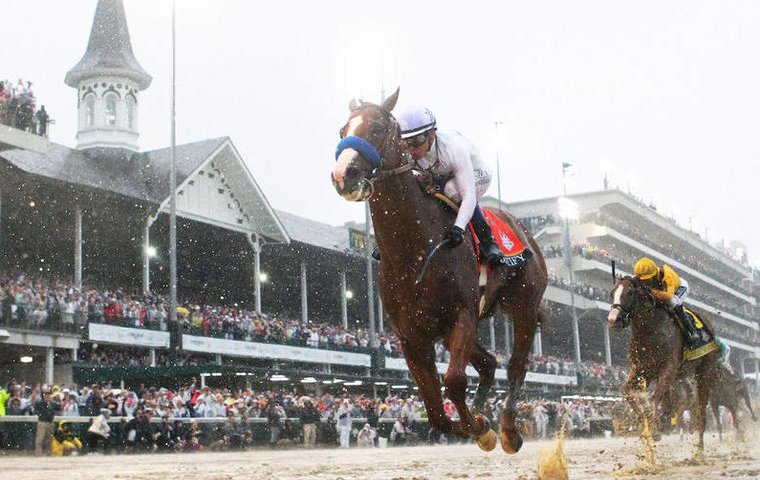 The sun did not shine on anyone's old or new Kentucky home in Louisville yesterday. More to the point, it was a gray, rainy day that soaked the 157,813 fans who turned out to watch America's most coveted and famous horse race.

Yet no matter the obstacles tossed in the way, there was indeed a horse in the 144th Kentucky Derby whose star burned as brightly for him as it did for anyone else who earned fame on the first Saturday in May at Churchill Downs.
There's no telling if the undefeated Justify will become a legendary champion along the lines of a Secretariat or a Seattle Slew, yet his 2½-length victory over a sloppy track in the Derby surely pointed him out as a 3-year-old with the kind of immense talent and potential that is seen on only on rare occasions and is in the hands of connections who have few if any peers.
"He just put himself up there with the greats," Bob Baffert said about Justify, and if there's anyone who knows a thing or two about great horses it's the white-haired Hall of Fame trainer.
Justify, owned by the consortium of WinStar Farm, China Horse Club, Jack Wolf's Starlight Racing and Sol Kumin's Head of Plains Partners, was Baffert's fifth Kentucky Derby winner and his first since American Pharoah, who prevailed in the 2015 Derby en route to becoming the first Triple Crown winner in 37 years.
All of which puts in motion some rather interesting lasting impressions from the 144th Kentucky Derby, which include:
Are we about to see another American Pharoah?
What happened to the Curse of Apollo?
Will a longshot ever again win the Derby?
Does ownership have a different meaning these days?
Will a European ever win the Derby?
Are we about to see another American Pharoah?
Yes, a Triple Crown is definitely a distinct possibility. Considering this was Justify's fourth career start and he was facing more than six rivals for the first time, there was surely a reason to believe someone could end his winning streak and expose him as a good but not great racehorse.
Instead, by ending the 136-year-old 'Curse of Apollo' and becoming the first Derby winner since 1882 who did not race at two, plus beating a field as deep and talented as the Derby has seen in recent memories, as well as standing tall in the stretch after hounding brutal fractions of 22.24 and 45.77 seconds set by a 49/1 longshot who faded to 15th, Justify lived up to every bit of the hype about him that made him a 5-2 favorite.
He was tested early and then still had enough energy and class left to fend off a stretch bid from a very good rival in Good Magic, who was the division champ at two.
Yes, it was a victory on a wet track, yet after taking into consideration Justify's wins over a dry surface, it's hard to believe that sunshine would have altered the outcome.
Much like American Pharoah, who was not 100 percent fit for the Derby after just two easy preps at three, Justify had the look of a horse who seemed beatable in the Derby due to running in just one stakes (a loose-on-the-lead win in the Santa Anita Derby) prior to the Run for the Roses. Now, it looks as though, if his rivals couldn't outrun him at Churchill Downs, they may not catch him in the Preakness, where Baffert's four Kentucky Derby winners are 4-for-4, or the Belmont Stakes, either.
"We saw something really great. That's greatness right there. When he won his second race we were in [American] Pharoah territory," Baffert said. "I knew the last eighth he was going to win. I was just in awe of the performance. That's the best, you know, Kentucky Derby-winning performance that I've brought up here. And so, I mean, he just did it. He just put himself up there with the greats. It takes a horse, you know, like American Pharoah. We knew he was capable. He showed me that. We were talking about it, but I didn't want to say it. Hey, I don't want to jinx myself, but we knew, I knew, I had something really special, but he had to prove it today."
He certainly proved it and then some, especially to his Hall of Fame rider Mike Smith, who has been on a long list of the sport's great stars, including Arrogate, Baffert's most recent superstar.
"I mean, this horse … he's so above average, it's unbelievable. He has a mind to go with it. I knew if I could get him out of there and get him into a big rhythm, he can go fast. That's how good he is. That he can go at 45 [seconds] and still finish like he did was incredible," Smith said.
And sometimes to fully appreciate the talents of a great champion, it's best to listen to the words of those left behind in his wake, such as Dale Romans, trainer of Promises Fulfilled, the unfortunate overmatched pacesetter who could not keep step with Justify when the running became serious.
"[Justify] was right next to us the whole way and we just weren't able to hold him off. It was an unbelievable performance by the winner, on this track, going that fast," Romans said. "He never stopped. He may be a super horse."
He may indeed.
What happened to the 'Curse of Apollo'?
The key words for Apollo 136 were, "Louisville, we have a problem."
For the first time since 1882 a horse who did not race at two won the Derby, but is it time to say goodbye to 'The Curse?
Since the Boston Red Sox broke 'The Curse of the Bambino' in 2004 and won their first World Series title since 1918, they have won two more world championships.
"The curse thing really didn't bother me," Baffert said. "I was just worried about us, just make sure we did everything right. We shipped right. [Assistant trainer] Jimmy Barnes, all my team, the gallop boys. Everybody was in sync. Everybody stayed focused. We have been lucky enough to have these good horses.
Yet before anyone buries 'The Curse of Apollo' once and for all, keep a few points in mind. It took a very special, undefeated horse to break the curse. There's also some merits to the points at the heart of 'The Curse'. A horse who did race at two is often playing catch-up with more seasoned rivals and may not have the proper foundation to withstand a grueling mile-and-a-quarter test against the best rivals of his generation on the first Saturday in May.
Magnum Moon, the undefeated Arkansas Derby winner, also tried to mimic Apollo and finished 19th.
So next year, while talk of 'The Curse' will be muted, it would probably make sense to at least be wary of horses without a race at two trying to win the Derby.
For something to last 136 years, there had to be some validity to it.
Will a longshot ever again win the Derby?
It's kind of ironic that Smith, the jockey aboard the unprecedented sixth straight winning favorite in the Derby, now has two wins in the Run for the Roses. The second came on a 5/2 shot in Justify ($7.80), and the other was courtesy of a 50/1 shot, Giacomo in 2005.
Maybe it is the point system that was installed in 2013 that changed the dynamic of the Derby. Since then nothing but chalk has won the race and perhaps there's something to be said for having a field full of horses who earned their way into the race off efforts at three instead of two, as was the case with the previous system that relied on Graded stakes earnings.
Unfortunately, there's no way of proving that, and this might simply be an overdue statistical correction for 1980 to 1999, when not a single favorite was able to win the Derby.
Yet, whatever the case or reason, when the 145th Kentucky Derby rolls around, the law of averages say the favorite is bound to lose, but bet against the chalk at your own peril.
Click the link above to read what Bob Ehalt has to say
Bob Ehalt gives his thoughts - click the link above