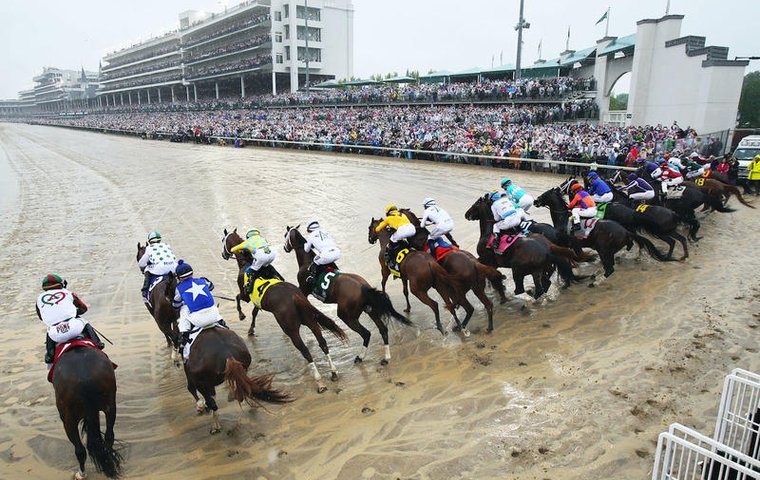 Certainly yesterday's Kentucky Derby was not Europe's proudest moment under the Twin Spires of Churchill Downs.

Mendelssohn, the $3 million yearling buy, arrived in the United States touted as the European who would push ugly memories of Arazi and Thunder Snow into the background. He was good enough to win a Breeders' Cup race on turf and won the UAE Derby by 18½ lengths in his first dirt race, confirming his pedigree as a half-brother to four-time Eclipse Award-winner Beholder.
He received so much support that he was narrowly the 6/1 third choice over My Boy Jack and that horse definitely took a lot of action from guys named Jack instead of his past performances.
But it was not to be. Mendelssohn was slammed coming out of the gate, never recovered and finished absolutely last in the field of 20. In his defense, compared to the debacle last year with Thunder Snow, at least he ran all the way around the racetrack.
"He got beat up out of the gate and proceeded to check on the first turn and was never in a good place. The race was over [for him] then. The track condition did not bother him. He had a rough trip early on," Ryan Moore said.
Trainer Aidan O'Brien had similar thoughts. "He just got knocked over coming out of the gate and then he got knocked over again going into the first bend, but he'll be fine. He was never used to getting that much kickback. It's a totally different experience, you know, so, we'll be fine.
"We'll take him home and give him a break and come back [for the Breeders' Cup Classic at Churchill Downs]. We'll look forward to the Classic with him," O'Brien said.
Considering how Thunder Snow rebounded to win the Dubai World Cup earlier this year, it's understandable why O'Brien is looking forward to the future.
Yet, if that future involves bringing another horse over for the Derby, maybe he should try Plan B and stable the horse in the United States to prepare him for the Triple Crown.
Traveling long distances has become much less of a grind for horses, but to date shipping from overseas for the Derby has had only limited success. Like 'The Curse of Apollo' and the run of six straight favorites, that could end at any moment, yet the inherent risks of betting a European in the Derby, especially a highly touted Euro, are surely an impression that will linger for quite a while after the 144th Kentucky Derby.