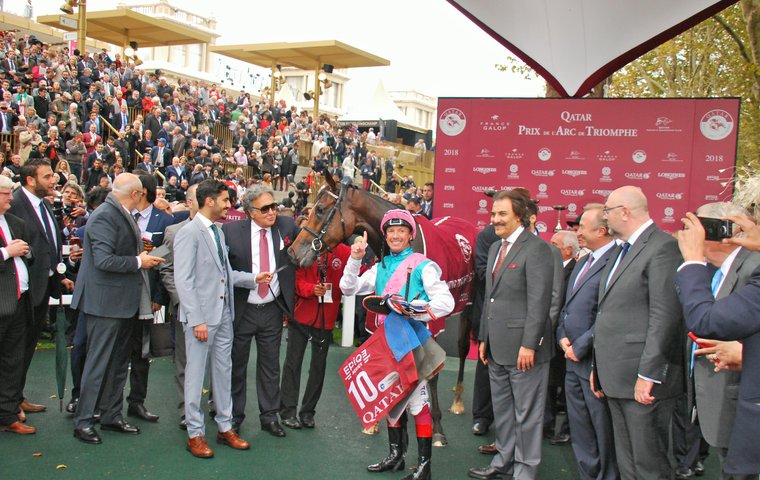 John Gilmore looks at some of the key facts and figures ahead of Sunday's Prix de l'Arc de Triomphe.

With a purse of €5 million - €2,857,000 to the winner down to €143,000 for fifth - the Arc is the richest middle-distance turf races in the world, and the richest of any kind in Europe.


A low draw is favourable: Enable has been fortunate so far, having been drawn 2 of 18 when the race was won at Chantilly in 2017, and 6 of 19 at ParisLongchamp last year.


Concerning the age of the winner, here's an interesting sequence: since 2011, it has gone 3, 4, 3, 4, 3, 4, 3, 4. Can one of the 3-year-olds maintain that this time?


It is often said the weight-for-age allowance favours a good 3-year-old - fillies carry 8st 9lbs and colts 8st 13lbs. It's 9st 2lbs for older females and 9st 5lbs for older males.


History is not on the side of Enable: only six 5-year-olds have won in 97 runnings, the last being Marienbard (ridden by Frankie Dettori) for Godolphin in 2002. Of the six only one was a female - Corrida scoring for the second year running in 1937.


Oldest horse to win the Arc was 7-year-old Motrico in 1932. He also won in 1930 as a 5-year-old. Three-year-olds have 62 victories and 4-year-olds 28.
Fans from around the globe - including thousands of Brits and a large number Japanese - need to be on their guard. Paris sadly attracts gangs of professional pickpockets and thieves, especially on the Metro and at main-line rail stations.


France Galop has bent over backwards to cater for the large number of complaints from British and Irish racegoers by increasing drinking outlets and betting facilities on the racecourse, and making clearer signs especially for toilets. Many I spoke with last year, however, were not happy about the newly designed paddock area, which no longer has its wonderful raised far-side restaurant and bar area overlooking the parade ring. Diners can't see the horses walking round from the new restaurant, which is on the nearside.


France Galop's effort to increase racegoers at ParisLongchamp this year has had great success with its Thursday-evening 'after work' meetings, partly aimed at the nearby business area of La Defense. Overall spectator levels have trebled to 90,000 compared with last year. The meetings offer after-race music until late, with a free bus service there and back from Port Maillot and Port d'Auteuil. Chantilly is considering offering something similar on a Friday night next year, after a successful Saturday evening meeting on June 29, with a live band.