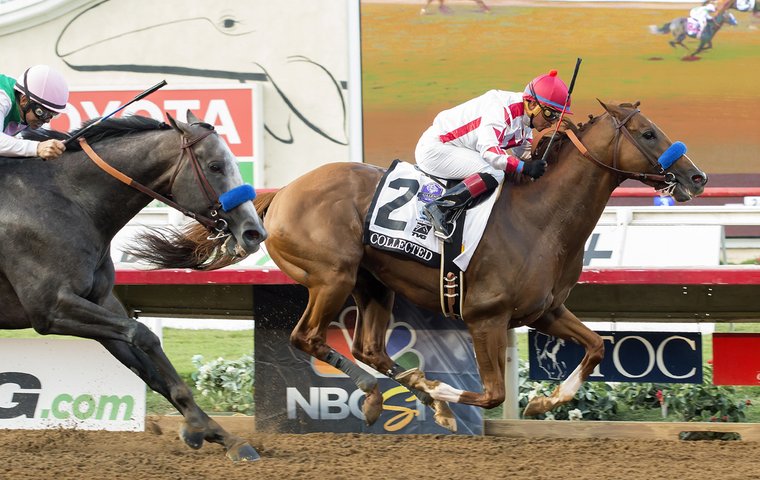 When the mighty Alleged was two, he was purchased by a syndicate headed by Robert Sangster. The original intent was to keep the horse in the States, where he was bred. But creaky knees saw him sent to Ireland, where he was trained over more forgiving surfaces at Ballydoyle, when Vincent was the resident genius with the surname O'Brien.

Lightly raced in his early career, Alleged showed no insignificant talent. But, after he tasted defeat in the 1977 St. Leger, at Doncaster, one member of the syndicate, J. Robert Fluor, sold an eighth share in the horse. Luckily for him, he kept his other eighth share. For the history books are full of what the horse did next – bag two Prix de l'Arc de Triomphes.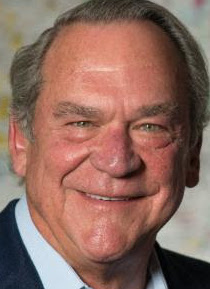 "I'll go online and Google it, and I can see my father in the winner's circle, so that makes me feel good," said Robert Fluor's son, Peter (pictured), about seeing his father enjoy one of those memorable Arc victories. "He said it was his greatest thrill in racing."
Forty years later, Fluor sits on the cusp of chiseling his own family chapter into the vast monument of racing history.
As one half of Speedway Stables, Fluor is part owner of Collected, one of the favorites for this year's $6 million Breeders' Cup Classic at Del Mar next week, as well as Moon Dash, a possible bang-up contender in the Juvenile Fillies Turf.
The other half of Speedway Stables belongs to KC Weiner, a long-time friend and business partner. They haven't been in the game long - Speedway Stables only recently enjoyed its official three-year anniversary.
But how they got to this particular juncture is a tale for the ages, full of all the elements needed to shape an American classic. Of Texan pump jacks and hard-scrabble beginnings. Of forgotten pasts and family dynasties intertwined through generations. Of leafy summers in Saratoga and Floridian gut-punches.
The beating heart of the story is the Fluor Corporation, the family business steeped in the sort of immigrant-made-good narrative that has fertilized the American imagination before even Nikola Tesla set about plunging the world out of darkness…
How it all began
In the late 1800s, Fluor's great-grandfather, John Simon, and his family upped sticks and left the village of Saas-Fee, Switzerland. And by rail, boat, horse and foot, they made their way to Oshkosh, Wisconsin, where John and his two brothers started a construction company.
Doctors told John Simon the harsh Wisconsin climate would be the death of him. As his great grandson tells it, "There was enough work for two, but not for three of them." So, John hot-footed it out of Wisconsin, and took off on the coat-tails of the westward expansion. He finally hung his hat at Santa Ana, near present day Long Beach, California, where the black gold was as plentiful as the sun was scorching.
Out of the dusty Californian dirt, John Simon forged a mini empire, building oil refineries. And the Fluor Corporation has continued to evolve and expand over the decades to the stage now where it's a global conglomerate with 60,000 employees. It sits at #149 on the Fortune 500 list.
And it's the family business that paved the way for Fluor's introduction into horse racing.
'Could we get a donut on the way back?'
The business, you see, gave Fluor's father enough spare change to dabble seriously in his pet-passion: horse racing. Robert operated El Rancho Murietta, in Southern California, a 180-acre full-service operation with a 5/8th mile training track, swimming pool, breeding and foaling barns.
The Fluor family lived in Arcadia at the time, a stone's throw from Santa Anita. On weekend mornings when he was still a snip of a child, Fluor would trail in his father's wake as they roamed the track.
"He'd get me out of bed, and we'd go to the old training track, which is no more at Santa Anita. He'd have coffee, and Charlie Whittingham would come by on his horse, talk to him. He just enjoyed that very much," said Fluor. "I bribed him by saying, 'could we get a donut on the way back?' He'd say, 'sure.' And then I'd agree to go."
They lived so close to Santa Anita, Fluor could hear the race calls from his yard. Only, like the sound of the race-caller's voice as it eventually drifted to nothing over the San Gabriel Mountains shadowing their home, so did Fluor's interest in the sport.
College ended, and the school of hard knocks began. Straight to work for oil and gas exploration company Texas Crude Energy, he climbed the ladder until he reached the perch from where he now sits, as chairman and chief executive. Horses be damned.
Then, one fateful summer a little over three years ago, he took a trip to Saratoga.
'I'm a runny-nose kid. I don't think I could drive yet'
He'd visited the place once as a teenager, when he and his family stayed with Cloyce and Elizabeth 'Liz' Whitney Tippett, owner-breeders and a supporting beam of the east coast racing architecture. Liz owned the Llangollen Farm breeding and training center in Virginia.
"I'm a runny-nose kid. I don't think I could drive yet. We stayed three or four days with them, went to the races. The weather was great, the country was beautiful. And I guess all of that got tucked back in the subconscious."
For when he finally returned to Saratoga, decades later, "the thoughts came back, of hearing the race calls at the Arcadia house, of going to the track with my dad, of going to Saratoga with my parents. And I thought this would be really enjoyable that if we got a couple of horses, we might have some fun."
He contacted bloodstock agent John Adger, a long-time family friend of both the Fluors and the Weiners. Adger and bloodstock agent Marette Farrell bought a couple of horses under the Speedway Stables banner: the G1-winning Hard Not To Like, who went to Christophe Clement, and the talented Canadian mare Leigh Court, who went to Mike Stidham.
In her debut for her new owners — a G3 at Tampa Bay Downs — Hard Not To Like got a little touchy-feely down the stretch with the eventual runner-up. The Speedway Stables runner finished first. But…
"We all got down to the winner's circle, inquiry comes up, and we were disqualified into second," Fluor said. "My son-in-law turns to me and says, 'I guess that means the win ticket's no good.'"
Hard Not To Like soon gave Speedway Stables their first ever win, however, in what wasn't a bad little contest - the 2015 G1 Gamely Stakes at Santa Anita. But here we should pause, wind the clock back and introduce the other half of the Speedway Stables partnership.
'It just looked like a lot of work to me'
In the late 1960s, the Fluor Corporation merged with an oil drilling company owned by the Weiner family, of which Charles Weiner was a central figure. Robert and Charles soon became firm friends. Charles remained president of another Weiner family firm — Texas Crude Energy — but they buddied up in running the Murietta ranch.
Charles's son, it barely needs noting, is KC Weiner. Like father like son, Weiner is now president of Texas Crude Energy.
Like many a great partnership, there's a touch of the Yin and Yang about Speedway Stables. While Fluor is the visible, voluble exterior of Speedway Stables, Weiner is the more reclusive, reserved side of the deal. You won't see him at the races much, cheering his runners on in person.
Logistics is half the reason. "I have a daughter, and we're tied up doing things with her … As much as I love horses and all that, I think I love my daughter more. Superstition is the other. The joke was, every time I showed up to a race, the horse lost."
Like his partner, Weiner didn't spend too much time thinking about losing money on the horses while he was busy making money in the oil biz. When Adger intimated one day that Weiner might invest in a leg or four, Weiner scoffed. "I told him, that's really not up my alley. My dad had been involved in the horse farm, and I went out to it when I was a kid. It just looked like a lot of work to me."
Not six months later "we were talking with John about actually doing it," Weiner added.
Adger himself has a slightly different take on the past.
"They would ask me occasionally about getting into it, but I'd always tell them it's a great game, but I wouldn't get in it unless you really enjoyed going to the races and all the pageantry of it, being around the horses of a morning, watching them work," Adger said. "Now, you can make money out of it, but it's like anything else – you've got to stay on top of it, surround yourself with people who are knowledgeable."
Bowels of Valhalla
The Speedway Stables philosophy appears to be a simple one: spend big, if necessary, but spend wisely, always. More fillies than colts, too. "It's just less risky," said Adger.
"If you get a colt in this day in time, even if he's a stakes winner, if he's not a major horse and you've paid a lot of money for him, you'll have a hard time getting your money out of him," he added.
And this philosophy has paid handsome dividends.
Hard Not To Like added two more G1s to her medal haul under the Speedway Stables banner. Leigh Court grabbed a couple more stake victories at Woodbine and Fair Grounds. Noted And Quoted won the G1 Chandelier Stakes at Santa Anita last October. Moon Dash, second just recently in the Surfer Girl Stakes at Santa Anita, is a young lady with a bright future. Debonairly is a stakes winner for Gai Waterhouse down under.
All horses of the fairer sex.
But the headline act in the Speedway Stables' catalogue of stars is Collected, a colt who, in his formative years, was considered talented enough to contest the Triple Crown. Only, when it came time to prove himself more than just a precocious child actor, he flubbed his lines, threatening a Lindsey Lohan-like descent into obscurity.
The race in question was the 2016 Preakness, on a day in which the bowels of Valhalla opened over Pimlico racecourse, turning the track into a hellacious muddy soup.
Collected disappointed that day. Collected continued to disappoint in the mornings during the days and weeks that followed. After connections were done with being disappointed by Collected, it was decided by all that he would take a leave of absence. In PR terms, he took time away to find himself.
Sent to Kentucky, Collected enjoyed about five months of what the team have coined the 'Speedway Spa Treatment' – a full mind-and-body tune-up. Marette Farrell, who selects the embryo Speedway Stables runners at the sales, said that this included 'cowboy dressage' in a bid to re-wire his brain after the daily grind of racetrack life.
"This was really very good for Collected, as he was always very much on the muscle, and very hard on himself," said Farrell, who explained that part of the cowboy dressage routine involved tethering Collected to a donkey. The jury's out on whether the donkey was a big fan of this, but Collected was. "He got to just be a horse again," Farrell said.
'I walked in and saw a row of long faces'
What short memories we have in racing. When Collected returned to action, bigger, better, stronger, faster, he was met with something resembling a collective shrug.
He won his first three starts this year by a combined 21½ lengths. But, when it came to the G1 Pacific Classic at Del Mar this August, it was all about one horse and one horse only: reigning heavyweight champion of the world, all time earnings record holder and social media darling Arrogate.
And so, when Collected led 'em all a merry dance, putting Arrogate and the other sorry bunch firmly in their place, the assembled witnesses didn't really know what to do, or how to behave. Most had a good sulk.
"I walked in and saw a row of long faces, and I said, 'am I the only one who's happy?'" said Fluor, about the post-race press conference that resembled the wake of a dear beloved. Even Bob Baffert, the winning trainer, looked as though he should have been put on suicide watch as he dissected Arrogate's defeat. "In all honesty, if Arrogate won, it would have made Bob's life easier. I get that," he added.
"I saw some people in the industry afterwards who said they felt sorry for me. Honestly, when I left the room, I was not upset at all. In fact, I looked back and thought, my father would be smiling right now. I kind of got a kick out of that."
'I'm worried about Arrogate, Gun Runner and West Coast'
After the Pacific Classic win and with the Breeders' Cup Classic mere days away, it's harder now for the horse to hide in the shadows – not when he has so many plusses next to his name.
Already proven himself on the Del Mar surface? Tick. Already proven himself over the Classic distance of a mile and a quarter? Tick. Has enjoyed a steady build-up to the race, rather than a long, hard season? Tick. Is in hands of those who have done all of this kind of stuff before? Tick.
Any negatives?
"Well, I was worried about Arrogate [in the Pacific Classic]," said Fluor. "And now I'm worried about Arrogate, Gun Runner and West Coast. But if you asked me, who would you want to trade with, I think I'd just stand pat."
And good news for fans of the chestnut lion-killer, Speedway Stables is bucking the trend in a day and age when the breeding barn can prove so irresistible. "We've had a lot of calls from a lot of wonderful farms, regarding breeding rights," said Fluor. "We've told them we want to race the horse next year."
Well, Alleged didn't just stop at the one Arc, did he?