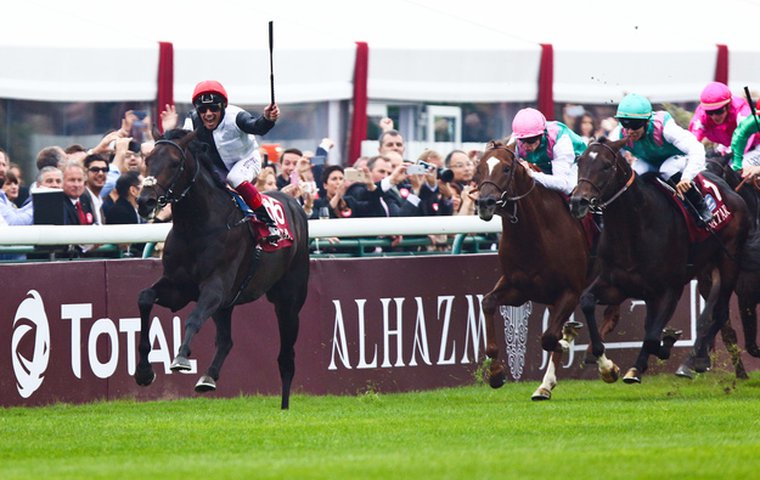 No winner of the Prix de l'Arc de Triomphe has followed up in the Breeders' Cup Turf; no horse has even been asked to try since Subotica in 1992, though 2001 Arc winner Sakhee went on to run second in the Classic on dirt.

That the latest Arc hero, Golden Horn, may well take on the challenge is a bold shout by his owner, Anthony Oppenheimer. It runs contrary to the notion that top flat-race connections adopt a conservative strategy nowadays, wary of too many defeats on the resume of their stallion prospects. But it is a high-upside move in this situation because of the novelty value of Golden Horn winning. And it also perhaps signals a return of some of the Breeders' Cup prestige on the eastern side of the Atlantic.
Golden Horn's CV is terrific; he is the winner of four G1s this season, culminating in his Paris win. Yet, he doesn't quite stand comparison with two recent giants of the turf, Frankel and Sea The Stars. He is neither so electric as the former, nor does he radiate such dominance as the latter.
In the 2009 Arc, very little dropped right for Sea The Stars, yet he came from a poor position to win with a lot more in hand than the bare facts of a two-length victory indicate. By contrast, everything that could go right, did go right for Golden Horn, yet the winning margin was the same.
Holding Golden Horn to these standards is hugely unfair, however. Yet, perhaps it's because such things are inevitable when a horse all but runs the table in Europe (Golden Horn suffered a shock defeat in the G1 International Stakes at York) that Oppenheimer is emboldened to go where Frankel and Sea The Stars did not - to America.
Since the Breeders' Cup was initiated at Hollywood Park in 1984, only five Arc winners have been sent to contest the Turf, though two or three others were intended runners but missed out due to injury. Either a trip to the U.S. was seen as undesirable for strategic reasons, or it was the intention to keep an Arc-winning 3-year-old fresh for the following season, or the G1 Japan Cup was preferred. There often has been less than the full month now afforded to Golden Horn between the two races, which hasn't made the challenge any more attractive.
ARC WINNERS IN THE SAME YEAR'S BREEDERS' CUP TURF
| | | | | |
| --- | --- | --- | --- | --- |
| 1986 | Dancing Brave | GB | 4th to Manila | below form, no extra |
| 1987 | Trempolino | FR | 2nd to Theatrical | stalked, challenged in straight, ran well |
| 1990 | Saumarez | FR | 5th to In The Wings | tracked leaders, ran on steadily, dull |
| 1992 | Subotica | FR | 5th to Fraise | keen, tracked leaders, no extra |
| 2007 | Dylan Thomas | IRE | 5th to English Channel | ridden 4 furlongs out, no extra straight |
In 1986, the brilliant 3-year-old Dancing Brave was the first Arc winner to try for the Turf. According to legend, he found the tight turns of the Santa Anita track didn't accommodate his long stride, and was reportedly hit in the eye by a clod of turf on the way to a tame fourth to Manila. (Watching the video, it seems like he just pulled a bit and had nothing left in the straight.)
The following year, Trempolino ran much closer to his best form at Hollywood Park, losing out only to a fine winner in Theatrical. The Andre Fabre-trained colt was suited by a fast pace in Europe and again got the gallop required, moving up from 15 lengths back to take over the running briefly in the straight, then pulling clear with the winner without being able to resist his rallying effort. Trempolino's effort would certainly win the majority of Turfs, and stands as an important plank in the case for Golden Horn.
In 1990, Saumarez, trained also in France but by Nicolas Clement, was shipped to Belmont just 20 days after a relatively unimpressive Arc win and ran respectably in fifth behind Fabre's Arc fourth In The Wings.
Subotica's output to finish fifth to Fraise in 1992 at Gulfstream was respectable, but he had nothing left in the straight after racing keenly under Treve's jockey, Thierry Jarnet. (Wasting energy could also be a problem for the exuberant Golden Horn, who was on the edge of over-racing at times at Longchamp.)
A hiatus of 15 years followed before Dylan Thomas took his chance in 2007, but the Aidan O'Brien-trained 4-year-old was no factor in the straight at Monmouth, tiring after being ridden four furlongs out and finishing fifth to English Channel.
That was the last time we saw an Arc winner in the Turf, though further evidence that the task isn't beyond Golden Horn physically is provided by the brilliant Godolphin horse Sakhee, who tackled the Breeders' Cup Classic instead in 2001 and went under only to Tiznow in a stirring stretch duel.
Horses beaten in the Arc have done better in the Turf than winners, so the question is, should the two be conflated for statistical purposes or are they different cases? Does winning take more out of an Arc winner mentally or physically than finishing placed, even when both represent a peak effort?
Since 2000, the Turf has been won by Arc runners St Nicholas Abbey (2011, fifth to Danedream at Longchamp), Conduit (2009, fourth to Sea The Stars), Shirocco (2005, fourth to Hurricane Run) and High Chaparral (2003, third to Dalakhani, and 2002, third to Marienbard). The notion that bettors should be wary of Arc runners is clearly ridiculous.
A lot can change before the Breeders' Cup gets under way at Keeneland on October 30, but it does seem that the location of the meeting is proving something of a magnet for European connections.
A reconnaissance mission by John Gosden resulted in Golden Horn's trainer giving the new restyled turf course his blessing as far as the layout and shape of the turns is concerned. Given that Gosden's opinion always carries weight with his colleagues, it seems there could be a vintage contingent of British runners, at least, on a continent that has been a happy hunting ground of late – when the stewards' don't get in the way.
Golden Horn has had a busy season and run some big efforts while racing enthusiastically. The Breeders' Cup Turf could prove a race too far, and he faces a renewed challenge from the Arc runner-up Flintshire, for one, but he likely towers over the field in terms of talent and could round out a spectacular, if typically short-lived, career in style.