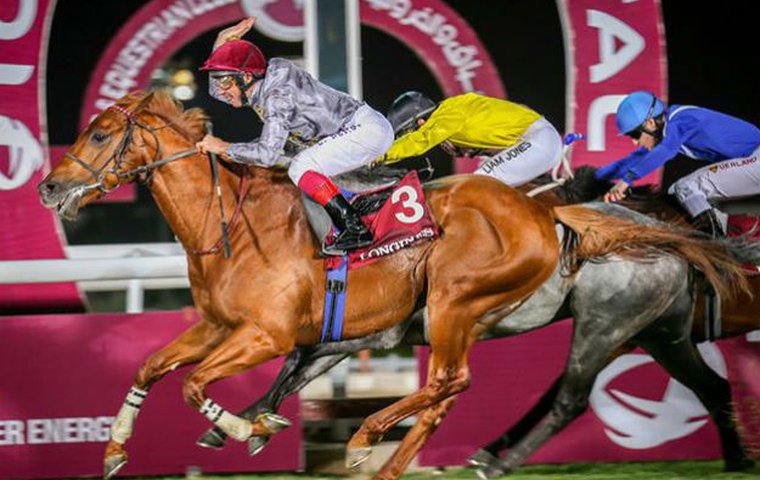 New international race meetings don't automatically enjoy longevity, but the Emir's Sword Racing Festival, which takes place at Al Rayyan Racecourse in Doha, Qatar, today and tomorrow looks like it's here to stay.

Over the course of six races (one today and the rest tomorrow), including two for purebred arabians, the course will entertain 15 runners from outside the region – nine from Britain, three from France, two from South Africa and one from Germany.
Initial entries were also received from the U.S., in particular from Breeders' Cup-winning trainer Wesley Ward. But, this year at least, no representatives for the Star Spangled Banner will be in attendance.
The foreigners have been attracted by the host Qatar Racing and Equestrian Club (QREC) putting up prize money of $2.95 million (£2 million) for the six events and by covering the travel and accommodation costs of all visiting horses, plus their owners, trainers and jockeys.
The prize money represents a massive increase on 12 months ago, when the festival enjoyed its first transcontinental competitors – even though no travel incentives were on offer.
It also follows on from the successful running of the four-race $850,000 Qatar Derby Festival in late December, which was also opened up to overseas competition for the first time and resulted in a remarkable South African/German dead-heat for first place in the main event between the Mike de Kock-trained Tannaaf and Mario Hofer's Rogue Runner, with a second German visitor, Shutterbug, back in third.
The Washington International didn't survive
The lifespans of race meetings that attract competitors from different time zones can vary considerably. The Grande Premio de Brasil in Rio de Janeiro lasted a solitary year (1995) as an intercontinental event, while the 2015 Singapore Airlines International Cup at Kranji in Singapore proved to be its 16th and final incarnation.
Even the pioneering Washington DC International at Laurel Park in Maryland, founded in 1952, was unable to continue after 1994 despite boasting such luminaries as Kelso, Sir Ivor and All Along among its roll of honour.
The Canadian International has the longest history of any contemporary international race, claiming 78 years of existence, although it had to wait for Dahlia, in 1974, to be able to crown a transatlantic winner.
Both the Japan Cup and the Breeders' Cup have been in existence for over three decades and are each accepted as permanent fixtures on the calendar. And intercontinental competition is now perceived as an integral part of both the Melbourne Cup and the Prix de l'Arc de Triomphe, not to mention at Royal Ascot, where the recent exploits of 2-year-olds shipped in from Kentucky by the aforementioned Ward have added so much to the five-day meeting.
In terms of duration, nothing can match the Dubai World Cup Carnival. Inaugurated as recently as 1996, it has since evolved into a two and a half month-long jamboree incorporating 11 different race days.
Qatar, the new arrival on the international scene, is just down the road from Dubai – 240 miles away to be precise.
Qatar 'just starting out on its journey'
It can, in fact, claim to be the trailblazer for the region in terms of enticing overseas competition since the Emir's Sword Festival pre-dates the Dubai World Cup and has been going for 25 years. However, its early renewals were restricted to purebred arabians.
The chances of the festival lasting for another 25 years look good. For starters, the Qatar Derby Festival proved that visitors from far afield can acclimatise quickly and be successful - not only was the Derby plundered, British trainer Brian Meehan will go down in history as the first European trainer to saddle an Al Rayyan winner thanks to Perkunas, who landed one of the supporting races.
More importantly, QREC's commitment to the project is strong. "The aim of the festival is to showcase Qatar's culture and equestrian activities and attract top horses from around the world," says Nasser Al Kaabi, General Manager of QREC.
"We are just starting out on our journey, whereas Dubai has already established a world-class racing festival. But QREC is always looking at ways of improving and we will continue to evolve our major race meetings."
He added: "I am very pleased with the international entries for the Emir's Sword Festival and it is good to see Tannaaf, Rogue Runner and Perkunas coming back to Doha after their victories at the Qatar Derby Festival."
All the racing is on turf and the Thoroughbred highlight is the $1 million Emir's Trophy over a mile and a half. This has attracted a maximum field of 16 – a 10-strong local contingent, featuring the first four home from the recent Trophy Trial, versus six long distance-travellers, including the Derby dead-heaters.
Impressive facilities
Meehan saddles the contender with the highest official handicap mark in the shape of last season's Irish St Leger runner-up, Agent Murphy, not to mention both Perkunas and Ocean Jive in the earlier $250,000 Al Biddah Laffan Mile, a 3-year-olds-only event, which has also pulled in a full field of 16.
Asked about his impressions of Al Rayyan, Meehan reports: "It's a pretty straightforward right-handed track and the facilities are impressive.
"While you can tell it is still in its embryonic stages, it's all very professional and the people from QREC are extremely helpful and can't do enough for you. The stabling is excellent, with lots of rubberised surfaces, all very high tech, and I can only see it getting better as the years go by.
"Perkunas needed just a week off after getting back from his last trip there – I couldn't give him any more time because he recovered so well. I have always thought that Agent Murphy would be most effective on fast ground so this was a very obvious race for him and it's such a big prize he should be ready for it."
The Emir's Trophy has already produced horses that go on to big successes on the global stage – Dubday, its winner for the past two years, went on to prevail at Glorious Goodwood in Britain last July, while its 2011 hero, Joshua Tree, followed that Doha triumph with the second and third of his record-breaking sequence of Canadian International scores.
So the name of the winner on Saturday should be worth remembering as Qatar adds itself to the list of possible destinations for world travellers to source top class international Thoroughbred racing.
James Crispe is associate director of editorial at the International Racing Bureau