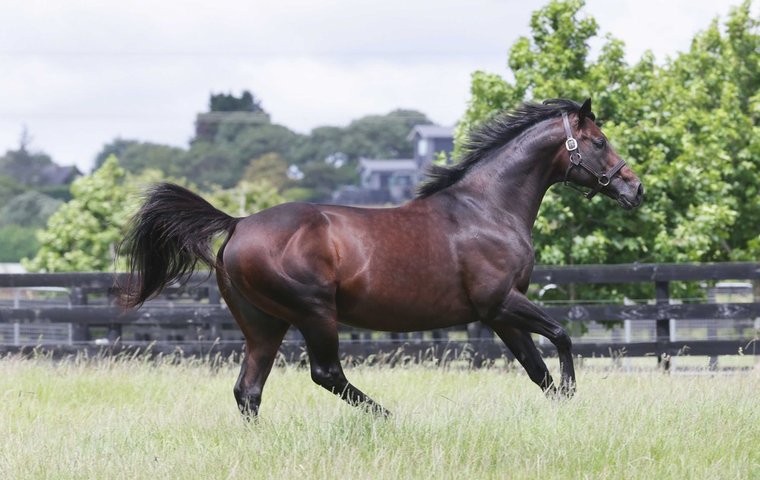 With the first leg of Sydney's major racing carnival, The Championships, set to kick off this weekend, the eyes of the New Zealand breeding community will be glued to the performance of the select number of runners who carry the 'NZ' moniker in to battle.

Success in the white-hot Australian racing environment plays a critical role in the fortunes of Kiwi breeders with victory at the elite level carrying benefits that flow through the entire industry.
Haunui Farm principal Mark Chitty knows this all too well as he hopes for a result in the G1 Australian Derby tomorrow that would add further momentum to the rise of his stud's shuttle stallion Iffraaj to the upper echelon of the Australasian breeding ranks.
Both pre-post favourite for the Derby, Gingernuts and the well fancied Jon Snow, are sons of the Darley-owned Iffraaj, who first made his way to New Zealand soil in 2008.
To suggest that a stallion who has produced 48 individual stakes winners, including seven at G1 level across both hemispheres, is only now 'on the rise' might seem a little strange, but Chitty knows it has taken time for the son of Zafonic to make his mark on the Australasian scene.
Horse who really 'got the ball rolling'
"While Iffraaj enjoyed considerable success in the sale ring with his first crops, you could say that his early horses here [in New Zealand] and in Australia didn't quite reach the level of performance that he enjoyed with his early runners in the north," he said.
"He did have Fix, who was bred on the farm and went on to be crowned New Zealand Filly of the Year in 2012-13 from his first crop. However, it wasn't until Turn Me Loose, who is from his third crop, that the ball started to really get rolling."
Turn Me Loose provided Iffraaj with his first New Zealand G1 victory when he took out the 2014 New Zealand 2000 Guineas and followed that with elite-level success in Australia with victory in both the Emirates Stakes and Futurity Stakes in Melbourne during the 2015-16 season.
"When Turn Me Loose won the Futurity Stakes in February last year, we had also just had Xiong Feng win the Karaka Million a month earlier so I think it was then that we knew he was really on his way," Chitty said.
"Now that he has had both Gingernuts win at the Derby distance and Jon Snow perform with distinction in the same race, as well as winning the Tulloch Stakes, it has shown just how versatile his progeny is across a range of distances and, importantly, across both sexes.
'The right nicks and crosses'
"I also think it has shown that our breeders have now found the right nicks and crosses to suit the horse, which is something that generally takes some time to develop.
"For example, Turn Me Loose, Fix and dual Group 1-winning Northern Hemisphere filly Chriselliam are all from Danehill mares, so we know that maternal line works extremely well with him."
Iffraj, who shuttles between Haunui and Dalham Hall Stud in England (where he stands at £27,500), is also the sire of leading European miler Ribchester. He is currently ranked 39 in the world sires' standings.
Chitty is also quick to mention that the affordability of Iffraaj to a wide cross section of breeders has also played a significant role in the development of the stallion in New Zealand.
"I would like to think our pricing of Iffraaj each season has enabled both the larger and smaller breeders to have access to a stallion who is a genuine international performer," he said.
"His initial service fee in 2008 was NZ$12,000 and last year he stood at NZ$17,500. He has had his book restricted to around 100 mares for the last two seasons, which was a decision we took to help extend his longevity in the breeding barn and keep him as that genuine option for all breeders for a few more years yet."