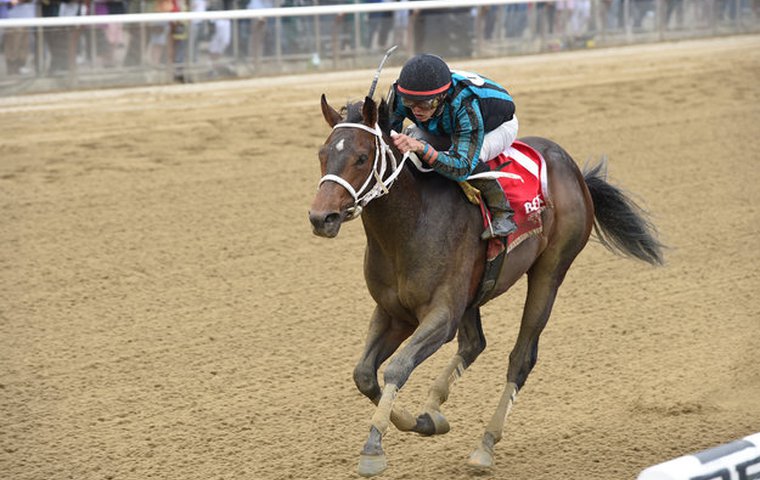 The road to the Kentucky Derby is about to take on a sharper focus. Established horses will fall by the wayside while others, hitherto unconsidered, will enter the fray. In essence, this is one of the most endearing annual chapters in U.S. racing.

The story unfolds differently in Europe, where the herd of colts for the 2,000 Guineas is largely established. There is far less scope for surprise. And, while Europe's canvas is dominated by racing's superpowers, the U.S. scene is infinitely more democratic. Blue-collar horses can rise to the top, as epitomised by the 2014 Kentucky Derby winner, California Chrome.
A look at the leading candidates for the opening classics in Europe and the U.S. serves to amplify the point. By way of comparison, we evaluate the origins of the top 10 horses quoted by British bookmakers for both the Kentucky Derby and the 2,000 Guineas, which are run one week apart at the onset of May. As the tables illustrate, the contrasts are stark.
Top 10 horses quoted by British bookmakers for Kentucky Derby as at Jan. 20
| | | | | |
| --- | --- | --- | --- | --- |
| Horse | Sire | Sire's fee 2012 ($) | Ylg price | Trainer/owner |
| Songbird | Medaglia D'Oro | 100,000 | 400,000 | J Hollendorfer/Fox Hill Farms |
| Mor Spirit | Eskendereya | 25,000 | 85,000 | B Baffert/Michael L. Petersen |
| Nyquist | Uncle Mo | 35,000 | 230,000 | D O'Neill/Reddam Racing LLC |
| Mohaymen | Tapit | 125,000 | 2.2m | K McLaughlin/ Shadwell Stable |
| Swipe | Birdstone | 6,500 | 5,000 | JK Desormeaux/Big Chief Racing |
| Airoforce | Colonel John | 15,000 | 20,000 | M Casse/John C Oxley |
| Brody's Cause | Giant's Causeway | 85,000 | 350,000 | D Romans/Albaugh Family |
| Flexibility | Bluegrass Cat | 17,500 | 80,000 | C Brown/Klaravich & Lawrence |
| Gift Box | Twirling Candy | 15,000 | 135,000 | C Brown/W S Farish |
| Cocked And Loaded | Colonel John | 15,000 | 16,000 | L Rivelli/Ravin, Patricia's Hope LLC |
Top 10 horses by British bookmakers for 2,000 Guineas as at Jan. 20
Horse

Sire

Sire's fee 2012 ($)

Ylg price

Trainer/owner

Air Force Blue

War Front

60,000

490,000

A O'Brien/Magnier, Tabor, Smith

Emotionless

Shamardal

64,825

-

C Appleby /Godolphin

Massaat

Teofillio

34,413

-

B Hills/Hamdan Al Maktoum

Shalaa

Invincible Spirit

77,790

287,965

J Gosden/Al Shaqab Racing

Blue De Vega

Lope De Vega

19,447

97,238

M O'Callaghan/Qatar Racing

Foundation

Zoffany

9,724

246,355

J Gosden/Highclere Thoroughbreds

Ultra

Manduro

12,965

-

A Fabre/Godolphin

Johannes Vermeer

Galileo

259,300

(estimated)

388,950

A O'Brien/ Coolmore & Ah King

Royal Artillery

War Front

60,000

450,000

J Gosden/Magnier, Tabor, Smith

Mootaharer

Dubawi

120,990

-

C Hills/Hamdan Al Maktoum
Euro-US$ rate as at 31 October 2012: €1 = $1.2965

Sterling-US$ rate as at 31 October 2012: £1 = $1.6132

Hit It A Bomb, quoted in both lists, has not been included in the absence of a nominated target

When a horse was sold more than once, the yearling price was used

The stud fee of each horse's sire is the advertised fee in 2012, when these colts were conceived.
Contrasts are apparent at every turn. For starters, the average stud fee paid in the production of the 2,000 Guineas candidates is $71,745, whereas the U.S. equivalent stands at $43,900. In other words, owners in Europe paid stud fees more than 60 per cent higher than their U.S. counterparts to breed a classic prospect.
This disparity would be even greater in a normal year, since Galileo (estimated 2012 fee, $259,311) has only one representative in 2,000 Guineas betting lists. More typically, he would have somewhere between two and four.
Closer examination of these stud fees further illustrates the democratic disparity. In the U.S, six of the 10 Kentucky Derby candidates were produced from stud fees of $25,000 or less. In Europe the figure shrinks to three – and two of those stallions, Lope De Vega and Zoffany, now stand at $50,000 apiece.
The least expensively produced classic colt is also to be found in the U.S: Swipe's sire, Birdstone, stood at just $6,500 when Swipe was conceived.
Over in Europe, the least expensively produced colt is Foundation, whose sire, Zoffany stood at $9,724 when he was conceived. But that's where the similarities end: Swipe fetched just $5,000 as a yearling, whereas Foundation realised $246,355.
Level of investment needed is much higher in Europe
The tables illustrate another striking contrast. All 10 horses on the Kentucky Derby trail were sold at public auction. This is common currency in the U.S; it encourages buyers to believe the best horses are out there to be bought at auction. In Europe, by contrast, four colts in the 10-strong sample were bred and retained by their owners. They were never destined to see the auction ring.
In one sole respect is there financial parity, and that comes in the average price paid for the horses in each sample. The average in Europe was $326,751, while in the U.S. it was fractionally higher at $352,100. However, closer examination reveals that the U.S. average was significantly bolstered by the yearling price of one horse.
At $2.2 million, Mohaymen was four-and-a-half times more expensive than the $490,000 given for the second-highest-priced yearling, Coolmore's Air Force Blue. The fact that the averages all but level out says much about the general level of investment required to be competitive in Europe.
This is born out in other ways. You could not have bought any of the 10 European classic candidates as yearlings for less than $100,000. For that money in the U.S, you could have bought half the Kentucky Derby sample. The aforementioned Swipe does need to raise his game, but as a mere $5,000 yearling, his European counterpart is nowhere to be seen. Nor does Europe have potential fairy-story horses in the mould of Cocked And Loaded ($16,000) and Airoforce ($20,000).
This is no one-off year, either. The 2,000 Guineas – and the Epsom Derby, for that matter – very rarely bestow winning laurels on blue-collar Thoroughbreds. There are no European parallels with American Pharoah, whose sire, Pioneerof The Nile, stood at $17,500 when the great horse was conceived. Or California Chrome, who was conceived when his sire, Lucky Pulpit, stood at $2,500.
Aspiring owners may be well advised to concentrate on the U.S.
Conversely, the two standout European horses of the last decade were Frankel and Sea The Stars. A son of Galileo, Frankel was conceived at a covering-fee cost of more than $200,000, while Sea The Stars' sire Cape Cross stood at $63,500 when his outstanding son was conceived in 2005.
All of which suggests that aspiring owners of top-class racehorses should concentrate their efforts on the U.S, rather than Europe, where the racing and breeding behemoths are stationed. The European table amplifies the point: eight of the 10 horses in the sample are owned by the Coolmore syndicate and the axis of Dubaian and Qatari potentates. In the U.S, each of the 10 horses carry different silks.
And of course, this has a knock-on effect in the identity of their trainers. Between them, Aidan O'Brien and John Gosden train half the 10-strong European sample, whereas Chad Brown is the sole US trainer with more than one classic prospect on his books.
Among sires represented in the sample, Colonel John excels as the sire of both Airoforce and Cocked And Loaded, but the real success story here is War Front. The Claiborne Farm stallion has more than justified the stake Coolmore purchased in him when he was rising to prominence.
War Front is the sire of red-hot 2,000 Guineas favourite Air Force Blue and the fascinating sleeper, Royal Artillery, in addition to Breeders' Cup Juvenile Turf winner Hit It A Bomb. The latter is not included in either table on the grounds his classic target has yet to be specified.
Horses like this are the reason War Front starts the 2016 breeding season at $200,000. The irony is that this American success story is most likely to bestow his largesse on owners whose horses race on the lush turf tracks of Europe.