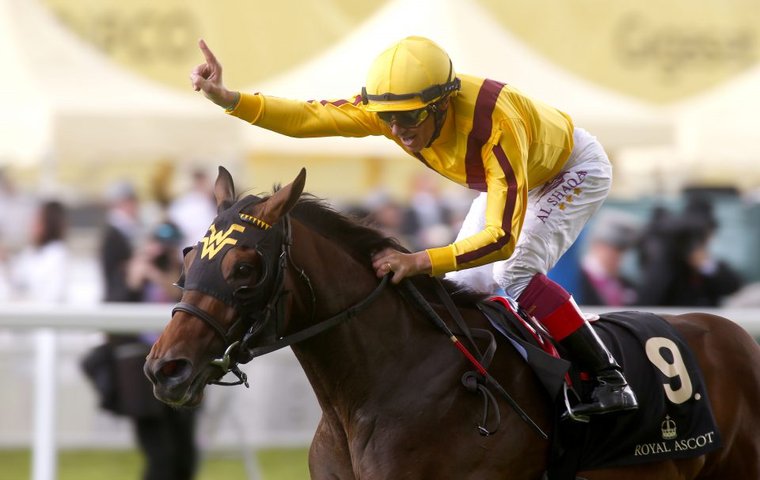 Although any G1 score is winning at the highest level, the simple truth is some races carry more caché than others. For dirt horses in America, there is nothing greater than winning the Kentucky Derby, and for their turf brethren, a victory overseas at Royal Ascot has become the epitome of success.

Owners aren't the only ones with an eye on Royal Ascot, which made its American television debut on NBCSN in 2017. Coverage proved so popular that it was recently announced that NBC Sports Group's exclusive United States media rights to the event have been extended through 2025.
This high level of interest is good on multiple levels. When an American horse wins at Royal Ascot, it instantly validates their talent on a global scale, and furthermore, sales receipts show that it also impacts their value if they are offered at auction down the road. Additionally, it creates an appreciation for American sires abroad.
The Fasig-Tipton November sale has been a prime example of this, as American distaffers who left their mark on Royal Ascot have dominated headlines the last two years.
First came Tepin, who won the 2016 Queen Anne Stakes and became the first North American-trained filly or mare to win at the highest level at Royal Ascot (see video below). The Mark Casse trainee was already a champion in the United States thanks to the first of her two Breeders' Cup Mile wins, but Tepin's victory overseas garnered her international acclaim.
Last year, she was offered for sale in foal to Curlin. Ahead of each November sale, Fasig-Tipton puts together an enhanced catalog that includes a commercial analysis of consigned horses done by Alan Porter. For Tepin, he concluded, "More than just a magnificent champion, Tepin is a history-making icon … To find a mare of this kind at auction presents the exceptional rare chance to acquire a unique, iconic, and irreplaceable individual."
The opportunity did not go unnoticed, nor was it undervalued. M.V. Magnier paid $8 million for Tepin, who was consigned by ELiTE. Her owner, Robert Masterson, had purchased the daughter of Bernstein as a yearling for $140,000.
"It's a lot of money, but she's an excellent racehorse," Magnier said at the time. "She's very good looking."
Tepin was sent to Coolmore in Ireland and delivered a Curlin filly earlier this year. She was bred back to Galileo.
Joining the party
The 2016 Royal Ascot meeting was a coming-out party of sorts for North American runners. One day after Tepin proved her mettle in the Queen Anne, another American filly threw down the gauntlet. Lady Aurelia, then a 2-year-old, demolished her competition as she romped to a seven-length victory in the Queen Mary Stakes.
She followed that performance with a win in the Prix Morny in France and became the first American-trained Cartier winner ever when she was named Europe's champion 2-year-old filly.
Lady Aurelia returned to Royal Ascot in 2017 and won at the G1 level by taking the King's Stand Stakes by three lengths. Her dominating performances at the Royal meeting became her trademark (see video below).
Barbara Banke's Stonestreet Stables campaigned the homebred filly in partnership with George Bolton and Peter Leidel. The two bought into the daughter of Scat Daddy when she was offered at the 2015 Keeneland September yearling sale and fetched $350,000.
Lady Aurelia, who is out of D'Wildcat Speed, was consigned to Fasig-Tipton this November through Hill 'n' Dale as a way to finalize dissolving the partnership between Stonestreet and Leidel. Banke had previously bought out Bolton's share.
"Lady Aurelia is the embodiment of Stonestreet's breeding program," said Banke. "A brilliant filly out of a champion, she took on all-comers across the globe at the pinnacle of our sport. The first American-trained Cartier winner when she was named 2-year-old filly of the year, her talent and raw speed were breathtaking."
In the end, Banke bought out her partner, as Lady Aurelia hammered down for $7.5 million to top this year's sale. She returned to Stonestreet Farms, the place of her birth, and a decision on who she will be bred to remains undecided.
"It's hard to come up with something that good," Banke said. "In the horse business, we're all about hope, we're all about the future, we're all about breeding future champions. If we can do that again, it would be really awesome."
In his analysis of Lady Aurelia, Porter put the filly's stunning speed into historical context, writing, "In 1923 Mumtaz Mahal – regarded by many as the fastest filly of all time – stamped herself as 'The Flying Filly' with a victory in the Queen Mary Stakes at Royal Ascot. In the near 100 years since, it's doubtful that any Queen Mary Stakes winner has created a greater impression than Lady Aurelia, 'The Flying Filly' of the 21st century, when capturing that historic event in 2016."
Lady Aurelia wasn't the only Royal Ascot competitor offered at Fasig-Tipton this November. In just her second career start, Happy Like A Fool tried to make it back-to-back Queen Mary victories for American runners when she competed at Royal Ascot in 2017. She came up just shy, finishing second, but her performance certainly gave her credibility.
Offered just one hip after Lady Aurelia this November, Happy Like A Fool sold for $1.45 million to Blandford Bloodstock. Consigned by Bluegrass Thoroughbred Services, the Distorted Humor filly was campaigned by Merriebelle Stable and Coolmore. She was bred by her trainer, Wesley Ward, who also trained Lady Aurelia and is known for his Royal Ascot prowess.
Pedigree power
While Happy Like A Fool is by one of America's most established sires in Distorted Humor, sadly the sires of both Lady Aurelia and Tepin died before either runner ever set foot on the track.
Tepin was foaled in March 2011, and Bernstein died of colic that October. Lady Aurelia was foaled in January 2014, and Scat Daddy died as the result of a cardiac event in December 2015.
With Scat Daddy's Justify winning the Triple Crown in this year, the loss of the young sire has only intensified. Coolmore, which stood Scat Daddy, acquired Justify, and he will begin his stallion career at its Ashford Stud in Kentucky next year for a fee of $150,000.
One of Scat Daddy's other top-level sons, fellow Kentucky-bred No Nay Never, became the first of the late sire's six individual Royal Ascot winners when he was victorious in the Norfolk Stakes in 2013. Similarly to Lady Aurelia, he followed that up with a win in the Prix Morny. No Nay Never's first crop has made such an impact this year that his 2019 stud fee at Coolmore Ireland has been set at €100,000, four times higher than his 2018 fee.
Another American stallion who has drawn the interest of Europeans is the TRC Global Rankings world #8 Kitten's Joy. It started with his multiple G1 winner Hawkbill, who won the 2016 Tercentenary Stakes at Royal Ascot before going on to win the Coral-Eclipse Stakes at Sandown in his next start. This year Hawkbill won the Dubai Sheema Classic before returning to Europe, where his efforts included a third-place finish in the Prince Of Wales's Stakes at Royal Ascot.
Kitten's Joy has also made his way into international headlines as the sire of Roaring Lion, the Kentucky-bred colt just named 2018 Cartier European Horse of the Year. While Roaring Lion never ran at Royal Ascot, he did solidify his credentials for end-of-season awards by winning the Queen Elizabeth II Stakes at Ascot on British Champions Day.
At home, Kitten's Joy is currently the leading general sire and leading turf sire in North America for 2018 and has seen his stud fee adjusted upward to $75,000 from $60,000 for 2019. He stands at Hill 'n' Dale.
Inherently, horse racing is about the best facing the best, and for Americans with turf runners, there is no doubt these days that arena is found across the pond at Ascot.