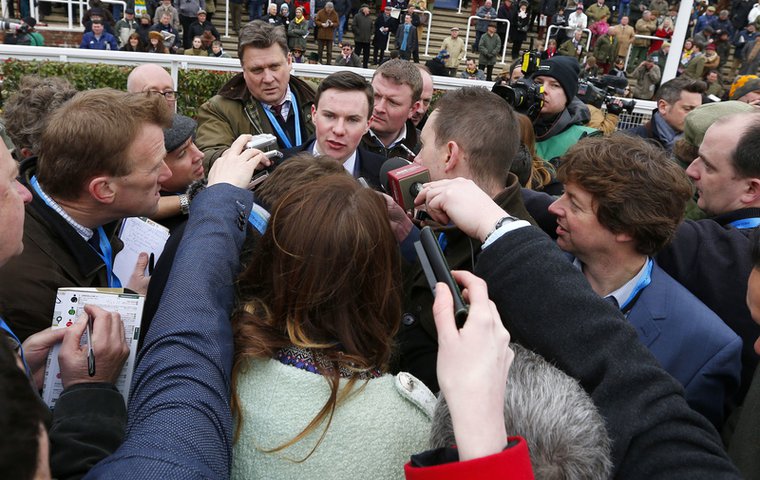 Forget the Breeders' Cup, forget the Dubai World Cup, forget Royal Ascot. For Joseph O'Brien, champion jockey turned trainer-to-be-reckoned-with, and son of the great Aidan O'Brien, the most important race meeting anywhere begins at Cheltenham tomorrow. So how's he finding his new role, what's it like being compared with his father, what's the difference between training flat horses and jumpers (he does both) - and why does the Cheltenham Festival means so much? He sat down with Sally Ann Grassick to explain.

Few young people start out on any career with as much pressure and attention from both their peers and the media. Joseph O'Brien has had to do it twice.
As the son of the world's number one trainer, Aidan O'Brien, some might say he was born and bred to be a success in whatever domain of the racing world he chose to focus on. But that kind of pedigree can be a double-edged sword.
Joseph may have been associated with some of the finest Thoroughbreds of their generations, trained by his father for the Coolmore operation, but with that privilege came great pressure and responsibility at a very young age.
A teenage Joseph O'Brien shrugged off the criticism of many, maintained the courteous and professional attitude we have come to associate with his family, and let his talent in the saddle do the talking. Multiple G1 winners across the globe were indeed a good way to silence doubters and prove what a formidable combination the father-and-son team had forged.
Record-breaker
An accomplished rider as a child, Joseph won a bronze medal at the 2009 European Pony Championships before switching disciplines and sharing the Irish champion apprentice jockey title with two other young riders the following year. His first classic success came just two days short of his 18th birthday, when he rode Roderic O'Connor to victory in the 2011 Irish 2,000 Guineas for his father.
Derby success followed when Aidan and Joseph became the first father-son trainer-jockey combination to win the Epsom Derby - with Camelot in 2012. And they did it again in the Irish equivalent a few weeks later. They added the same Derby double to their roll of honour with Australia in 2014.
Joseph broke records solo too. He rode 126 winners in a season in 2013 - nine more than the previous Irish record, held by his childhood idol Mick Kinane - to take the Irish jockeys' championship for the second year in a row.
G1 success for the young rider was not just confined to Ireland and Britain either. He notched prestigious victories in the U.S. (2011 Breeders' Cup Turf) and the UAE (2013 Dubai Sheema Classic) with one of his most famous collaborators, St Nicholas Abbey, as well as in France (Imperial Monarch, 2012 Grand Prix de Paris).
Tall for a jockey, Joseph's struggles with his weight were no secret. And he was still growing.
Explosive start
Although it was clear that his career in the saddle had an expiration date, it still came as a shock to many when he announced his retirement from race-riding early last year, with 518 winners to his name, to focus on a training career.
Just a few weeks after that announcement, the entire O'Brien family were celebrating Ivanovich Gorbatov's Grade 1 success over hurdles at the world-famous Cheltenham Festival in the green-and-gold-hooped colours of JP McManus. Although officially trained by his father (as Joseph was yet to receive his trainer's licence) the horse was in the then 22-year-old's care at his new yard in Pilltown in County Kilkenny, where both his maternal grandfather and his father had once been based.
He officially received his trainer's licence from the Irish Turf Club on June 3, 2016, and made an explosive start to his new career a few days later with four winners on his first day as a trainer - two of them ridden by his younger brother, Donnacha, and one by his sister, Sarah.
It was a special day for the closely knit O'Brien family, coming just one day short of the 23rd anniversary of father Aidan's first winner as a trainer.
Joseph provided the family with yet another reason to celebrate in September, when he took his first G1 success as a trainer in the Moyglare Stud Stakes at The Curragh, an achievement made all the more special because the winning filly, Intricately, was bred by mother Annmarie and ridden by 18-year-old Donnacha, for whom it was a first G1 victory.
Flat runners in the majority
Joseph currently has about 100 horses in training – of which 60 are flat and 40 jumpers. "We are not quite full, and I will always find room for more horses," he says.
"When starting out, the intention was to mainly focus on training jumpers, and they will always be a major part of my yard, but we have a bigger team of 2-year-olds this year. It wasn't a conscious decision, but we bought a nice bunch of yearlings at the end of last year and we have had a lot of nice new owners join us over the past few months.
"We have a really varied profile of owners at the moment, and we try to keep them as informed and involved as possible. I'm hoping for a big year."
Training jumpers? The difference is obvious
When it comes to training flat and jump horses, he says the basics are similar. "You have to get them and keep them as healthy and fit as possible. It may sound obvious, but the real difference is that jumpers have to jump. It can differ slightly for each individual, but the routine is very similar in general. Jumpers cover more ground each morning and do a lot of schooling as they get close to running.
"I don't have an aim to focus on either discipline. So be it if it does [work out that one becomes dominant], but I won't force it."
Learning from Dad
Joseph is often compared to his father. Both have a quiet, concentrated air about them and are known for being courteous to everyone. But are there any similarities in their training techniques?
"I think the basics stay the same for any trainer," he says. "I have definitely learnt so much from Dad over the years. I can't train exactly the same way that he does in Ballydoyle as our facilities are so different, with my gallops in Pilltown situated on a steep hill."
Life out of the saddle
Both training and race-riding are difficult and stressful jobs, but how is Joseph coping with remaining in the grandstand while somebody else takes the reins?
"I don't miss race-riding at all," he says. "To be honest, I haven't had time to miss it as I have been so busy. I went straight from being a jockey to training without any sort of break period.
"When I started riding in races, my plan was to ride 20 winners and then have a break before taking out my amateur [jump] jockeys' licence so I could ride my own horses. Obviously things didn't go exactly to plan and I ended up training earlier than expected."
Cheltenham means everything
Joseph was just a young boy when the legendary hurdler Istabraq won three consecutive Champion Hurdles at the Cheltenham Festival (1998-2000) when trained by his father for JP McManus. To be responsible for another Grade 1 hurdling success in the same colours at this prestigious meeting before he was even officially a trainer must have been very special for Joseph.
"Ivanovich Gorbatov's win in the Triumph Hurdle last year was a huge moment for me," he says. "I expected him to run a big race and possibly be placed, but to win was really something else.
"Cheltenham is the Breeders' Cup or Royal Ascot of National Hunt racing. It means everything to us. I'm hoping to have four or five runners at the Festival this year, mainly in the big handicap races. If I could pick one meeting to have a winner at in the whole year, it would be Cheltenham. It is our Olympics."
Likely runners at the Festival this week
Tuesday
JT McNamara NH Novice Chase - Edwulf (current best odds: 6-1)
Wednesday
Fred Winter Juvenile Handicap Hurdle - Zig Zag (25-1)
Weatherbys Champion Bumper - West Coast Time (16-1)
Friday
JCB Triumph Hurdle - Landofhopeandglory (16-1)
Randox Health County Hurdle - Ivanovich Gorbatov (14-1)
Looking for Cheltenham Festival betting odds for 2017? Click here
World rankings footnote
Joseph O'Brien is the only individual to feature in both the jockeys' and trainers' lists in the TRC Global Rankings, which take into account all runs in Group or Graded races over a rolling three-year period.
Despite having been operation for only a few months on the flat, he has already reached #397 in the trainers' top 500. That puts him joint 16th (training as Joseph Patrick O'Brien) in the list of Ireland-based trainers (headed, of course, by his father).
He stopped riding early last season, but such was his success in the previous two years that he is still as high as #49 in the world jockeys' standings (and third in the Irish rankings).