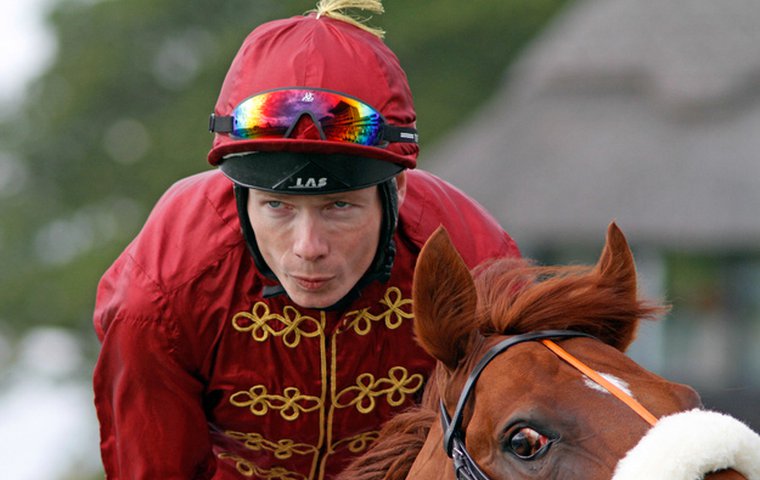 This week, our editorial content will focus on riders around the world. From profile stories to pieces addressing some of the issues riders face in the morning, the afternoon, and at the conclusion of their careers, we will take a closer look at the human athletes so central to our sport.

Jamie Spencer was at Lingfield on Wednesday, Dec. 17 to ride racecourse debutant Master Of Irony in the juveniles' seven-furlong maiden. The headline-writers did not have to work too hard that day.
Master Of Irony jumped a little awkwardly from the gate, but Spencer quickly had him into a smooth rhythm, travelling nicely towards the outside and covered up, sixth of the nine runners.
The rider had to get after his horse a little as they ran down towards the home turn but, once they levelled up, he hooked the Qatar Racing gelding to the outside and delivered him with his challenge. You knew from the two-furlong pole how this one was going to end: Master Of Irony swooped down the near side, hit the front with a half a furlong to run, and went on to win by just over a length.
Irony indeed. Quirk of fate, the dictionary says. And how. Spencer was supposed to be sitting in his new office by Dec. 17, shirt and tie replacing his silks, shiny black shoes instead of riding boots. Last August, he shocked the racing world by announcing that he would retire at the end of 2014, that he would take up a management position with Qatar Racing as Andrea Atzeni and Oisín Murphy rode the horses.
Even at Sha Tin's international meeting on Dec. 14, when Spencer dismounted from Trade Storm after finishing seventh in the Hong Kong Mile, he said that that was probably it. I go home tonight, he said, and it looks like that was my last ride.
Yet, while he presented a placid exterior to the outside world, underneath his feet were paddling. Typical Spencer. In an interview with At The Races on Dec. 17 at Lingfield, he said that he had actually made up his mind a few weeks previously to call off his retirement. He had had a chat with Qatar Racing supremo Sheikh Fahad at a London awards ceremony and he had decided then. He just didn't want to say anything until the international races at Hong Kong had been run.
In a strange way, the announcement that Spencer would not retire was probably not as great a shock as the announcement in August that he would retire. Here was a 34-year-old rider in the prime of his health and at the peak of his powers. A dual champion jockey who was just coming into his golden years as a flat jockey. It would be like 29-year-old Wayne Rooney, at the height of his career, announcing that he was going to give up playing in order to take on the role of Director of Football at Manchester United. It didn't make sense.
Trainer John Oxx once said that a flat jockey was not at his best until he was in his mid-30s. That it was at that stage of his career that he had the right mix of experience and nous and confidence and strength and athletic ability and knowledge of the subtleties of race-riding to make him the best that he can be.
Look around Europe. Richard Hughes landed his first championship when he was 39. Now he is 42, a triple-champion, and riding as well as ever.
Johnny Murtagh celebrated his 38th birthday in 2013, the year he rode five G1 winners for five different trainers. Michael Kinane celebrated his 50th birthday between winning the Derby on Sea The Stars and winning the Eclipse on Sea The Stars, and before winning the Juddmonte International and the Irish Champion Stakes and the Prix de l'Arc de Triomphe (all also on Sea The Stars).
Pat Smullen is 37. Olivier Peslier is almost 42. Frankie Dettori has just turned 44. A top-class 34-year-old flat jockey like Spencer is only just getting going.
It is difficult to know what prompted Spencer's decision to retire in the first place. He had a disappointing Royal Ascot, perhaps that was the catalyst.
Spencer's riding style is all about the deployment of a horse's energy through a race as efficiently as possible. Often that means he is further back in the field than ideal, conserving energy, but also needing racing room, relying on the breaks, and that is a style that can attract criticism. It often does in Spencer's case.
His style is generally well suited to Royal Ascot. Races are highly competitive there, and the pace is generally strong, often too strong. The front-runners often struggle. The ball did not hop for Spencer at Royal Ascot in 2014. He had three seconds and three thirds, but no winners. Perhaps he decided then and there that he had had enough.
So why the change of heart? Perhaps, with the pressure off, Spencer realised how much he enjoyed race-riding, how talented he is, and how much that talent is generally acknowledged and appreciated by people who know about these things.
Perhaps it was influenced by Toast Of New York, the horse he steered to victory in the UAE Derby at Meydan last March, and on whom he came within a nose and a stewards' decision of landing the Breeders' Cup Classic at Santa Anita in November. Spencer received universal praise for that performance.
You know that trainer Jamie Osborne and owner Michael Buckley are big Spencer fans. And Toast Of New York is set for a potentially exciting 2015 campaign, with the Dubai World Cup in March an early target - and another crack at the Breeders' Cup Classic, at Keeneland at the end of October, also on the horizon.
Whatever the reason for his decision in August, or for his about-turn last month, you have to be thankful that he has decided to continue to ride. There are few things in life that are more frustrating than an underutilised talent, and Spencer is too good a jockey to give it up now, when he is just entering his prime years.
He will not be Qatar Racing's first jockey any more, that position has been filled by Andrea Atzeni, but you can be sure that he will ride for them whenever the opportunity arises. Sheikh Fahad was wholly supportive of Spencer's decision to continue to ride despite the fact that he had had a job lined up for him on the management team.
Refreshed now and recharged, Spencer will return in the spring as a freelance. Interestingly, the landscape has changed. With Atzeni riding for Qatar Racing, and James Doyle and William Buick riding for Godolphin, there should be plenty of opportunities for Spencer. He will surely be one of the most sought-after freelances in the business.