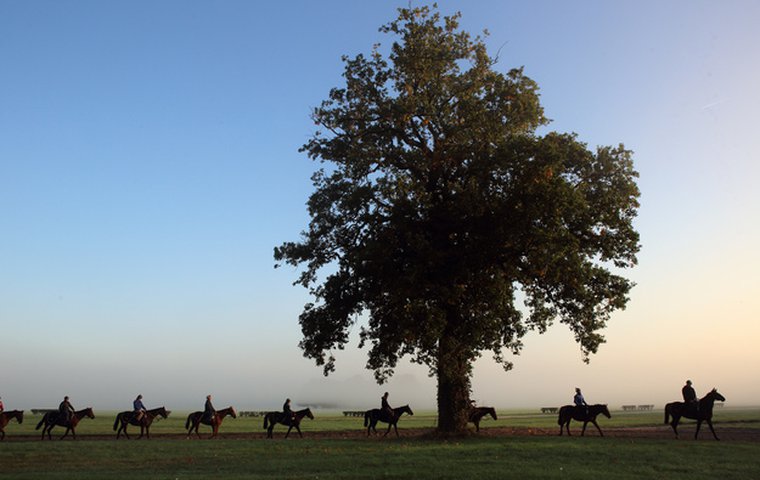 Never one to follow in other people's well-worn footsteps, young English trainer Amy Weaver is embarking on a new adventure. After seven years' training in Newmarket, the 33-year-old has made the brave move across the Channel to set up a new yard in France.

She is far from the first English native to join the training ranks in Chantilly - the British have had a presence there almost since racing began - but the generous prize money and impressive premium schemes, along with the well-publicised concerns about the state of British racing, mean that France is becoming increasingly attractive to a new generation of foreign trainers.
"I have always had an adventurous spirit," Weaver said. "And, as a young trainer with no background in racing or outside financial backing, I knew I was going to have to find opportunities to set me apart from other people starting out.
"I have never been afraid of travelling abroad with my horses in search of success, and from early on in my career I had runners in Ireland and Scandinavia. I received a lot of welcome publicity for the syndicates I put together to buy horses in the U.K. and send them to race in America and the venture was and is still very successful for all involved.
"More recently, I was sent some French-bred horses to train, so it was only natural that I would run them in France to take advantage of the opportunities open to them over there. I had a great success rate over there with 80 percent of my runners finishing in the first three."
There is a marked difference between having a few runners abroad and making the bold step to set up training in a foreign country, so what was it that finally pushed her to take the plunge and move to France?
"There then came a point when I was having more and more runners in France and travelling them back and forward myself was going to start taking its toll on my yard back in Newmarket," Weaver said. "The advantages of racing in France are no secret in the industry, and I have to admit that the prize money and premium scheme were huge factors behind my decision, but they were not the only things I had to take into account."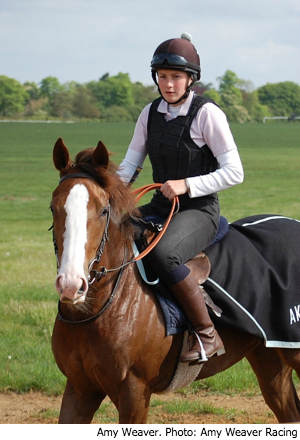 Under the rules of French racing, trainers can share a yard, which is not the case in Britain. And that can be a big help for smaller trainers who have to keep their costs low so they can compete with established professionals.
"I am now renting stables in a yard close to all the facilities I could need, but I only have to pay for the boxes I use so I have been able to reduce the training fees for my owners," Weaver said. "Nearly all my owners have come with me and some have sent me new horses since the move.
"Friends who are based over here have bought shares in horses with me for the first time, and I have also had interest from English owners of French-bred horses who are thinking of having them in training over here. Some English trainers have also enquired about leaving horses in my care in between runs in France, and the fact that there are empty boxes available to me in the yard means that that would be an easy service for me to provide.
"Of course, there are downsides to everything and the cost of employing staff here is very high. To get around that pitfall, I am planning on keeping my string quite small, around 10 horses, so I can do most of the work myself."
Weaver is no stranger to Chantilly and its impressive gallops and amenities. She discovered the training centre while spending a season as pupil assistant to Jonathan Pease.
"It was a big shock to my system to arrive in Chantilly back then with only schoolgirl French to get by on," she said. "The time I spent with Mr. Pease has been hugely beneficial to my move over here as it has meant I know the gallops quite well and have had a strong network of jockeys, trainers, and professionals to help me settle in.
"I have always loved Chantilly and the novelty of riding out every morning in the beautiful forest here has still not worn off, though I must admit my horses took a while to get used to the local deer and boar.
"I am the first to admit that my grasp on French is far from perfect, but all the horse vocabulary has come flooding back and even I have been impressed with my ability to handle business conversations with France Galop and the bank. People here appreciate when you make an effort to be understood, and they are very patient when I unintentionally mangle their beautiful language."
So now that she is safely settled into her routine in Chantilly, what are the future plans and ambitions for Amy Weaver Racing?
"I plan on continuing to run our American syndicate and hopefully I can source horses in France for both that and my existing clients from the Gulf.
"I hope we can continue to be successful over here and provide an enjoyable experience for the people who have horses in training with me. We have already published our calendar for existing and potential owners, which includes events on both sides of the Channel, such as visits to the gallops in Chantilly, drinks at the sales in Deauville and Newmarket, and picnics on Prix de Diane day and at Royal Ascot.
"Moving to France has rekindled my ambition and I am really looking forward to seeing what this season brings for the yard."