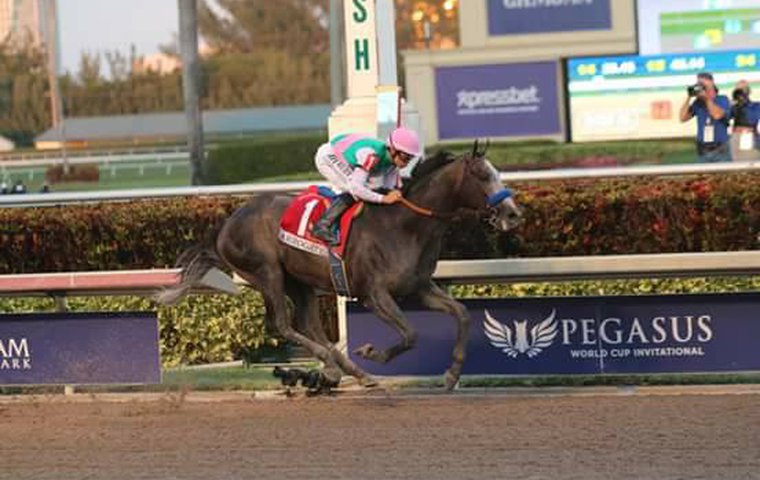 Apparently even the world's richest horse race is not immune from a 'sophomore slump'.

With the second edition of the now $16 million Pegasus World Cup about four months away, the Stronach Group's ground-breaking race is currently facing a bout of growing pains. Several original stakeholders have pulled out – with one of them likening the experience to a 'used-car sales job' – and even its most fervent backers are uncertain of what to expect on Jan. 27, when the race is contested at Gulfstream Park.
"As far as I know, and it has been a bit quiet, the race is still on," said Dean Reeves, an original stakeholder who anted up a $200,000 down payment for a spot in the 2018 race by the Sept. 1 deadline. "I haven't asked how many people are in and I don't know where everything stands. But, from my past conversations with [Stronach Chief Operating Officer] Tim Ritvo, they will have 12 horses and it's going forward. I think they have a lot of irons in the fire and need time to sort everything out, but that's just conjecture on my part."
A year ago at this time, all 12 stakeholders had been in place since May 2016, each committing $1 million to the purse before the Preakness to fund a novel concept for racing. Though some of the owners scrambled in the final weeks to find a horse for the Grade 1 race, and some wound up with hopelessly overmatched longshots, the Jan. 28 race was a tremendous success, featuring a rematch of the top two finishers in the Breeders' Cup Classic [Arrogate and California Chrome] that had resulted in an impressive victory by Arrogate.
Dividing the revenue
It was after the race that the problems in the format arose. With payouts of $7 million, $1.75 million and $1 million to the top three finishers, nine stakeholders received just $250,000 in purse money.
The Stronach Group also agreed to let the 12 stakeholders divide all revenue from wagering on the race, television contracts and sponsorships, which was intended to greatly reduce the participants' deficit.
But, according to several stakeholders, the added revenue amounted to roughly $100,000 per share, leaving nine of the owners with a staggering loss of $650,000.
In four instances where a stakeholder had to lease a horse from another owner in order to race it and that runner finished fourth or worse, the financial woes worsened. All or part of the $350,000 in purse money and added revenue had to be shared with the horse's owner, creating an even greater loss for the stakeholder who paid the $1 million.
Stronach officials did not respond before deadline for this story to requests for comments.
Officials' silence
Chester Broman owned a 25 percent share of a stake with Earle Mack and Moustapha Fostock, a group that worked out a deal with John Oxley to race Noble Bird under their banner in the Pegasus. Noble Bird set the early pace at 30-1 odds but faded to sixth, and, when the smoke cleared, Broman says he recovered only about 10-15 percent of his original stake, leaving him uncertain about re-enlisting for 2018.
"It was not the deal they projected. I'd say 75 percent of the people had a bad experience. Only those who were first, second or third were happy. The other nine people didn't get back what they expected," Broman said. "We thought if you came in last you'd get a third or 35 percent of your money back. We came in sixth, and I got 10-15 percent back.
"I have to wait until I hear all the details before I decide to get in again, but I don't know if they'll get the same participation as last year unless someone comes up with a better way of raising money."
Broman added that the silence from Pegasus officials with the race about four months away has him wondering out loud if there will be a 2018 Pegasus.
"Right now it doesn't appear to me there will be a race because they don't seem to working on the issues," he said. "That's just me. We'll see what happens."
Wait-and-see attitude
Another of those taking a wait-and-see attitude is Ron Paolucci, who operates Loooch Racing. He leased War Story to Pegasus stakeholder Dan Schaefer and his gelding finished fifth at 49-1. Paolucci was initially quite eager to become a stakeholder in 2018 but now wants to see what happens in important fall races before committing.
"As of a month ago, a spot is mine if I want one, but I'm taking a wait-and-see attitude," Paolucci said earlier this week. "I have a few horses pointing toward the Breeders' Cup and we'll see how they do. If one runs 1-2-3, I might buy a spot."
Paolucci said the financial numbers are just not adding up for him at the moment. While the race is a perfect fit for horses such as Arrogate, Gun Runner or Collected, he says that the longer shots in the 12-horse field face a weak risk/reward ratio.
Following the announced boost in purse money from $12 million to $16 million in April, there were reports that each starter would be guaranteed $650,000. Still, Paolucci believes the payouts need to be restructured so that more than just the top three horses make money or break even.
"The structure is not, in my opinion, worth the gamble if there are three or four good horses already in the mix. It's too top-heavy," he said. "It's one thing to put up a million dollars, but I don't want to lose $350,000. If they run 12 horses, the top seven finishers should at least break even. If you get back say $650,000 next year you still can't compensate the guys who run fourth through seventh enough. That's what everybody is looking at. Is there enough money to woo a good horse and still make money or avoid a huge loss? That's the road block they're running into."
Draw problem
War Story broke from post five in the Pegasus and worked out a ground-saving trip, but the dire problem facing horses from the outside posts in a mile-and-an-eighth race at Gulfstream also adds to Paolucci's apprehension about putting up a $1 million stake.
Prior to the Pegasus, horses breaking from post 12 at Gulfstream Park had one win in 18 tries, and horses in posts 10-12 combined for a 7-for-117 record.
Paolucci said a horse with an already modest chance of winning could lose all hope of winning days before the race if it draws a post from eight through 12, as evidenced by California Chrome. The two-time Horse of the Year and 6-5 second choice drew post 12 and raced wide throughout, finishing an ugly ninth, beaten 29½ lengths, in the final start of his illustrious career – albeit trainer Art Sherman said California Chrome came out of the Pegasus with fluid on his right knee.
"The configuration of Gulfstream is turning people off," Paolucci said. "At a mile-and-an-eighth there, if you draw post eight through 12, it's a handicap.
"I think they want to keep it a mile-and-an-eighth to lure more milers, but you might get more horses with a normal configuration. I wouldn't say the race is not going to go, I'm not in the know. But, in order for it to go, in my opinion, they have to change the financial structure and the distance."
Santa Anita speculation
Though there was speculation that the Pegasus would move to Santa Anita because of a much larger grandstand and better run to the first turn at nine furlongs, with the Pegasus staying at Gulfstream it would require a change in distance to make the post positions more equitable.
Reeves says there's no talk of that at the moment.
"As far as I know the distance will stay the same," said Reeves, whose horse, Breaking Lucky, finished eighth from post ten at 74-1. "Hopefully we won't get the ten hole and be out in right field again. That plays a big part in everything. Basically, you can't win from an outside post against that caliber of horse."
Reflective of the inactivity, Ron Winchell, who owns Gun Runner, says he has not been approached to either partner with an existing stakeholder or to purchase a spot on his own. Considering that Gun Runner is ranked No. 1 in the latest National Thoroughbred Racing Association poll and Winchell is quite open to racing his multiple Grade 1 winner at five, it would figure that his phone number would be on speed dial with anyone connected to the Pegasus. Instead, he's waiting for his phone to ring.
Great for racing
"I haven't heard from anyone. No one has reached out to me. I've asked a lot a people and what I'm hearing is that, yes, it's happening, but no-one knows any of the particulars," Winchell said. "Then again my own interest possibly has something to do with a bad taste in our mouth from last year, when we were trying to get in and they wouldn't let us in. We'll just evaluate things after the Breeders' Cup and look at it from that standpoint before deciding if it's best to run and buy a spot or make a deal."
Before the first Pegasus, while Gun Runner was quarantined at Fair Grounds due to an outbreak of equine herpes virus, Winchell worked with Broman's group and then stakeholder Mick Ruis to secure a spot for Gun Runner in the field. Gun Runner was cleared to leave Louisiana after passing a blood test, but Winchell decided against running in the Pegasus after Gulfstream officials required a second, nasal swab test on the horse.
"Gun Runner not running in the Pegasus wasn't a lack of effort on our part. It became clear that there were people who didn't want him to run. Basically [officials] wouldn't call me back or let me in. I got a feeling they didn't want us there, which was fine, but they should have said that from the beginning," Winchell said. "We'll see how they feel this time. I still think the Pegasus is great for racing, so I hope they get it going."
Another horseman with bad memories of the first Pegasus is Perry Martin. Majority owner of California Chrome, he and his partners became an original stakeholder, figuring that putting up $1 million to chase a $7 million payday for the winner was an appropriate risk with a horse as good as his champion. But now, with California Chrome at stud, Martin says he has no interest in returning because of the bleak financial prospects for someone without a star horse and a difference of opinion with Pegasus officials in regard to how to grow the race for the benefit of all parties.
"I don't think the effort was there to develop the rebate for the owners of the race. We were told they were going to do that but I didn't see any progress. It seemed the focus was just on making the race happen and they found 12 suckers to pay for it," Martin said.
"Now it seems the intent is to put more money in the purse so it's worth more than the Dubai World Cup. As a businessman, I think that's stupid. You might find 12 stupid people to go along with that, but they should put the money into building the race. Add some 'Win and You're In' races that give horses an automatic spot in the field.
"To me, it's a used-car sales job. They tell you that it's your race but then they don't take any input from anybody about promoting it. They act like it's their race. We had no say. We'll have a meeting and they will tell us nice things about ourselves but they won't listen to us."
Handle boost
Jim McIngvale is another original stakeholder who does not plan to return. He listed his financial loss as the impetus for his decision, but he was not bitter about it.
In the spring of 2017, McIngvale believed he had a horse who would be one of the favorites in the race. But champion sprinter Runhappy was retired after finishing eighth in the Breeders' Cup Dirt Mile, forcing McIngvale to buy Eragon, an Argentinian G1 winner who finished 12th and last at 82-1 from post 11.
"We got in because of Runhappy and I guess the reason I'm getting out is the $750,000 loss I took on the race, though that's no one's fault but my own," he said.
McIngvale believes the Pegasus could have a bright future, but would like to see it become a more fan-friendly event to boost the handle and interest in the race. The initial race attracted 16,653 fans to Gulfstream, each paying at least $100 for admission.
"The Pegasus is a good idea and the Stronachs are to be commended for coming up with it. It just needs some tweaking and marketing to bring in gamblers from all around the world. You should make the world's richest race the world's best betting race," McIngvale said.
"If it was me, I wouldn't charge the $100 admission fee. It would have been better to give away $100 betting vouchers. The whole thing was too elitist for my blood and it needs to be something for the fans. When was the last time we ran a big race for the fans and dramatically reduced the takeout on it? I know these tracks want to make money, but sometimes you have to lose money to make money."
Japanese interest
Trying to lure foreign horses into the fold was viewed as a way of improving the financials, but at the moment that seems a longshot. Unlike European countries, Japan conducts dirt racing and can dramatically boost wagering on a race such as the Pegasus. Yet on Wednesday, a spokesperson for the Japan Racing Association office in Connecticut said he was unaware of any Japanese connections expressing interest in the Pegasus.
Without a Japanese horse in the field, wagering on the Pegasus would not be permitted in Japan.
As much as there's uncertainty about the future, Reeves stands an example of how the race can grow in popularity. He and the partners in his stake, Randy Hill and Eric Young, did not originally have a horse good enough to compete in the Pegasus. Reeves tried to work out a deal to have someone's else horse run in his spot but said he "went through hell" trying to get that done. Instead, he said he and his partners opted to buy a 60 percent share of Breaking Lucky – who was coming off a second to Gun Runner in the G1 Clark Handicap - because he believed in the concept of the Pegasus and was confident Breaking Lucky could run in the race twice.
Breaking Lucky was third to Gun Runner in the G1 Whitney at Saratoga last month, and, depending on how he runs tomorrow in the Awesome Again at Santa Anita, that second trip to Gulfstream could be in the cards. Yet regardless of what happens Saturday or in the months ahead, Reeves vows to maintain a positive attitude about a race that he sees as a better financial opportunity for horsemen than the Breeders' Cup Classic.
Generous move
"People forget that you have to pay $150,000 to run in the Breeders' Cup Classic for a $6 million purse, unless you win a 'Win and You're In' race and get a free entry, and if you finish worse than fifth you lose money," said Reeves, who won the 2013 Breeders' Cup Classic with Mucho Macho Man. "If the Pegasus can get the return to a minimum of $750,000 for everyone, it's a better deal to risk $250,000 while you're running for a $16 million purse.
"The worst part for us last time was that our horse didn't finish far enough up the ladder, but the event was spectacular with Arrogate and California Chrome and the buzz around it. We were just disappointed in our finish. But they are making some changes and adding $4 million to the purse was a generous move by the Stronachs, which makes it more palatable regardless of where you finish.
"I guess there's a still a lot of gray areas and what-ifs that have to be resolved in the next three months, but I'm optimistic about the future. I'd love to win the race one day and get my money back and then some."
Growing pains and all, with about $9 million awaiting the next winner of the Pegasus, you can be sure Reeves is not alone in that hope.