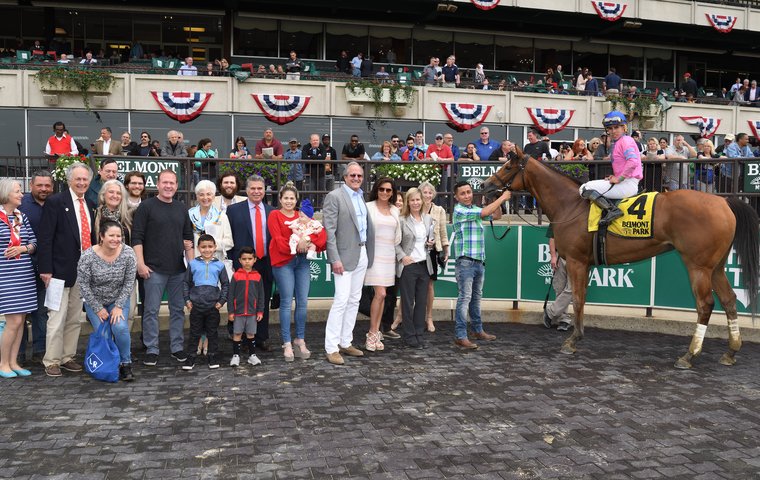 After the first stakes race at Belmont Park on Monday, owner Michael Dubb reflected on winning the Mount Vernon with a New York-bred mare out of a New York-based stallion.

"I go to the New York-bred dinner every April, and there's a real camaraderie," he said. "It's a family."
As it does each spring, Belmont Park hosted a day of races exclusively for New York-breds, and Dubb won three of them this year. As the card unfolded, his comment about family seemed prescient, with both equine and human family members sharing successes.
An early favorite for New York broodmare of the year, Thin Disguise is the dam of two of the day's winners, Holiday Disguise in the Critical Eye and Midnight Disguise in the Bouwerie. Both are bred by Drs Bill Wilmot and Joan Taylor, long-time fixtures in New York's breeding program; they own the latter as well.
"It's dizzying," said Wilmot, standing with his wife, Taylor, and sons Devin and Brendan after receiving the trophy for Midnight Disguise's win. "Joan thought we might go home with two wins, but I never expected it."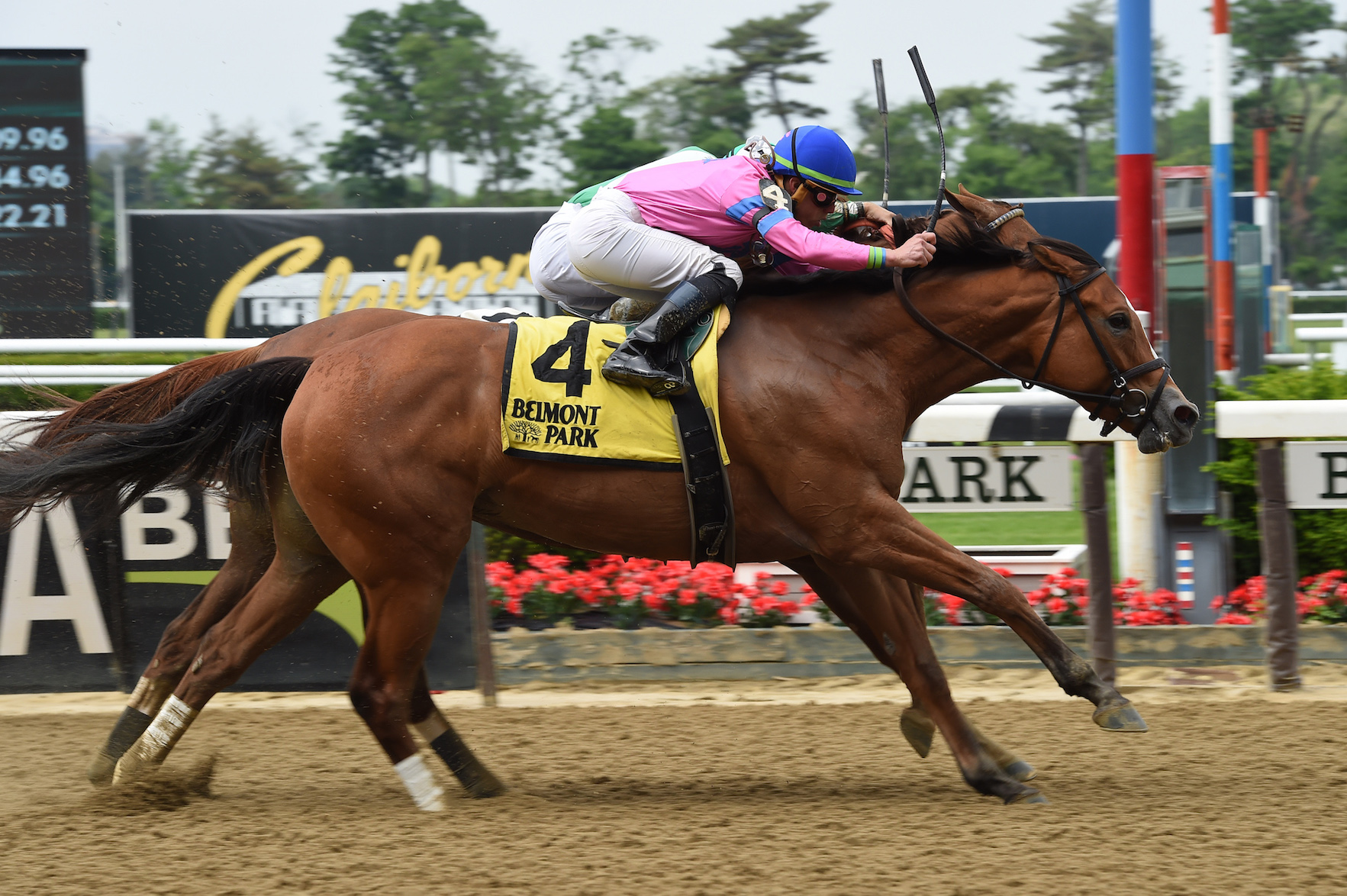 "The big wheel takes so long to turn; the effort it took to breed these fillies goes back a ways," he continued. "Now we're enjoying it."
Wilmot and Taylor sold Holiday Disguise as a yearling; trainer Linda Race bought her for client Sheila Rosenblum at the 2015 Fasig-Tipton sale of New York-bred preferred yearlings for $220,000. In April, she won the G3 Distaff at Aqueduct. With a record of six wins, a second, and a third in nine lifetime starts, she's earned nearly half a million dollars.
And when Holiday Disguise hung on to win the Critical Eye by a nose, the Wilmot/Taylor family, along with a couple of other Linda Rice owners, including Vivien Molloy, joined Rosenblum in the winner's circle.
Two races later, when Midnight Disguise joined her older sister as a stakes winner on the day, the photo was equally crowded, with Rosenblum et al celebrating with Wilmot and Taylor. Fittingly, Midnight Disguise won the Bouwerie, following Holiday Disguise's win in the race last year.
"Thin Disguise brought us all into this," said Taylor. "The two Disguise fillies, Lady Sheila, Linda Rice, and the two Ortiz brothers riding. It's all in the family."
Irad Ortiz Jr. was in the saddle for Holiday Disguise; his brother José rode Midnight Disguise.
"I have such respect for Joan and Bill as breeders," said Rosenblum.
"And I her as an owner," interpolated Taylor.
"They like racing and I like breeding," added Rosenblum, noting that she is new to breeding and that Wilmot and Taylor seldom race the horses they breed. "They're mentors, and so is Vivien. They've had great success."
Diversify back on top
The last stakes race on the card was the Commentator Stakes, and, for the first time, father and daughter Ralph and Lauren Evans stood together in the winner's circle with the first horse they've co-owned when Diversify returned to his winning ways.
Ralph purchased the horse at auction in 2016 for $210,000, and Lauren joined him as a partner. While Ralph and wife Judith regularly attend their horses' races, until recently Lauren could attend only sporadically, as she lived in the western part of the U.S. A professional commitment that had her living on the edge of the Grand Canyon kept her from the G1 Jockey Club Gold Cup last October, Diversify's first Graded win.
A recent move to the Washington D.C. enabled her to attend the 5-year-old's race in April at Charles Town in the G2 Charles Town Classic, in which Diversify was essentially eased, finishing seventh by 26 lengths. The loss had begun to give Lauren something of a complex.
Click here for full details of the New York owner and breeder awards
"I was really nervous today," she said. "This race meant a lot, and it's good to know it's not my presence that makes him not run well. This is the first time I've been at a win, and it's thrilling."
Encouraged by her parents to walk the horse into the winner's circle, Lauren demurred, so her mother Judith stepped up, taking a spot next to her daughter in the photograph. José Ortiz was in the saddle, and joining him in the picture was his wife, Taylor Rice (the niece of Linda, trainer of Midnight Disguise and Holiday Disguise), and their infant daughter Leilani.
United by blood or by marriage, by partnership or a common equine interest, the participants in this spring's New York-bred showcase celebrated each other's successes and praised the talents of their rivals. And, at that next New York-bred awards dinner, in April 2019, they will, almost certainly, meet again. The competition may be different, but the atmosphere will not.
"It's good," said Dubb, "to keep winning in the family."