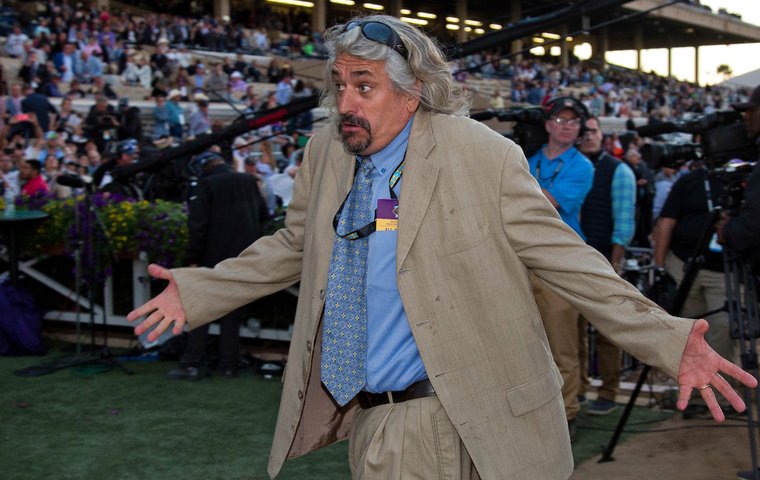 No horse will be better suited for Saturday's $16 million Pegasus World Cup Invitational than overwhelming favorite Gun Runner. His 11 rivals not only have to tackle the world's richest race, but the mojo of what Gun Runner's trainer is wearing.

Steve Asmussen has worn a certain custom-made jacket and pants — known simply as 'The Tan Suit' to the Hall of Fame trainer and his wife, Julie — while turning Curlin, Rachel Alexandra, Untapable and now Gun Runner into champions who made millions of dollars.
Asmussen's priority is fast horses, not fashion. So who cares if the 11-year-old suit sagged and bagged when Gun Runner won the Breeders' Cup Classic? The Suit has been taken in and taken out so many times that proper alterations are becoming a challenge.
"The Tan Suit will be worn," Steve Asmussen said emphatically of the Pegasus. "I took so much heat over how it doesn't fit that I decided that I will fill into it, how's that? I decided it's a lot easier just to fill it out than take it in."
Who wants to ditch a suit that has been worn to so much greatness?
There's two-time Horse of the Year Curlin giving Asmussen his first Triple Crown winner in the 2007 Preakness and his first Breeders' Cup Classic in the Monmouth Park mud.
Then there's the following spring when Curlin won in the desert in the $10 million Dubai World Cup.
Oh, there's also Rachel Alexandra's march to 2009 Horse of the Year, which included her Preakness victory and historic triumph over older males in Saratoga's Woodward Stakes, and Untapable winning the 2014 Kentucky Oaks and Breeders' Cup Distaff.
So when did Asmussen first wear The Tan Suit? Probably back in 2007 when Curlin won the Rebel Stakes.
"The boys tease Steve: 'Dad your pants are pleated. People don't even wear pleated pants anymore,'" Julie said of their sons Darren, Keith and Erik, who were 8, 6 and 4 years old when The Tan Suit was first worn. "He's like, 'Oh, well…'"
As they say, suit yourself.
"I have a habit of looking back at a win picture and looking at what I had on," Asmussen said. "That's probably how it happened. Not that you got it specifically for him. It's just like he won, and what the heck was I wearing? That's how it happened."
'I'm just stupid superstitious'
The Tan Suit even has been immortalized in an Asmussen bobblehead given out by Lone Star Park. And, while Asmussen can win major races without it - a navy suit was worn in when Tapizar won the Breeders' Cup Dirt Mile in 2012 and the trainer was wearing a gray suit for Creator's 2016 Belmont, The Tan Suit certainly has an affinity for horses headed to Eclipse Award stardom.
"I'm just stupid superstitious," Asmussen said. "I've got a lot of suits that work better, but they're not in win pictures, so they don't look better. Julie and I think alike. We know it's silly, but why not? It's hanging in my closet, and I cannot look at it without chuckling how silly it is. But it's so many good memories, if nothing else. It may not even have a good [win] percentage, who knows? But getting to saddle Curlin and Gun Runner makes a lot of things lucky."
Just how often has Asmussen worn the suit? "It's pretty dang thin, man. You hold up it up and you can see through the dang thing," he said.
"It is so thin, and we've tried to find the same fabric," Julie said. "It's just not the same. I just laugh about it. So, yes, we have let it out and we've taken it up a couple of times. The gentleman who does his suits, he finally said, 'I think we just need to make you a new one.' Steve's like, 'Nope, not making me a new one.' We can't take it up anymore, it's just so thin.
"[But] it's going to keep going. When he says, 'Bring my suit,' I know which one he means. I don't have to ask him 'The black one? The blue one? The gray one?' When we have to retire it, that will be very sad. He's got new suits that he's not won a race with, and they hang in the closet."
Asmussen said he might finally cut his shoulder-length hair after Gun Runner retires to stud following the Pegasus. As for the suit?
"The Suit will not retire."