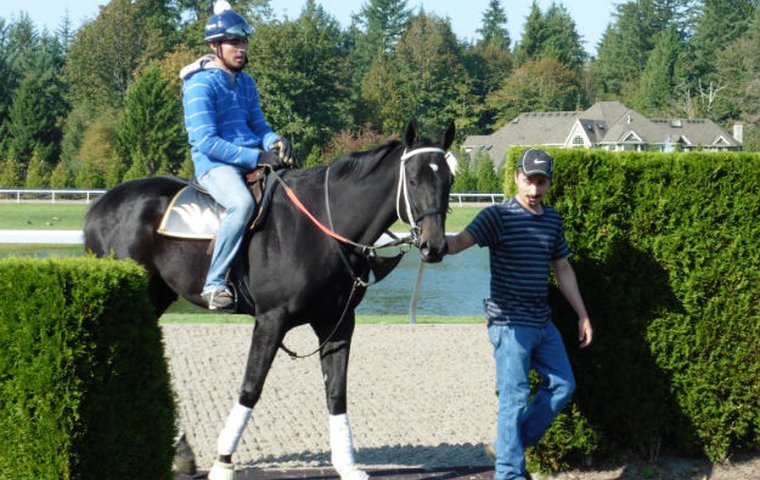 "There are many events in the womb of time which will be delivered"

– William Shakespeare (from Othello)

Journey back one year ago, to the brewing stew of anticipation surrounding the Breeders' Cup Classic and the head-to-head between the twin Californian wunderkinds of California Chrome and Shared Belief. These words would have held ominous resonance for the latter of the two – he who, with the likes of sports pundit Jim Rome listed among his owners, would be sent off favorite for the showcase event.
At the beginning of October 2014, however, Shared Belief's resume was still a spotless document. Seven races had yielded seven wins, three of them from out of the top drawer. He was the holder of Champion Two-Year-Old Male honors from the previous year's Eclipse Awards, and it was thought by many that the Classic would provide Shared Belief with a good opportunity to snatch Champion Three-Year-Old and potentially Horse of the Year honors from California Chrome's slippery grasp.
As it was, Shared Belief and his sizable following of acolytes should have paid heed to the Bard, who sees past, present and future.
Not yards out of the gate, Bayern with Martin Garcia on board, side-slammed Shared Belief, shuffling the little horse into a pocket towards the rear of the field where he was further jostled like a sea buoy in a storm. But, despite showing admirable pugnacity to work his way into a fighting position at the top of the stretch, Shared Belief eventually trailed home a tired and well-beaten fourth behind Bayern, Toast Of New York and California Chrome.
Shared Belief quickly shrugged off the grim specter of that day. He provided trainer Jerry Hollendorfer with a belated Christmas present with a victory in the G1 Malibu Stakes at Santa Anita on Boxing Day.
He then treated California Chrome to a one-and-a-half length drubbing in the G2 San Antonio Invitational Stakes in February, then added the iconic G1 Santa Anita Handicap to his medal haul one month later.
Months of rest and recuperation
But, cut to the G2 Charles Town Classic Stakes in April — a contest widely expected to prove more of a rout than a race for Shared Belief — and fate's hawkish hand was once again in evidence. From the get-go, jockey Mike Smith never looked comfortable on Shared Belief and abruptly pulled him up with more than half the race still to run.
A reason for the dismal showing quickly materialized – the horse had suffered a non-displaced fracture of the hip.
With months of rest and recuperation before him, Shared Belief was sent north to Washington State and the green and leafy surrounds of the Pegasus Training and Rehabilitation Center – a state-of-the-art equine rehabilitation facility that every now and then caters to champions of other stripes. (Jockey Gary Stevens spent a period of two months at Pegasus in preparation for his return to race-riding at the start of 2013.)
There, Shared Belief has enjoyed nearly three months of box rest before being placed on a regimen of walking and swimming, said Mike Puhich, trainer and director of horse operations at the farm.
"Basically, all he's been doing until the last week or so has been light walking and stall rest," said Puhich, when I spoke with him at the end of September. "Then this last week, he's started back under tack with some very, very light jogging."
Now out of confinement and with a saddle on his back, Shared Belief's fizzy soda-pop temperament will require a steady hand if the lid is to remain on the bottle. "He's just a real happy-go-lucky horse. He's a good-feeling horse. And very, very intelligent," said Puhich.
Indeed, pride of place in Hollendorfer's barn at Santa Anita is a picture of Shared Belief schooling in the Santa Anita paddock last year, his two handlers straining against their semi-airborne steed – a snapshot that could have been taken from an extreme-sports version of Cirque-du-Soleil.
He could be a better horse when he returns to the track
Sounding a warning shot to future rivals, Puhich said that the Shared Belief currently found in Washington is a bigger and stronger specimen than the Shared Belief found in that photo from one year ago.
"He's filled out a lot since he's arrived. He's grown. And he's still a young horse. I don't want to put any pressure on Jerry Hollendorfer or anything, but if Shared Belief comes back as healthy as he was, he'll probably be a better horse," Puhich said.
"You never want to see a horse get injured, but I think it could be a blessing in disguise. Every horse needs a break at some point – it's just unfortunate that he got a break when he got injured like that."
Nevertheless, biology has its limits. And Shared Belief has more in common still with the greyhound than the Great Dane.
"I've got a couple friends who are professional football players. They say that some guys are lobby players," Puhich said. "Their definition of a lobby player is a guy who looks really soft in the lobby. But once you get him out in the field and hit him a couple of times, he comes into himself. Shared Belief could be considered a lobby player because he's kind of unassuming on looks, but he's definitely a tough marker."
"He's real, real unassuming, but a huge, huge over-achiever looks wise," Puhich added. "And man, what a brilliant athlete. It's a real pleasure being around him. This is the kind of horse that defines why we do what we do – it's been a fun experience."
Road to return will be slow and steady
Since his time away from the headlines, Shared Belief's fans have been keeping the U.S. Postal Service busy. "We get candy and carrots and stuff sent to us from all over the country – places where they don't even have racetracks, like Biloxi, Mississippi. Some lady there sent 40 roses and she's sent a bunch of candy. It's amazing. It's great for racing."
While a horse like Shared Belief is good for racing, what has been good for Shared Belief is the extra time he's been given to fully recover from his injury, said Puhich. On a recent busy morning at Los Alamitos Race Course, Hollendorfer confirmed that the road leading to Shared Belief's competitive return will be slow and steady.
"We're in no hurry with him. He's a gelding. And he doesn't have to be in any kind of schedule. If we don't get him running until the middle of next year, it's okay. We'll take our time and do the right thing. He's on his own schedule. We'll know when he's ready to breeze, and go forward from there."
Shared Belief will continue jogging a mile and a half every day for the next few weeks, said Hollendorfer. After which, he will return to his old digs at Golden Gate Fields in San Francisco – but only when "he's ready," the trainer stressed.
And what about the long-term prognosis for the sort of injury he suffered?
"You never know about those kind of things," Hollendorfer replied. "But he has the will and the want to come back to train again and run again. He likes what he does."
Hollendorfer sees the fire still glowing in Shared Belief
A visitor to Pegasus a number of times this summer, Hollendorfer agrees with Puhich's assessment of Shared Belief's physical condition. "His coat hasn't changed – he's still got that slick dark coat he always has." And he's glad to see the fire in Shared Belief's belly still glowing bright. "He got bored there for a while because we had him in a stall, but now he's out and about he's feeling pretty good."
The name Hollendorfer is one etched deeply into the weathered granite of California horse racing. He's held a training license for 35 years, during which time he's trained nearly 7,000 winners, and molded the likes of Blind Luck and King Glorious into a Champion Three-Year-Old Filly and a Haskell Invitational winner respectively.
After so many years and so many horses, it's understandable how sentimentality is something that gets meted out in increasingly smaller portions. That said, one gets the distinct impression that Shared Belief is the golden child of a parent with a football team-sized brood.
"He's a very special horse," Hollendorfer said. "I feel blessed and grateful to have a horse like that in my barn. Fate or circumstance brought him to us, and we've taken as good a care of him as we can. We treat him good and he rewards us very well."
Which leads nicely to another favorite son of another veteran California trainer. "We go back years," Hollendorfer said of California Chrome's trainer, Art Sherman. "I'm always rooting for Art. Ours is a solid friendship – that'll always be there."
The score between California Chrome and Shared Belief currently stands at one apiece: California Chrome finished ahead of Shared Belief in last year's Breeders' Cup, though the tables were turned in the subsequent San Antonio Invitational Stakes. Hollendorfer said that a re-match is a possibility in the future, "if both horses have the good fortune to come back and be 100 percent."
"I think the fans would love it. I would love it too."
The possibility of Shared Belief and California Chrome facing off once again is certainly a tasty proposition. And racing fans Stateside will likely need it as a cure to a nasty hangover when American Pharoah is shuffled off to stud later this year.
With this in mind, I asked Hollendorfer how confident he would be that his horse would once again have the beating of last year's Kentucky Derby winner, should both return hale and hearty.
"I'm not Muhammad Ali - I can't predict any rounds," he said. "I wouldn't attempt to do that. But what I would attempt is to let racing fans know that Art Sherman and I will do the very best that we can for both of those horses to see that they do get to match in the future."