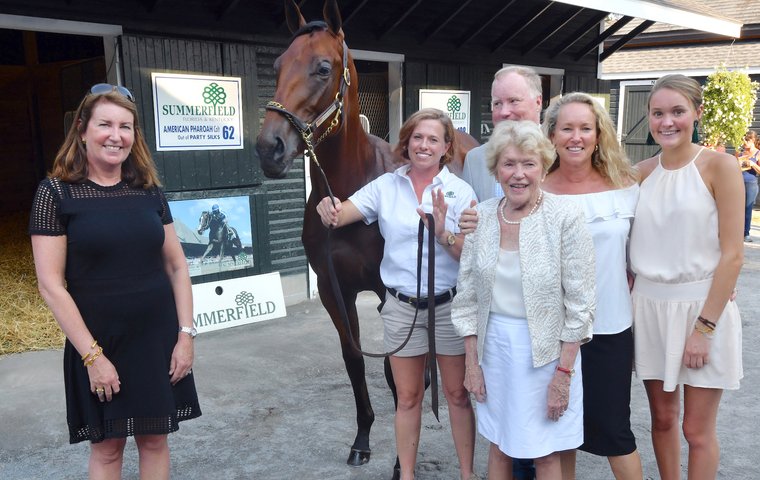 For the second time this year, a New York-bred horse sold for $1 million.

On the first night of the Fasig-Tipton Saratoga Select Yearling Sale, the second horse to hit seven figures was an American Pharoah colt out of the Touch Gold mare Party Silks, bred by Joanne Nielsen and consigned by Summerfield, the agent for her Sunnyfield Farm. The bay colt tied for the fourth-highest price in the two nights of the sale.
"I usually take New York-breds to the New York-bred sale because Joanne Nielsen likes to support New York breeders," said Summerfield's Francis Van Langendonck. "She had two American Pharoahs and I wanted to split them up. This was a colt and they do better in the main sale, so that's why he's here."
Pre-sale buzz around the colt was strong; a half-brother to the multiple Graded stakes winning New York-bred Upstart, the colt attracted a number of interested parties before he went into the ring on Monday night.
Good following
"He's had a very good following so far," said Van Langendonck three days before the sale. "He's real athletic, and, for a May foal, real mature. When he puts his head down and starts walking, his whole body moves and that just separates him from everybody else."
Bob Baffert bid on behalf of Coolmore's M.V. Magnier. Coolmore's Ashford Stud stands American Pharoah in Kentucky for an undisclosed fee, and his first crop are yearlings this year.
"I like the sire," Baffert joked, surrounded by reporters after he signed the ticket. "He made me famous."
Apparently in a pretty good mood, he also feigned surprise when asked about the horse's breeding. "He's a New York-bred? We get to come back here?" he asked.
Earlier this year, Coolmore bought another $1 million New York-bred, a 2-year-old by Scat Daddy that Todd Pletcher signed for at the Fasig-Tipton Gulfstream Sale.
"It's a lot of money," Baffert acknowledged about the price, "but he's a beautiful little horse. You never think you're going to go that high, but there's a lot of excitement and a lot of really good horses here."
"Hopefully," he added, "he'll follow in his daddy's steps."
Once a nearly unthinkable concept, even after Funny Cide's near-miss in 2003 after winning the Kentucky Derby and Preakness, a 2020 New York-bred Triple Crown winner is no longer the preposterous proposition it once was.
Click here for full details of the New York owner and breeder awards
Another New York-bred attracting attention on the first night of the sale was the first foal from Eclipse Award winner La Verdad, a dark bay/brown New York-bred filly by Medaglia d'Oro. Yes, she's an impressive filly with an impressive pedigree, but the fact that she was in the sale at all may have been the main topic of conversation.
Named La Kara Mia, she is named for owner-breeder Sheila Rosenblum's daughter and is the first horse Rosenblum has bred. Rosenblum was open about her "love affair" with La Verdad and initially had no intention of selling the filly, which is why the yearling was named.
But Rosenblum, a New York City socialite who has been in the racing business for only a few years, has been determined to be seen as a serious industry player, and thus she made the "heart-wrenching" decision to put the filly in the sale.
"I'm trying to be smart and not be overly emotional," she said, even as she was sitting on a bench just outside La Kara Mia's stall in the Taylor Made consignment before the sale. "I decided to take a chance if the price is right."
She was clear that she would set a high reserve, that she would not give up this filly easily.
As La Kara Mia entered the ring on Monday night, Rosenblum was visibly nervous. Sitting with a friend and her trainer Linda Rice, she tried, unsuccessfully, to look stoic, especially as the bids went higher and higher, the filly getting closer and closer to belonging to someone else.
The bids stopped at $775,000, just a bid or two shy of the reserve of $800,000, but Rosenblum gave nothing away in the moment. A day later, she was more expansive.
"I want to be a serious seller and breeder," she said. "I've dreamt of having a horse worthy to sell at this sale. But I didn't want to go too low and damage La Verdad's reputation."
So at the same time she would have been happy to take the filly home, she was also terrified that the bidding would stop at what she considered an embarrassingly low amount.
"I was thinking, 'Please God, don't let this go too low,'" she said. "It wouldn't look good if it stopped at $400,000."
She was also thinking, "Why am I so happy that I just lost $775,000?"
Since the sale, she has received phone calls from a number of potential partners in the filly, offers that she is contemplating and will likely accept.
The filly will go to Bridlewood Farm in Ocala to be broken by Jonathan Thomas, and, while Rosenblum's not yet thinking much beyond that, one's thing for certain.
"I'll never," she said, "name a horse after one of my children again."