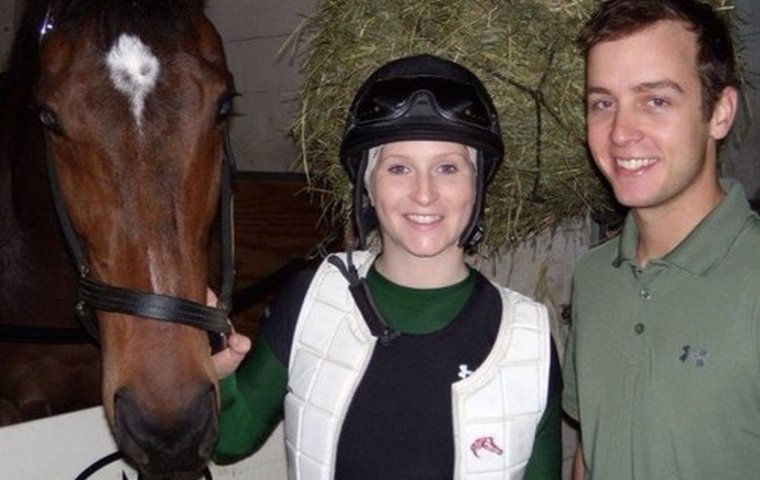 When she was 17 years old and being a jockey was already in the cards, Rosie Napravnik was asked if she wanted to be the next Julie Krone.

"No I want to be the first Rosie Napravnik," she answered with the bravado and confidence that marked her fabulously successful 9-year career in the saddle from 2005 to 2014, which ended when she retired at the end of 2014 to start a family with husband Joe Sharp, the former Mike Maker assistant she married in October 2014.
The pair had met at Delaware Park in 2009; she was riding there and he was an assistant to trainer Mike Stedham. At the time, Sharp had a girlfriend but, by the end of the summer, that was over and the two hooked up. They were on separate circuits for a year but, since then, have been together 24/7 - unless she was riding at a different track for a race or two.
In just three years training on his own, Sharp has built a base of 90 horses, stabled at three venues (Churchill, Fairgrounds and Saratoga). In late July, his horse Girvin won the $1 million Haskell Invitational at Monmouth Park and now heads for the Travers Stakes at Saratoga on Saturday.
Breeders' Cup victory
So far, Sharp has trained nearly 300 winners with career earnings approaching $12 million. He trained his first winner at Saratoga when Stolen Pistol won a maiden special weight there last Wednesday.
At the start of his career, prominent owner Ken Ramsey sent him a couple of horses, including Vicar's In Trouble, who Napravnik rode to victory in the G2 Louisiana Derby in 2014. Ramsey has said Sharp and Napravnik go together like 'ham and eggs".
The 'fake news' competition between her and Krone is irrelevant; both were distinguished on the best horses, for the best trainers in the most prestigious circuits. For the record, though, with the win on the Steve Asmussen-trained Untapable, arguably her best mount ever, in the 2014 Breeders Cup Distaff at Santa Anita, Napravnik boosted her total earnings to $71.3 million; Krone earned $81 million from 1981 to 2004.
These days, six years into her new life as a mother of two young boys, Carson, two, and Tucker, one, as well as Sharp's teenage daughter from an earlier relationship, the 29-year-old former jockey, a valuable consultant and helpmate to Sharp, has returned to her first love: eventing and dressage.
Original profession
"I really enjoyed working for Joe, but it was time-consuming," she said in one of a number of conversations this summer as the family dug in during the Saratoga meet and she continued to pursue her original profession.
"Right now, I'm trying to go full force with eventing horses and the Makeover," Napravnik said, referring to the prestigious $100,000 Thoroughbred Makeover and National Symposium, Oct. 5-8 at the Kentucky Horse Park. Some 578 trainers working with newly retrained ex-racehorses will travel from 46 states and three countries to the competition, which has a $100,000 prize for the horse judged the best.
She has been doing her own training with the help of a number of Olympic dressage-winning coaches and other renowned individuals in the profession and, although she's been away from the sport for 15 years (her mother, Cindy, was her coach), "now I have had to go back and re-learn a lot of that stuff," she said although she was mature enough at 12 when she stopped to have retained some information.
Napravnik will enter the eventing or dressage categories, or possibly both.
She will ride 6-year-old Aztec Brave, who was trained by Sharp and ridden by Napravnik until retired last year with $330,110 in career earnings. The two of them, Napravnik said, are learning the new sport together.
Napravnik said when she first retired from racing, people who knew her as a jockey marveled at how happy and smiling all the time she was when working and galloping horses for Sharp. "Even I didn't realize the toll and pressure that was on me as a jockey," she said.
But, when she stopped galloping horses for him and became his assistant, the pressure returned "because I was doing something I wasn't a master of", she said.
Big picture
She eventually gave up being an assistant trainer to spend more time with her boys and to begin serious event training.
"Now it's come full circle," she said. "I'm back to eventing and I feel like I'm under pressure again. I have that big name to carry around – it's different but still pressure."
"The biggest frustration is figuring out what I want my place to be, what I want my focus to be, said Napravnik. "Obviously I want to work with Joe, but I'm still trying to figure out how to put it all together."
She has a clue to her future, however. "The big picture for me is to be a trainer of off-track thoroughbreds," she said.
During his racing career, Aztec Brave was owned by Brad Grady, a Texas oil and gas specialist, who also owns Girvin and was one of Sharp's earliest supporters.
Aztec Brave was one of the first horses Grady claimed for Sharp, but in 2016, when it was clear his racetrack days were behind him, "I gifted him to Joe and Rosie because it was only right that they should have him," Grady said. When his eventing career is over, "he will die a ripe old age on their Kentucky farm," he added.
Grady first got to know Sharp when he assisted Maker. The two hit it off right away.
Biggest victory
"I see a lot of him in me," he said. "He's got a work ethic that's unparalleled. We grew up the same way. I had to work for everything I've got and so did he," he said, referring to Sharp's early life spent working on his father's small horse farm in West Virginia.
Napravnik said people like to think that her assets support Sharp's stable, but "he did it on his own", she said. "He did it without asking for help."
Similarly people like to think the initials in his navy and red logo, jSr, stand for Joe and Rosie Sharp, but this too is a false assumption since they represent Joe Sharp Racing.
Grady, his wife and three kids and the Sharp-Napravnik clan were obviously all at Monmouth Park to enjoy Sharp's biggest victory to date (at 6-1, one of the longest shots in the race). In the winner's circle, Carson was hoisted on his dad's shoulders in the orange and black silks worn by pilot Robby Albarado.
The hard-working Sharp, 32, however, knows not to rest on his laurels.
"Everyone said I must be on cloud nine since the Haskell, but I have 79 other horses to bring me down to earth," he said, reflecting a balanced – don't get too high and don't get too low – attitude in this quixotic sport that his wife has helped him integrate in his daily life.
Team atmosphere
"We switched roles," Napravnik said. "I feel disappointment for him but not as bad as he does. His stable is a very big team atmosphere. We win, we all win, when we lose, we all lose. When he's down, I'm there to remind him of how good he is and when he wins, I keep him grounded and not on cloud nine.
"He did that for me. It's much easier to look in from the outside than from the inside. He takes losses hard and I have empathy for him because I know how it is to take losses and how great it is to win. But, if we lose, we're all going to live another day," Napravnik said.
Napravnik eases the burden of the young trainer on the domestic front as well.
"She supports me at work but mostly at home because I know the boys are taken care of. She tries to make my life as uncomplicated as possible," Sharp said.
The couple's main base is a 44-acre farm in Simpsonsville, Kentucky, 20 miles east of Louisville, but they have a home in Louisiana and rent a home in Saratoga as well. A full-time nanny and relatives help, but both Napravnik and Sharp are dedicated to parenthood.
Napravnik and Sharp's family came along quickly. "It all happened very quickly, but it wasn't unplanned," she said, "just a little closer than anticipated."
Different outlook
Carson is "pretty obsessed" with horses, she said. "He'll ride his little brother, the couch arm, a salad bowl. Joe even put him up on Girvin." The younger, Tucker, is less infatuated with the barn.
Are jockeys in their future? Depends on whom you ask.
For Napravnik, the dangers inherent in the sport are a deterrent.
"It would be difficult watching them ride," she said. "I just want them to be gentlemen."
Her husband has a different outlook. "I'd be very supportive of one of them becoming a jockey," he said, adding, "especially because they are boys." However, he'd draw the line on that profession for his daughter, Alyana, partially based on his wife's experience in the male-dominated sport, although Napravnik always maintained hard work, not gender, got her where she was.
Towards the end of her career, she knew she had become a role model for young women interested in the profession but also that some women lack the toughness for that career in which females must be as tough as males on the track.
The Haskell victory was a return to the state where Napravnik was raised on a farm, the youngest of three.
The eldest, sister Jazz, a small steeple horse trainer based near Baltimore, said the sisters were very close as kids and still are. She joined the family in Saratoga for her nephew's birthday and recently got the parents' permission to purchase a Shetland pony for the boys.
Jazz, Rosie and older brother, Colt, worked on their parents' farm for boarding and training event horses, and every chance she got, Rosie was on a horse, Jazz said. "We missed a lot of friends' birthday parties taking care of ponies, but that was natural," Jazz said.
Triple Crown dream
She broke both of her arms as a kid, a glimpse of her future (when she was sidelined with fractures of her vertebrae, a broken wrist, among other injuries), but she was a tough kid, she said.
She recalled as a kid, her younger sister repeatedly watched an old VHS tape of "Jewels of the Triple Crown", produced and narrated by Jim McKay in 1988. "She'd watch it, hit rewind and watch it again."
At seven, Rosie declared that she'd be the first woman jockey to win the Triple Crown. "She had her dream and, reflecting on it now, I realize she was coming from such a young and innocent place, but she had this core belief that she was going to be a great jockey," said Jazz. "Failure wasn't an option. If you told her she couldn't do something, she was only going to be more determined to prove that she could."
"When she first started riding, I remember people thought she had a chip on her shoulder and was uptight," Jazz said. "But here she was a young 17-year-old in a new world forced into the business part when all she was, was a kid who wanted to race."
In those early years, she worked with the late Richard Small, known for giving young jockeys a start at Maryland tracks. Small's Ringofdiamonds, was her first win, that in June 2005, the same year she took out her jockey's license.
Wonderful things
From then on, her fiery auburn hair, peeking out from her helmet, her compact 5-2 figure bearing down on her mount, Rosie Napravnik could be seen crossing the finish line in the most prestigious races at the most elite tracks: 2014: Breeders Cup Distaff, Kentucky Oaks, Humana Distaff Stakes; 2013: Secretariat Stakes, Acorn Stakes, Santa Margarita Stakes; 2012: Breeder's Cup Juvenile (Shanghai Bobby), Kentucky Oaks, Champagne Stakes, Jamaica Handicap, and so on.
In all, she had 1,877 firsts, 58 in graded stakes races (13 G1s), 1,636 seconds and 1,432 thirds in 9,715 starts.
To date, she is the only female jockey to ride in all three Triple Crown races with the closest to a victory, a third aboard Mylute in the 2013 Derby.
"When she told me she was going to retire, I said, 'Now Rosie's not going to win the Kentucky Derby, but she said 'It's okay, I've done so many wonderful things. I'm fine," said her sister. "She had accomplished everything she wanted to do when she retired. That chapter in her life was fulfilled.
Napravnik said that, when she works a first-class racehorse, like Girvin, she thinks about her riding days. (Sharp works him these days.) Although there was media speculation (all misguided) that she would ride Girvin in the 2017 Derby (he finished 13th after being diagnosed with a quarter crack), it was never to be the case.
Happy place
"I'm attached to the horse," she said, "but I didn't feel I was in peak condition and fitness and I didn't want to put pressure on Joe."
Those who know them well, including their own descriptions of each other, say their personalities compliment each other – though focused on the same goals for their family and their profession.
Sharp's barn is a happy place; workers go about their tasks with energy, singing, joking with one another. In a profession, where turnover is rapid as backstretch workers and assistants move from trainer to trainer, track to track, Sharp's staff has been loyal and stuck with him from the start.
One of those workers is assistant trainer Chelsea Heery, who has been with Sharp since his days with Maker.
Sharp, in effect, rescued Heery from a job in Florida that was not to her liking. "We kept in contact and one day he said to me 'You're not happy. Come work for me, I have a spot for you.' That's the way he is."
"Rosie has ice water running through her veins," says Pearl Hagadorn, an assistant trainer with Sharp and before that with Maker. "She's the consummate professional, always goal-oriented.
Quick decisions
"Joe is goal-oriented, but he puts a little more fun into the job," she said. "It's a perfect balance. He has had the same help with him since he went on his own, which says a lot about what he's like to work for. He tries to make it fun."
"I would say Rosie is more on the quiet side, whereas I'm lighthearted," Sharp agreed. "But we're both thick-skinned when we need to be and that's been the key to our success. She listens more and talks less."
Napravnik describes herself as more organized (at least on the outside) than her husband. "Joe is a lot less organized in his thoughts [but] even though he appears to be more carefree and joking during training, he has everything well calculated and bouncing around in his brain. I have to have everything written down."
She also said Sharp is excellent at making quick decisions. "Every time he changes his mind, he is confident about it. This is his expertise, riding was mine."
These days Napravnik's life is filled with helping her husband (bills, mail, horses) but she says watching her kids develop gives her the most pleasure.
"They're learning and growing so quickly – the 2-year-old already has a vocabulary and can carry on full conversations [whereas] Tucker is more fearless," she said.
Rare free moment
Between Sharp's rising career and all the moves it entails, Napravnik's focus on her new horse-related endeavors and her family, there's not much time left for relaxing and hardly any for a vacation,
They kayak and hike together when there's time, and Napravnik said when she has a rare free moment she tries to read books on eventing and parenting. As for Sharp, his relaxation comes mounted on his large John Deere tractor mowing the fields at his Kentucky home.
"After spending all day at the track, being on the tractor and mowing 44 acres is a let down but feels good because I'm being productive," he said.
And now a new wrinkle for this couple that is always moving forward: her eventing career.
To show his support, this past Mother's Day, Sharp (with the help of Jazz Napravnik), gave his wife a full set of hand-made jumps.
"I was actually out of town for Mother's Day so they were delivered the night before. She was very happy and uses them a ton," he said.
"I had asked him for the jumps and he spoiled the surprise in advance that he had gotten him, but I was blown away by how beautiful they are and how many he got," Napravnik said.
Since they met years ago at Delaware Park, the bond between them has grown deeper each day.
They wrote the phrase "we'll forever be on the same team" into their marriage vows, which they exchanged in Media, Pennsylvania, Rosie in a traditional wedding gown, Joe in a tux.
Since then, Sharp said it feels like they've crammed two lifetimes into one. "Life is pretty good – we're very fortunate to have a farm, to have a full string of horses at three venues – that's more than some people have in one lifetime."