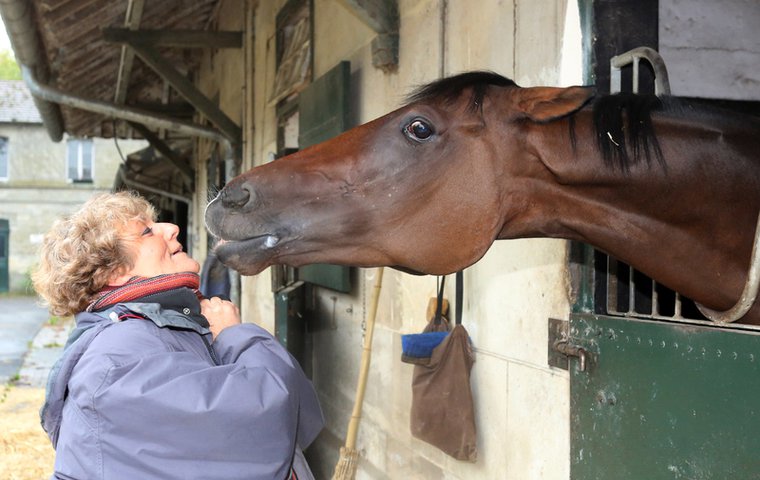 All trainers develop an attachment to their stable stars no matter how many horses pass through their care, but few will ever have a bond as strong as that between French trainer Corine Barande Barbe and the remarkable Cirrus Des Aigles.

Her love and devotion for 'Cirrus' is unprecedented in top-level flat racing. Nicknamed 'Fighting Cirrus' by his many fans, the gelding, who has recently retired just shy of his 10th birthday, amassed a European record of over £6 million in prize money from 22 wins and 26 places in 67 starts.
That tally includes seven G1s in three countries - but don't forget that, as a gelding, he was not eligible for many top G1s, including the Arc and most European classics. Nevertheless, he was rated the second best horse in the world in the 2012 Longines World Thoroughbred Rankings with a mark of 131. Only Frankel, ranked the best ever on 140, was higher.
If Cirrus hadn't been gelded, of course, he would certainly have been retired to stud much, much earlier in a career that kept racegoers enthralled for eight seasons.
Phenomenon
Of very modest breeding, he is something of a phenomenon in his gene pool. His dam, Taille de Guepe, produced only one other winner, Mesnil Des Aigles, who was successful seven times for Barande Barbe but never rose above handicap company.
Cirrus Des Aigles is also by far the best progeny of his sire, Even Top, who was runner-up in the 1996 2000 Guineas at Newmarket but has produced only one other winner in the U.K. during his stud career. It is hard to fathom such a mating resulting in a seven-time G1 winner but that is just another factor that makes Cirrus so extraordinary.
Were it not for a calcification discovered on a sesamoid ligament earlier this year, Cirrus Des Aigles would no doubt still be clocking up the air miles and providing pleasure for his fans in France, Britain, Ireland, Hong Kong and Dubai.
Countless media interviews with his trainer have taken place over the years - featuring Cirrus cheekily mugging her for sugar lumps over the stable door. Barande Barbe is never happier than when she is near Cirrus, spoiling him with treats, watching him on the surveillance cameras positioned in his stable, or even just talking about him. Her face lights up just at the mention of his name - and she is off talking a million miles an hour on her favourite topic.
Wonderful moments
"I have the impression that he trusts me," she says. "He was bred by a dear friend of mine, Yvon Lelimouzin, who has unfortunately passed away but lived to see so many wonderful moments of his career.
"If he ever has the slightest problem, he always exaggerates it with me more than with his exercise rider or my head lad. I have had good horses in the past, such as [1995 Prix de Diane and Prix Vermeille winner] Carling, but the bond I have with Cirrus is very special. I have known him his entire life, and I respect and admire him enormously."
She adds: "He is more than a good horse to me. He always knew what he had to do and relished a challenge, yet he seemed to know when it was not possible to beat a horse. I don't think he ever gave everything on the racetrack, and that is why I never thought a race or trip was too much for him, even when others doubted my decisions.
"In racing, it is important to close your ears to others and know what is right for your horse. I spend my days poring over him and every little thing he does, and that is the only reason I think we spotted the symptoms of his career-ending injury, as they were very minor."
Facebook friends
She remembers the early stages of his career. "He kept improving with each run, but even I never believed that he could achieve all that he has … seven Group 1 wins in three different countries. He proved how good he was to me and then he won the rest of the racing world over.
"Early on in his career, [jockey] Maxime Guyon's wife Sam used to ride him in the mornings and she always called him 'champion' right from the very beginning. I will never forget when she came up to me after he won his first Group 1 in the [British] Champion Stakes in 2011 and she said 'now it is true, he is everyone's champion'."
Cirrus Des Aigles has more than 10,000 friends on his official Facebook page and international visitors continue to flock to Barande Barbe's stables at Chantilly to see him in retirement.
Part of that is due to Barande Barbe's open-arms attitude to fans and media alike. She is never one to turn down an opportunity to talk about her beloved Cirrus in depth with a fellow admirer.
But what will happen now the champion is no longer lighting up racecourses around the world?
Over to Christophe Soumillon
"I am nostalgic, but not sad," she says. "I feel so lucky to have had this amazing experience. His owners, his exercise rider Zoe and I have had an amazing experience travelling the world, all thanks to him. He is spending some time winding down in surroundings he is used to for the moment and, when we feel the time is right, he will go to [his regular jockey] Christophe Soumillon's place.
"I will not be around forever, but Christophe is young and his children are passionate about Cirrus, as they have grown up with his career. I know that he will be looked after for his whole life and this is priceless to me.
"Christophe has other ex-racehorses, such as [former Mike de Kock-trained] Musir, and Cirrus will live outside with them but will still be close enough for us to go and visit regularly. Of course it will be tough to see him leave the yard, but I feel a sense of relief that he is retiring in good health. It will be a lot easier for him than for me.
"We are lucky to have had our champion for a lot longer than most people in flat racing could dream of. No one can ever take our fairytale away from us."
CIRRUS DES AIGLES: THOSE SEVEN G1 VICTORIES
| | | | | | |
| --- | --- | --- | --- | --- | --- |
| Date | Race | Distance | Racetrack | Earnings | Runner-up |
| Oct 2011 | Champion Stakes | 1m2f | Ascot | £737k | So You Think |
| Mar 2012 | Sheema Classic | 1m4f | Meydan | £1,935k | St Nicholas Abbey |
| Apr 2012 | Prix Ganay | 1m2.5f | Longchamp | £142k | Giofra |
| Apr 2014 | Prix Ganay | 1m2.5f | Longchamp | £142k | Treve |
| May 2014 | Prix d'Ispahan | 1m1f | Longchamp | £119k | Anodin |
| Jun 2014 | Coronation Cup | 1m4f | Epsom | £218k | Flintshire |
| May 2015 | Prix Ganay | 1m2.5f | Longchamp | £132k | Al Kazeem |