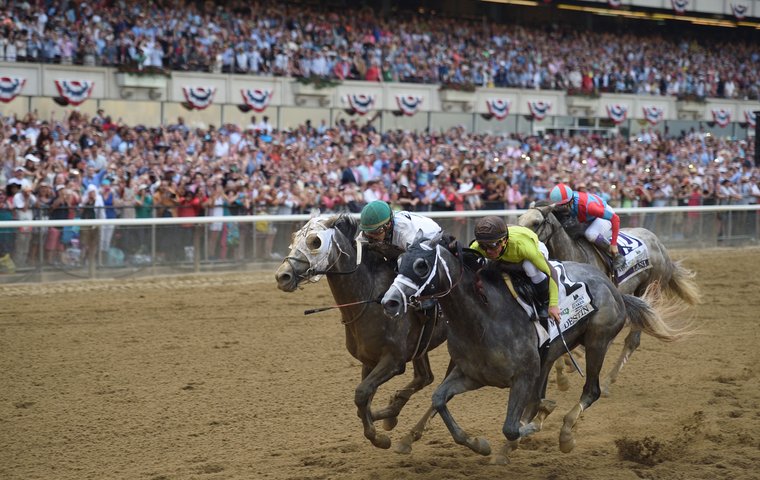 Martin Panza can tell whenever Memorial Day approaches. There's the calls, the emails, the comments, all of them from traditionalists who want to know why Panza moved the famed Grade 1 Metropolitan Handicap from its time-honored spot on Memorial Day to Belmont Stakes Day.

"I'm still hearing about that," said Panza, the New York Racing Association's Senior Vice President of Racing Operations.
These days, though, the volume of the chatter has become noticeably softer. Ever since 2014, when Panza turned the Belmont Stakes from a big race into a big day of racing, the wisdom of including the Met Mile as part of a six-pack of Grade 1 stakes has become increasingly clear.
"We run the numbers and it justifies what we are doing," Panza said. "If it wasn't working, we wouldn't be doing it and I'd be getting replaced."
This year, NYRA has taken that approach to the next level, creating an enhanced three-day Belmont Stakes Racing Festival with a long list of stakes to spice up the cards.
Creating a buzz
A total of 18 stakes, 15 of them graded, will be contested at Belmont Park from today through Saturday, creating the kind of buzz that has the potential to lure fans to the racetrack even though a Triple Crown sweep has been derailed for a second straight year.
"We have been working down this road the last three years, trying to make it a festival as opposed to one day," said Lynn LaRocca, NYRA's Senior Vice President and Experience Officer. "After the success we had in that first year in 2014, we got together and talked about what we could do to make it better, and we came up with the three-day festival.
"From an event standpoint we're looking to see what we can do to make Thursday and Friday stand out as well. For us, it's a full week of events that is built around community-themed events and promotions to drive people to the track so they can see the great pomp and circumstances and pageantry in horse racing."
To understand what put everything in motion, it's best to go back to 2013.
When Oxbow pricked a balloon
When the Shug McGaughey-trained, New York-based Orb won the Kentucky Derby, it seemed as if Belmont Stakes Day would be a huge event with the grounds filled to capacity with fans hoping to see the first Triple Crown winner in 35 years.
But when Oxbow won the Preakness, it was as if someone stuck a needle into a balloon.
Only 47,562 fans turned out, and wagering on that card was just $88.6 million. It also marked the third time in seven years that attendance fell below 48,000 – all of them in non-Triple Crown years.
In 2011, the previous time a Triple Crown bid ended at the Preakness, attendance was 55,779 but the handle checked in at only $81.2 million.
In contrast, in 2008, the last time a Kentucky Derby-Preakness winner took aim at the Triple Crown, attendance was 94,476 with a handle of $100.1 million.
The problem NYRA was facing involved increased prices for tickets and concessions, which accentuated the difference in Triple Crown and non-Triple Crown years.
In 1981, a clubhouse seat near the finish line on Belmont Stakes Day sold for just $1.50. Now, a similar seat is part of a VIP package selling for $1,099 and clubhouse box seats can cost more than $400. As ticket prices rose, they became an increasingly harder sell in non-Triple Crown years.
Stroke of genius
Enter Panza's 'big day' concept.
"The big day gives us protection in a year like this one without a Triple Crown on the line," Panza said. "With all these great stakes there will always be a good reason to see the Belmont Stakes, and for a major New York sporting event the ticket prices are fair. They are lower than the Preakness and the Derby. They are a lot lower than prime seats at Yankee Stadium and Madison Square Garden.
After the 2013 Belmont Stakes Day featured five graded stakes and six overall (Easy Goer, True North, Just A Game, Woody Stephens, Manhattan and Belmont Stakes) worth a combined $2.9 million, the deck was shuffled. The Met Mile, Brooklyn, Jaipur, Acorn and Ogden Phipps were added to the mix (the True North was moved) and Panza had assembled a dazzling day with 10 stakes, six of them Grade 1s, worth about $8 million.
When the blue-collar hero California Chrome won the Derby and Preakness, the move became a stroke of genius. A total of 102,199 fans turned out for the race, which was the third-highest attendance in track history. Yet the 10 stakes ignited a blockbuster afternoon at the betting windows. A record $150.2 million was wagered on the 13-race card, shattering the previous mark of $110.9 million in 2004 by nearly $40 million.
"I constantly hear, 'Oh, you moved the Met Mile from Memorial Day', and I get it, but, at the end of the day, if you go back and look it was averaging 9-10,000 people there and we were handling $14-16 million," Panza said. "This puts it on a stage in front of 60-90,000 people and it handles a lot more money, and in my mind that's better for New York and American racing.
In it for the long game
"Since we started putting together our big days, most tracks have followed suit. Gulfstream has all their stakes stacked on Saturdays and created once-a-month big days. It's the industry trend, and I believe it's the right way to go.
"What people do not see is that shipping horses to New York becomes easier for everyone when several horses can ride the same plane and run on the same day. On the Saturday between the Derby and Preakness, we had four graded stakes and it rained and that affected the card, but we had a strong day last year. We've built up that day, we've built up Stars and Stripes Day in July. You keep trying to add pieces on because we're in this for the long game."
The following year, when American Pharoah became the first Triple Crown winner in 37 years, the figures slipped as attendance was capped at 90,000. Wagering dropped to $135.7 million, but that was still a substantial improvement off the 2004 record.
A bigger and more important test for the concept came last year, the first time there was not a Triple Crown bid to complement the gargantuan stakes package.
A massive success
Not surprisingly, attendance and handle dropped. Yet the turnout of 60,114 was substantially larger than the 47,562 in 2013. Wagering checked in at $99.9 million, which was the track's fifth-highest handle.
"So far the numbers have been strong," Panza said. "The first year was a massive success. We had $150 million and blew every record out of the books.
"Travers Day has become a $48-50 million day for us and people don't understand how hard that is. The Pegasus [World Cup] did around $40 in its first year. It's hard to get to $30 million. To get to $50 million and then the $100 or $150 million range, you have to have a tremendous card and put quality racing out there for people to bet that much. That's what we're trying to create, and I think we're moving in that direction.
"Stars and Stripes Day has grown each year, but it is in its infancy. We did about $24 million last year, but each year we've grown by about $2 million. It takes time to build these things."
This year's 149th Belmont will provide another test that should be quite telling. Unlike last year, when Preakness winner Exaggerator ran in the Belmont, 'The Test of the Champion' has failed to attract either the Derby or Preakness winner.
Songbird topping the undercard
Helping the cause will be the presence of an intriguing Belmont Stakes contender from Japan in Epicharis and the fabulous filly Songbird topping a star-studded undercard with an appearance in the Ogden Phipps.
"When you have races like the Met Mile, the Manhattan, the Ogden Phipps, there are going to be a lot of highlights," said David O'Rourke, NYRA's Vice President and Chief Revenue Officer. "Before it was either a Triple Crown bid or a non-Triple Crown bid. Now there are more stories to tell. Last year, for example, people were talking about Frosted's win in the Met Mile as the big story of the day."
Adding to the excitement of the weekend is a beefed up Friday card tomorrow that has become a 'big day' in its own right.
After offering two graded stakes on last year's Belmont Stakes eve card, Friday's program features five stakes, four of them graded, with a value of $1.55 million. Included are the True North, New York, Bed o' Roses and Tremont, along with the Belmont Gold Cup, a two-mile Grade 3 stakes on the turf that attracted six shippers from Europe in a field of 13.
The Friday strategy
Given the quality of the Friday card, NYRA is hopeful of a $20 million handle that will provide an added boost to the weekend's bottom line.
"Our Friday card is a very good one," O'Rourke said. "It could be a $20 million day and that's a big deal to have a $20 million Friday outside of Saratoga. Last year we had about 20,000 people on Friday and wagering rose to about $16 million. Friday is becoming a day unto itself and we're hoping for more growth this year with a better package of stakes.
"One of our strategies was to build a base for a great weekend without a reliance on events that are out of our control, such as a Triple Crown year."
Beyond the racing, NYRA has also added more dining options and entertainment on Belmont Stakes Day and worked hard with the surrounding communities to make the racing festival a more enjoyable and visible venue.
Showtime
On Belmont Stakes Day, the entertainment includes a post-race concert featuring Andy Grammer and, during the card, there will be a performance by the cast of the Broadway show On Your Feet!
The U.S. Military Academy Band and the army's Black Knights parachute team will also be on hand and new additions include the Taste of New York and Craft Fair, an area near the final turn featuring craft beer vendors.
Clubhouse seating for Saturday comes with tickets for Friday's card, which also includes a post-race concert by Mike DelGuidice and Big Shot, a Billy Joel tribute band.
There's also been a busy week of promotions including parades in the neighboring towns of Elmont, Garden City and Floral Park; a 5K road race ending at Belmont Park's finish line to benefit prostate cancer research; the ringing of the closing bell at the New York Stock Exchange on Thursday; the lighting of the Empire State building in Belmont's green and white colors; a post position draw at Rockefeller Center in Manhattan on Wednesday; a visit by jockeys to the Ronald McDonald house on Thursday, a community Day at the Races on Thursday to honor local and regional non-profits and backstretch service providers; and a two-day handicapping challenge that starts on Friday.
Last week, New York-based jockeys John Velazquez and Javier Castellano, who won the Kentucky Derby and Preakness respectively, tossed the ceremonial first pitch at a New York Mets game, highlighting a promotional deal with the National League team that gave baseball fans a chance to win free tickets to the Belmont Stakes.
Playing hooky from work
"New York is the biggest city in the world and there's always something out there for anyone," LaRocca said. "Because of that, we have to work that much harder to attract attention among casual fans. I think we do a very good job of attracting our regular fans but we also need to be a good community partner. We enjoy working with local group and associations that surround Belmont and it will be a focus for us going forward."
Put it all together and it forms NYRA's major push to make sure a big day becomes a festive weekend, even when the Preakness turns the Triple Crown into a wait 'til next year event.
With NYRA officials saying ticket sales are on a par with last year's robust numbers for a Belmont without Triple Crown talk, there's optimism for a successful launch of the new-look festival that gives fans more reasons to be at Belmont Park.
"If you're coming to New York for a few days, we have something to entertain you on Thursday, Friday and Saturday," Panza said. "What we're doing is good for the sport and hopefully some people can play hooky from work and come out to the races. If there's ever an excuse to miss work, to come out and watch the races and have a beer, it's our best Friday card for the entire year."
It's NYRA best Saturday, too, even without a Triple Crown bid on the agenda.