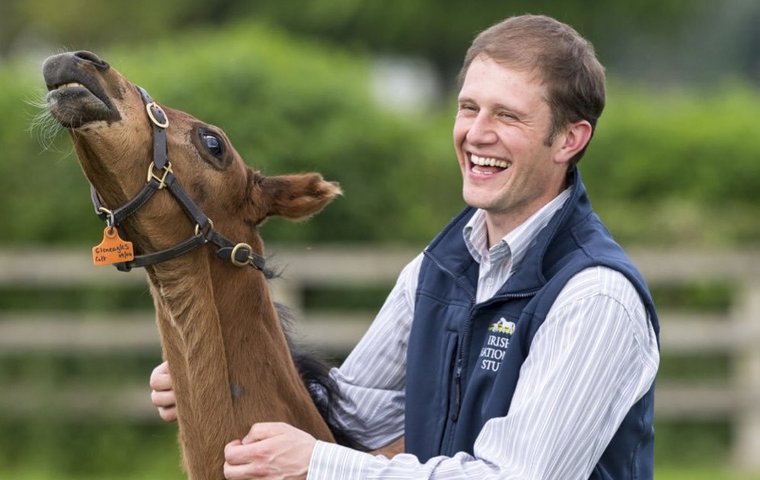 When Cathal Beale was appointed CEO of the Irish National Stud last May at just 34 years of age, it raised a few eyebrows among the more traditionally minded members of the bloodstock industry.

Just ten years before, the young Wexford man took his first serious step in his professional when he became a student on the world-renowned stud management course at the same stud located in the heart of Ireland's Thoroughbred county of Kildare.
Beale has a degree in English and History, which may not seem relevant to his current position, but his time studying led him to develop a real interest in racing.
"I don't come from a racing family. My grandfather was a farrier and, although my dad is keen on racing, I only really got into it at college."
After he finished his studies, Beale went to work for bookmaker Paddy Power as a broadcaster in a booth at their headquarters. During his time there, he decided to become a journalist.
Placements in Kentucky, Dubai and New Zealand
"I had very little hands-on experience with horses at the time, so I started going down to Jim Bolger's Redmondstown Stud on my days off and weekends for a period of around two years. I enjoyed my time there so much that I took a leap of faith and applied for the Irish National Stud course. I spent a fabulous six months here learning the fundamentals of stud management.
"That experience gave me the confidence to the apply for the Darley Flying Start programme, which I was lucky enough to get on. My placements with studs such as Pin Oak Stud in Kentucky, Haunui Stud in New Zealand and with John Hyde at the Shadwell pre-training facility in Dubai were the highlights of my time on the programme. I was also lucky enough to spend time with John Oxx during the year Sea The Stars won the Derby."
A poster boy for the success of modern training programmes in the bloodstock industry, Beale went on to spend seven years as assistant manager at Dermot Cantillon's Forenaughts Stud in County Kildare. During his time there, he was instrumental in the development of the Tinnakill House bloodstock operation. And he continued his interest in journalism by writing a regular bloodstock column for the Racing Post.
Beale also completed a Masters in Management from the esteemed Smurfit Business School in Dublin.
When John Osborne announced last February that he was to step down as chief executive of the Irish National Stud, having completed a seven-year term, Beale decided to seize his chance and apply for the role. It came as a surprise to many when he was announced as Osborne's successor.
"I do get remarks about my age from clients. To them, I seem very young to be doing this job, but, to the students we have here on the course, I appear ancient!
"One advantage is that I have experienced the stud as a student, a client and now as an employee, but I am still seeing new things. It was hugely beneficial to the entire company to have a six-month handover period before John left to make the change as seamless as possible. He did such a fabulous job here, and I know he is still at the end of the phone whenever I need some advice, but the responsibility is on my shoulders now.
New recruits
"I couldn't possibly have known what to expect beforehand, but you have to take a leap of faith and back yourself and your judgement."
Beale's judgement was put to the test early in his new role when the stud announced two new recruits to their stallion roster at the end of last year in National Defense and Decorated Knight.
"Sourcing new stallions is the first role of the CEO. It is fundamental for the continued success of the stud. There is a limited pool of horses to choose from for a stud like us, so to get a son of Invincible Spirit [National Defense] as the first horse in the door was huge. He has been an amazing sire for the Irish National Stud, but he is 21 years old now and we have been looking for an heir for a long time.
"It is hard work acquiring a new stallion, but then you have to sell breeding rights and their progeny. It is a tense but exciting time and you do get a little twitchy. All you can do as a stallion farm is try to attract high-quality mares and load the dice in the stallion's favour."
Beale said Sun Bloodstock were "a strong partner" in National Defense, supporting him, like the Irish National Stud, with top-class mares. "It is difficult to find a Group 1-winning champion 2-year-old by Invincible Spirit with an impressive physique as well, so we are very excited."
'Strongest stallion roster in 60 years'
Beale said of Decorated Knight, a multiple Group 1-winning son of Galileo, "We went to see him at Roger Charlton's yard last year and he blew us away, he is such a good looking and lovely moving colt. Luckily, we came to an agreement with his owners, Blue Diamond Stud, who are a top-class entity to partner with as they have the same philosophy as us. He is their pride and joy, and they are giving him an incredible level of support in sending him 21 high-class mares.
"Adding those two new exciting sires has made it the strongest stallion roster the stud has had in the past 60 years."
Beale are also looking forward to seeing the 140-strong first crop of 2-year-olds by Gale Force Ten on the track this year. He said they look like "strong early types".
And he said of another Irish National Stud stallion, Free Eagle, "He looks a million dollars since he arrived back from Australia, where he covered a good book in his second season at Cornerstone Stud. He is an owner-breeder type of horse and will have a nice bunch of yearlings for the sales this year."
The Irish National Stud has just launched a mares syndicate in a bid to entice more people into breeding and make the venture a little less daunting. Six mares in foal to stallions such as Anodin, Gleneagles and Awtaad were purchased for a total of €400,000 on behalf of the syndicate and the stud will put up the same amount in nominations, including a plan for three of the mares to visit Invincible Spirit, in the first year for their 50 percent of the equity.
After the initial cost of the share, a capped fee has been set per year for costs of keep, insurance, nominations etc. The offspring of the mares will be offered at auction as foals or yearlings with the entire portfolio of mares and progeny being sold at the end of the four years of the syndicate.
This new venture was the brainchild of Beale and he is clearly enthusiastic about the first major project he has proposed since he became CEO.
"This is my baby. It took three months to pull together and required a lot of thought. We have had a huge response from people who are interested in racing but didn't know how to go about getting involved in breeding, and there are a final few shares still available.
"There is a social aspect to it as we will make it as fun as possible, but we also hope people will make money from it. This project hits two of our remits in that it draws people into the industry and allows the stud to invest in bloodstock. It dilutes the risk for everyone involved, and I am looking forward to seeing how it develops over the coming years."
It is certainly a brave and innovative project for a young CEO to undertake in his first year in the job, but we are constantly hearing that our industry must move with the times if it is to survive and indeed thrive in the future. Maybe young heads with fresh ideas are just the thing the bloodstock world needs right now … watch this space!