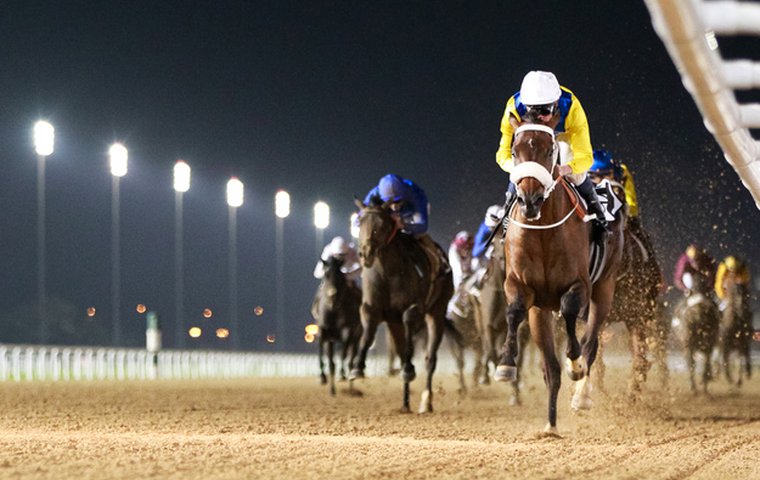 The numbers don't lie: never has the Kentucky Derby been so prone to foreign invasion. The Dubaian horse Mubtaahij, now trained by the South African Mike de Kock out of Arlington Park in Chicago, tries the same route from the U.A.E. Derby that has seen other Maktoum-family horses falter at Churchill Downs. The difference is that he is better than all of them and the opposition is arguably at an all-time low.

This last statement is not meant to denigrate American Pharoah, or any other individual who might line up. Bob Baffert's colt is clearly very talented and will surely give a good account. No, these colts are merely a product of their time; the weakness of the American Thoroughbred at middle-distances right now is systemic, captured by the negative trend in the winning time of the Kentucky Derby summarised in this piece before last year's race.
Mubtaahij is by a world-class sire in Dubawi and crushed the G2 Meydan field on March 28, though it had to be said that the race collapsed around his ears after a destructive battle up front between overmatched foes.
Can he adapt to the peculiar demands of the Derby? There's no reason to not except the litany of failures that have gone before him. But they used to say that about the Melbourne Cup.
What beats foreign challenges in Kentucky? In no particular order: season, conditioning, and adaptability. The first thing analysts declare is the biggest obstacle is the dirt surface. But European horses have run big races first up on the Churchill Downs dirt before: Sheikh Albadou won the 1991 Breeders' Cup Sprint; Giant's Causeway might have won the 2000 renewal of the Classic had Mick Kinane held on to the reins. Most notable of all, perhaps, was Arazi in the 1991 Juvenile. Can Mubtaahij "run right by them," to quote the great Tom Durkin's race call? Certainly, yes, why not?
Why not? Well, perhaps because European horses find the Derby as much of a culture shock as The Beatles did America initially. For my money, it is seasoning – the experience of rationing energy suitably and running through the pain barrier – and conditioning – the ability to handle so-called "positive splits" or a race in which the first half is faster than the second – that is the biggest obstacle in a full field of 3-year-olds at Churchill Downs.
Dubaian dirt racing has enabled Mubtaahij to show that he loves the dirt, but European jockeys like his own pilot Christophe Soumillon proliferate and adopt stalk-and-pounce tactics contrary to the U.S. way of doing things. The Dubaian version is a dirt ballet like "Sleeping Beauty," while the Derby is "The Nutcracker."
Mubtaahij got a strong pace in the U.A.E. Derby, but he did not get that combined with a cavalry charge and chaos all around. Yes, U.S.-trained horses are likely to have trouble with that too, and that all the Derby is doing is narrowing the range of odds across the field by increasing randomness, but when you watch 10 or so Derbies back-to-back on film, you find yourself saying "good luck" in sardonic tone when trying to assess what faces Mubtaahij and Soumillon.
But, like the Fab Four, trainers like de Kock with international savvy can adapt, thrive, and conquer. Save for Japanese bloodstock, European bloodlines are dominant at middle-distances, thanks to Sadler's Wells and his descendants, such as Galileo. Dubawi, too, the son of the ill-fated Dubai Millennium, has proved he passes on the X-factor, at shorter distances perhaps, but in Mubtaahij he seems to have got a horse who goes the distance.
Can Mubtaahij win without using Lasix (he's never raced on it and won't next week)? Can he adapt to a new training environment, different food and water. Will the travelling leave a mark? Other horses have overcome it, if not in the Derby.
But a specific fear for Mubtaahij is that Soumillon, a brilliant rider on turf, will ride a turf-style race. He won't make a long steady run at the lead around the far turn but ride his mount for acceleration and thereby ask him too big a question. Unless your name is Arazi, it is virtually impossible to pick up in an instant and kill off rivals who are rolling on dirt, especially on surface debut. It is hard to see Soumillon adapting because he is a confidence rider and playing a percentage game is alien to him.
Shocks do happen, as happened in college basketball to the Kentucky Wildcats team. The Final Four proved the distinction between "unbeaten" and "unbeatable" and a parallel can be drawn to the Derby and foreign challengers.
Mubtaahij can certainly beat 2:03 for 10 furlongs, but few among the opposition might. He can win the Derby. Just because it hasn't been done doesn't mean it won't be.