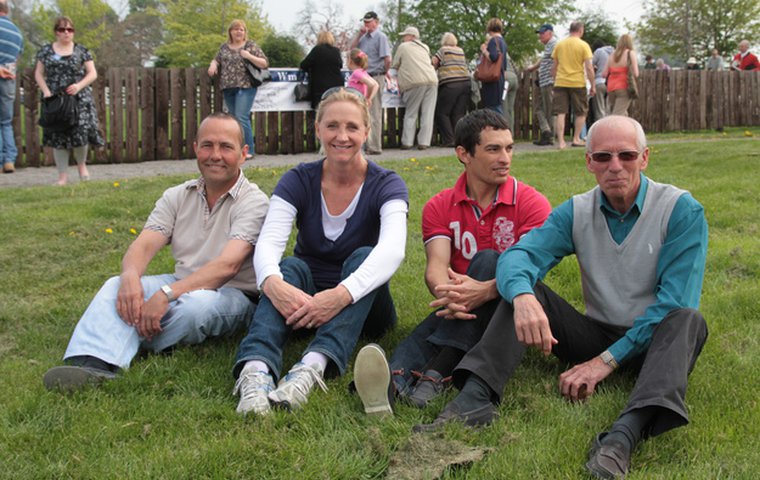 Away from the glamour, prestige, and excitement of the great occasions such as Royal Ascot and the recent Newmarket July Festival, there's another, altogether tougher side to British racing, as John Gilmore reports in a two-part investigation.

Part II: The French lifeline for Britain's hard-pressed trainers

Former jockey George Duffield can sleep a little easier these days now he and his wife Ann have started a business renting out log cabins to holidaymakers.
The multiple G1-winning rider tasted considerable success during a 38-year career in the saddle that brought high-profile associations with British champion filly User Friendly, on whom he won the Epsom, Irish, and Yorkshire Oaks and the St Leger in 1992, and Coolmore's Giant's Causeway, on whom he won the Eclipse Stakes in 2000, but things have been a little more difficult since he hung up his boots in 2005 to help Ann train racehorses.
Ann Duffield has run a small-to-middle-sized yard in Leyburn, North Yorkshire, for the past 20 years. Like a lot of trainers in her position, she can't rely on the relatively poor prize money in British racing to keep the business solvent. She has to find other ways of making ends meet.
British prize money levels at lower-grade racetracks have fallen during the past 10 years in real terms, even though the total available has gone up by 28 percent since 2011, making it tough for trainers to keep and attract new owners.
As Richard Wayman, CEO of Britain's Racehorse Owners' Association (ROA), put it: "Despite the increases in total prize money, race values at the lower end remain below where they were 10 years ago. The minimum total value permitted for a Class 6 handicap, for example, was £3,500 ($5,940) then, when annual prize money was £25 million ($42.45m) lower at £98 million ($166.4m), and this year, the same race could be run for £3,000 ($5,090). This isn't right and increasing race values at grassroots level has to be a priority if we want to retain many of those owners who find themselves operating at this level."
Ann Duffield has 30 horses and charges £46 ($78) a day for training fees, excluding vet bills and race-day costs.
"The prize money levels for the lower-level handicap and maiden races in the U.K. are appalling and have been for years," she said. "They have not only failed to increase, but in many cases have actually fallen, while costs have risen dramatically.
"It is a big problem for racing and makes it much harder to attract owners. In fact, if it were not for the many partnerships and syndicates sharing the costs, the number of owners racing horses would be dramatically lower. In some ways, sharing costs has allowed owners to focus less on the financial realities and more on the hobby side of racing."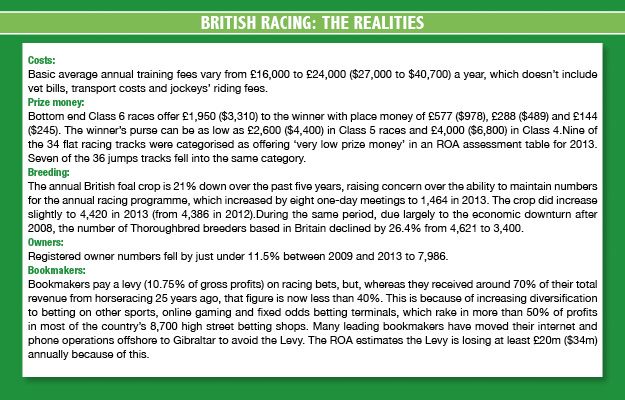 Selling on good winners
Duffield tries to make ends meet, maximising the benefits for her owners, by selling on good 2-year-old winners if the right offer materialises.
"If a good offer comes along, we generally advise the owner to accept it as it's always better to be sorry you sold rather than sorry you didn't and horses have a nasty habit of going wrong when a big offer is refused," she said.
"Most of the horses we sell have won one or two races early on in their racing careers and have sold for anything between £50,000 ($85,000) and £500,000 ($850,000), some for more, depending on their class. George rides out most days and his overall experience is a great help, and there have been many times when he wished I wasn't a trainer.
To help make ends meet, the Duffields branched out into the hospitality and tourism industry, building a handful of luxury log cabins on their property for vacation rentals and dubbing the development Sun Hill Lodges.
"I bought fewer yearlings at the sales last year, due to the large investment in the cabins, and now want to concentrate on attracting new owners, hopefully to build up the size of the yard from 30 to 60 horses," Duffield said.
Selling solid 2-year-old winning horses to a ready market abroad, to richer racing nations such as Hong Kong, Japan, and the United States, has proved to be a necessity for a lot of smaller trainers in England.
"The after-effect of the recession proved a good situation for many because nicer quality yearlings became more affordable," Duffield said. "The top end remained strong as it usually does, but the middle and lower ends were weaker and we saw less and less of the bottom-end of yearlings at the sales.
"Personally, we bought some very nice quality yearlings for £15,000-25,000 ($25,500-42,450), which pre-recession would have been out of our price bracket. I generally buy horses in the £10,000-30,000 ($17,000-51,000) because I buy on [speculation] so I have to be mindful of what I can sell on to owners or syndicate groups.
"Now the prices are rising again, but the overall quality has remained stronger as breeders remain selective. I hope we never see a return to the days when everyone seemed to breed from a filly because they could, as opposed to because they should."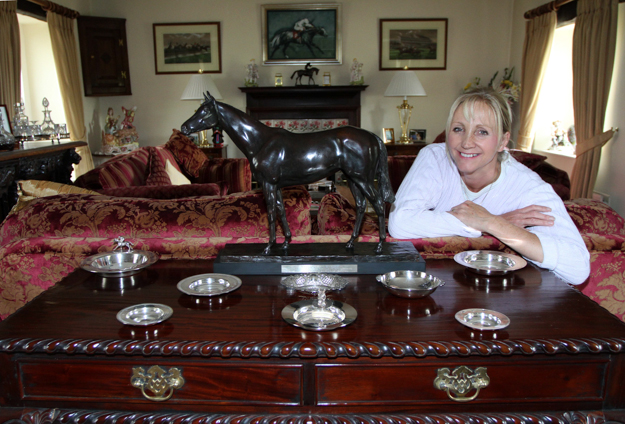 Real hopes of an improvement
Britain's prize money, which lags well short of that in other major racing nations funded by pari-mutuel betting, is improving and should exceed £120 million ($203m) this year, but is still well behind other nations. Racecourse contributions from media rights - tracks receive up to £8,000 ($13,500) per race - and other activities are up around 10 percent on 2013 to £54.3 million ($92.2m). Bookmaker contribution from the levy was £75.7 million ($128.5m) in 2013. There are also two breeders' incentive schemes now in operation that are proving popular.
And Chancellor of the Exchequer George Osborne, speaking of a "racing right" to receive a return on every bet taken on British racing, has indicated the government is ready to introduce legislation that will extend the levy to bookmakers who operate in Britain from offshore.
"Given the need for a modern fit-for-purpose funding mechanism, the Chancellor's reference to a racing right for all betting on a country's horseracing in his budget speech was very encouraging," ROA's Wayman said.
This comes at a time when the four major bookmakers (Ladbrokes, William Hill, Coral, and Betfred) have agreed to fund an incentive scheme over four years, to the tune of £4.5 million ($7.6m) a year, working with the British Horseracing Board to deliver a more competitive racing product and growth in funding.
The solution is clearly far more complicated than just putting on show days, such as Champions Day at Ascot in October and Lingfield's £1 million ($1.7m) Good Friday meeting.
For Ann Duffield and the huge number of trainers in a similar position, that solution would start with an improvement in prize money at handicap and maiden level, which should encourage more owners and syndicates to have horses in training.
"The biggest issue racing faces now is not actually with the bookmakers, but with the racecourses themselves," Duffield opined. "Many are delighted to accept colossal media rights money and re-invest in the stands and hotels on the track, while neglecting the very people who put the show on in the first place - the owners.
"We need the government to get behind racing and this is being worked on. The most telling thing is that those magnificent racetracks such as York and Chester who do invest heavily in prize money are the ones now attracting the best crowds - they have a superb business model - while the greedy tracks are going to seed."
---
Read part II: The French lifeline for Britain's hard-pressed trainers