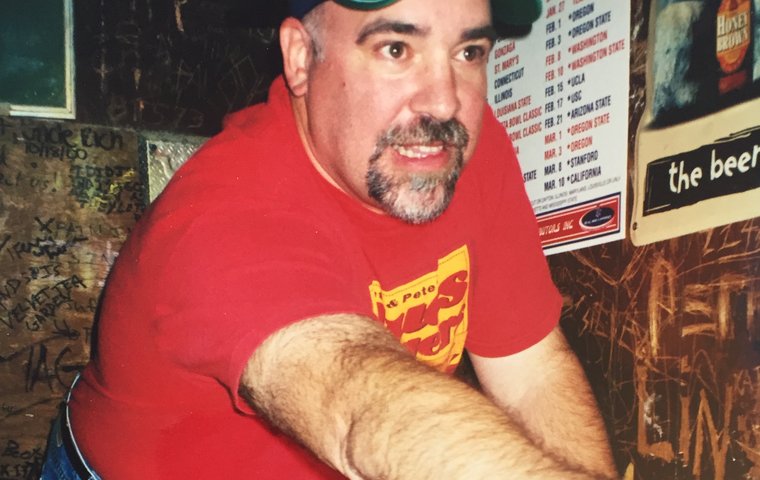 Last Sunday, Lake Piru, a multiple stakes-winning daughter of Salt Lake, attempted to defend her title in a stakes race. She did not succeed. Chances are the racing world at large paid no attention, but it doesn't mean the race was without significant meaning. Although, with all due respect to Lake Piru, it had nothing to do with her.

As it happens, Lake Piru was trying to post back-to-back scores in the Pete Selin Happy Minute Memorial Stakes at Rillito in Arizona. To put into context the type of circuit Lake Piru competes in, the 6-year-old mare has won 14 of 28 life-time starts … and earned $68,634.
Ask anyone who knew Pete Selin, and they would tell you he probably wouldn't want it any other way.
"Everybody liked him, and he just reeked of his love of racing," said Doug Reed. "He wasn't highbrow, so he liked racing period, no matter where it was, whether it was the Breeders' Cup or the kind of low-level fair racing you get in Arizona."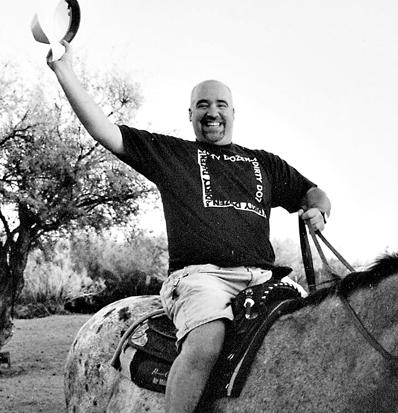 Reed, the former longtime director of the University of Arizona Race Track Industry Program, knew Selin well. A non-traditional student in the RTIP, Selin made friends wherever he went. Before deciding to make his newfound love of racing into a career, Selin had worked in the restaurant, music and bar business.
The fact Selin was older than many of the students in the program did not detract from his popularity. He was the guy that would have everyone over for Thanksgiving if they couldn't make it home to their own families, and he loved to have a good time.
"He was such a great guy, and I still remember the comradery he created when he was a student," said Reed. "He was somewhat of a leader when he was here, organizing social events. He was a very unique character, in a very positive way."
Honoring a friend
After graduating in 2000, Selin worked as the media relations assistant at Lone Star Park in Texas, but his time there was tragically short because he was diagnosed with leukemia.
He moved to Florida to be with his family, and, when his disease went into remission, he took a freelance position with the publicity department at Tampa Bay Downs. Eventually, though, his illness meant he was contributing less and less, and he was unable to return for the 2005-2006 meet.
Selin died Jan. 27, 2006. He was 52.
After his death, three of his closest friends at the RTIP decided they wanted to remember their college buddy the best way they knew how — with a stakes race in his honor at the track where they had spent so many happy days.
Michael Costanzo, Richard Scheidt, and Scot Waterman put up the money, and on March 4, 2007, the first Pete Selin Memorial Happy Minute Stakes was run. Many alumni were on hand that day as a way to celebrate Selin's life.
"The three of us physically put up money of our own in order to make this a stakes race, so it wasn't just something in the program," said Scheidt, who is now the director of planning and government relations for the California Authority of Racing Fairs. "That meant it would go down in Equibase as a stakes race. That's what we really wanted.
"We all went through the racetrack program together, and he was the glue that kept us together when we were there. I think this race is kind of the glue that keeps some of us together currently, more than ten years after his passing. Plus, there are some weird things that have happened with it that are just really cool."
For example, the first winner of the race, Ice Fantasy, went on to win seven of her next nine races (including two more stakes races), and she finished second in the other two. Prior to winning the Happy Minute, Ice Fantasy had only won two races in 18 lifetime starts.
Attention to detail
The very fact the race is called the Happy Minute is a nod to Selin's zest for life, and it is also a tribute to how much thought his three friends put into the race.
One of Selin's favorite watering holes while taking part in the RTIP was the Buffet Bar and Crock Pot, the oldest bar in Tucson. Instead of a Happy Hour, the Buffet has a Happy Minute. Although the exact time of the Happy Minute has apparently moved a bit here and there, in those days at exactly 5:42 p.m. patrons received a discount drink (a.k.a. a free one).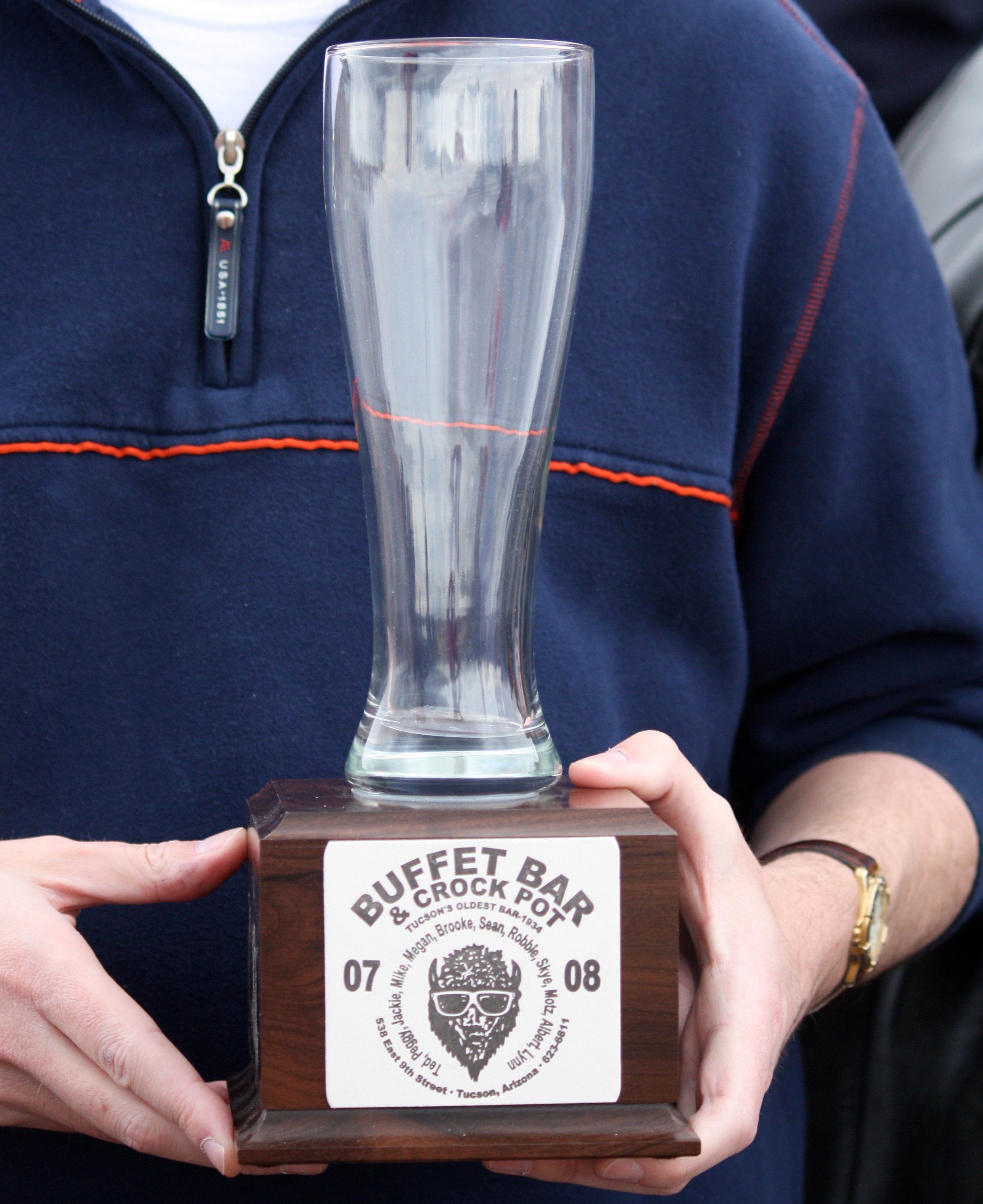 "Pete loved the Buffet," said Scheidt. "He was an old bar manager, so he made friends wherever he went, whether it was at the Buffet in particular or any other bar. He knew the business and could speak that language, so he was very friendly with a lot of the barkeeps around campus."
With that in mind, the trio of friends decided to make his memorial race the Happy Minute as a nod to their college days, and used that as a marker for the details of the race.
It is a five-and-a-half-furlong contest because that distance is the most likely to produce a final race time of around one minute at Rillito. Also, because Rillito doesn't have many restricted stakes, and because Selin had a way with women, the race is for fillies and mares.
On Sunday, favorite Ziva The Diva beat a field of eight, including Lake Piru, to win the ninth running of the race in 1:06.60.
In 2011 and 2014, the race wasn't held for various reasons that had nothing to do with the desire to have it. In fact, one running had to be called off because the tractors stopped working part-way through the card, and racing had to be abandoned. Most likely, Selin would have been amused by that.
The trophy the winner gets is also unique, and Reed is still in charge of putting it together.
"The bar is still there, and I go there to get part of the trophy every year," he said. "The trophy has a beer glass from the bar mounted and coasters from the bar on the sides. I think the guys that organized the race were very clever. Even the distance of the race has meaning to us. It's nice in a lot of ways, and I think it shows how much these guys thought of him. It's also a sad story, though, because he died very young."
Looking Ahead
Scheidt and his buddies, who have also gone on to their own careers in racing, no longer have to put up the purse money for the established stakes race. However, they, along with many RTIP alumni, try to make it to the track to watch the race in person whenever they can. In 2010, Scheidt even ran a horse in the race, and She's All Rev'd Up finished third. Granted he is quick to point out that it was only a field of four that year.
In 2018, the track will hold the tenth running of a race that started out as a tribute to a lost friend but now holds its own on Rillito's annual stakes calendar.
"Next year, the track, in conjunction with the racetrack program and the alumni, are going to try and do some kind of alumni day associated with the tenth running," said Scheidt. "It still generates a lot of buzz and enthusiasm. Pete meant so much to me, he was my best buddy out there, but he also touched so many people's lives.
"I think we have achieved our goal of not forgetting about Pete and his legacy. He was such a good guy, and everybody loved him in the racetrack program. It's important we don't forget one of our best friends."