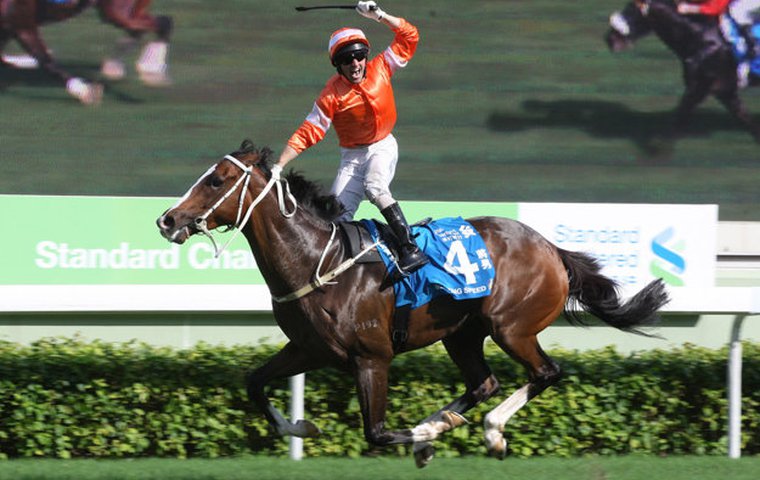 This week, our editorial content will focus on riders around the world. From profile stories to pieces addressing some of the issues riders face in the morning, the afternoon, and at the conclusion of their careers, we will take a closer look at the human athletes so central to our sport.

Neil Callan is in a good place, and that place is Hong Kong.
Well into his first full season under contract to the Hong Kong Jockey Club, the 36-year-old Irishman has been clocking up the winners at such a rate that he currently lies a clear fourth in the jockeys' championship.
Furthermore, he has been winning major races: the Standard Chartered Champions and Chater Cup on Blazing Speed last May; the G2 Longines Jockey Club Cup on the same horse in November; and the Chinese Club Challenge Cup on New Year's Day, when with a whirlwind finishing effort described locally as "the Irishman driving piston-like down the stretch," Callan and Rewarding Hero landed the spoils by a short head.
And on the domestic front, his young family – wife Trish and three boys, aged 7, 6, and 3 – love the Hong Kong lifestyle.
What's not to like?
With the Hong Kong season stretching from mid-September to early July, it was a bold move to make such a commitment when his career in Britain was still flourishing.
Having moved from Ireland to England in 1998, Callan was champion apprentice the following year, and steadily built on that early promise, not least through his association with trainer Kevin Ryan, for whom he became stable jockey while enjoying the support of other leading trainers, notably the late Michael Jarvis.
He enjoyed domestic G1 success for Ryan with the likes of Amadeus Wolf and Astaire, both of whom won the Middle Park Stakes, and Palace Episode in the Racing Post Trophy, and he won the Nunthorpe on Robin Bastiman-trained Borderlescott, and the Fillies' Mile on Clive Brittain's Hibaayeb.
Notable overseas victories included riding Pressing to land the International Topkapi Trophy in Turkey for Michael Jarvis three years in a row.
But, despite twice finishing runner-up in the jockeys' table, the title has eluded him. "You have to be realistic," he said. "You won't be champion jockey unless you have backing from someone like Richard Hannon or Sir Michael Stoute. I had a lot of people to ride for, but they did not have the strength in depth which it takes to be champion.
"But I was consistently riding over 100 winners a season, had a good base of trainers around me, and was regularly up around the top five in the table. I was pretty happy with what I was doing."
And then a fresh challenge came over the horizon: "Five or six years ago, the Hong Kong Jockey Club invited me out here for the International Jockeys' Challenge at Happy Valley [curtain-raiser to the hugely well-funded Hong Kong International Races each December] and while I was over they asked me whether I'd be interested in coming and riding here. I said that I'd love to do so at some stage, but not yet, since things were going very well in England.
"Later they asked again, and about four years ago I decided to come for the winter." That was for just three months of Hong Kong's 2010-11 season, which allowed him to maintain commitments during the turf season in Britain.
That first sortie brought five winners, and the following year he returned for the winter and rode 12, then nine more during his next stint, and 27 during a five-month stay in the 2013-14 term.
Callan had demonstrated that he could more than hold his own in the pressure-cooker of Hong Kong racing, and after a brief spell back at his Newmarket base, he and his family returned for the whole of the 2014-15 season, for which he joined 13 other retained riders on the HKJC roster.
"The Club has made has made the transition very easy, " Callan acknowledged, "what with bringing out the family, providing medical insurance and car, and accommodating us in one their apartments right by Sha Tin Racecourse.
"In return they take a share of riding fees, but since Hong Kong has the best average prize money per race in the world, it's a pretty good package."
The proximity of the Callan residence to Sha Tin is important, as the day starts very early.
"The training track opens at 4:45 a.m. and closes at 8:30, and during that period I'd probably ride out seven or eight horses – every day except Sunday. They're already tacked up and waiting for me when I get to the trotting track, so it's simply a matter of getting on, taking the horse through the tunnel to the all-weather track, then going round however many times – then back to get on the next one.
"Tuesday and Friday are trials days, a good opportunity to get to know more about the horses I'll be riding in races the following day."
Such a routine has beneficial side-effects. "My weight has never been as stable as it is out here, and the facilities available on-site – such as the swimming pool – make it easy to keep fit: I usually swim at least 20 lengths after riding out. I feel much stronger and fitter than I was.
"And I certainly don't miss all that travelling in England, where you spend four or five hours a day on the road, and where the traffic is a killer."
With just two race meetings a week – usually Sha Tin on Sundays and Happy Valley on Wednesday evenings – the travel required of a Hong Kong jockey is minimal, and for Neil Callan, there are other significant changes.
"Compared with England, this is a completely different racing culture," he said.
"Back home, you jump out of the stalls and everything falls into place, then the race picks up from half a mile out and builds and builds towards the finish.
"In Hong Kong, on both tracks it's all about speed from the gate and position through the race, and a jockey has to be so much sharper than in England.
"The first couple of times I came out after riding in Britain, it took me about a month to get used to riding here again, but being here for the whole season this time makes me a lot more focused.
"Racing in England is much more relaxed than in Hong Kong, where you have to be on the ball all the time – and, given how the local punters can react, you have to be very professional and pretty thick-skinned. What with the levels of betting here, the atmosphere is always intense and there's a lot of pressure on the jockeys, but it all depends how you handle that pressure, and I hope I'm strong-minded enough to cope with it.
"If you hit a bad patch, the main thing is to keep strong and push through it. Over here, you really have to keep your brain switched on all the time."
Callan's commitment to the complete Hong Kong season means that his sons' schooling can be regularised, and the two older boys attend the Harrow International School. According to their father, the Callan children are "as happy as Larry" with their Hong Kong life – and he shares their contentment:
"The family love the life, and so long as that continues and the Jockey Club keep inviting me, I'll keep coming – though I'm careful to maintain my contacts in the UK.
"Over here I'm getting on good horses, the money is great, the taxes are low, and we're all enjoying the experience. What could be better?"