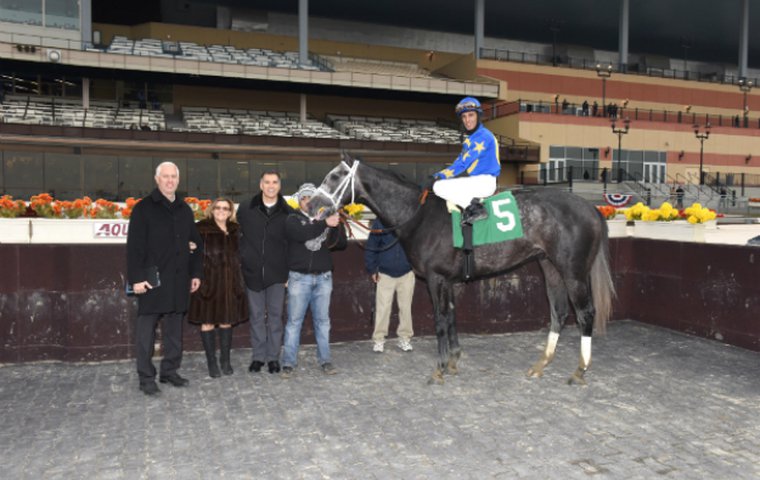 When an owner names a horse after a friend, who also happens to be someone they hold in high esteem, it can be tricky business. The owner, of course, fervently hopes the horse will properly honor the person for whom it is named.

In the case of Liam's Map, a winner of four races by a combined margin of 23 1/4 lengths, his owners, Vincent Viola and wife Teresa, did a masterful job of paying tribute to Liam Collins, one of the first American special operations soldiers to arrive in Afghanistan after Sept. 11, 2001. Collins would go on to become the executive director of the Combating Terrorism Center at West Point, which Vincent Viola, a graduate of the United States Military Academy (USMA) at West Point, funded. When Collins later moved from his position at the CTC to become a professor at the USMA, he was honored at the Army's traditional Hail and Farewell ceremony. It was there that Collins presented Viola with a very special gift.
"You usually present a memento to the departing officer or soldier, so after Liam received his memento, and gave thanks for his service, he paused the ceremony, and he presented me with the silk survival map he carried when he went into Afghanistan," Viola said. "I was so moved. I had just purchased this beautiful Unbridled's Song yearling, so I told Liam I was going to name him Liam's Map." Viola said the 4-year-old colt has proven to be very worthy of carrying Collins' name. "Liam's Map has the heart of a soldier, and the fortitude of a hero," Viola remarked.
Liam's Map, who the Violas purchased for $800,000 at the 2012 Keeneland September yearling sale, has had a near flawless campaign, winning four of five starts. A striking looking, powerfully built gray colt, Liam's Map is trained by Todd Pletcher, and races in the silks of Teresa Viola Racing Stables.
The Violas share a mutual love of racing. Vincent, who grew up in Brooklyn, New York, attended the races at Aqueduct and Belmont Park nearly every weekend with his father, a truck driver, who, his son said, "handicapped every day of his life." Teresa's grandfather also was an avid handicapper, and was responsible for her introduction to the sport.Vincent Viola, a former chairman of the New York Mercantile Exchange, is a Wall Street businessman. The 59-year-old also owns the National Hockey League's Florida Panthers. His Thoroughbred holdings are substantial, with about 70 horses, a number that also includes breeding stock.
Given his extensive background in finance, it's not surprising that Viola manages his racing interests as a business. "What any financial professional needs to master, and conquer, quite frankly, is risk management. And owning a Thoroughbred stable is all about managing risks," Viola commented. "Managing risks around proper husbandry of the horse, managing risks around proper expenditure and value, and what you think the horse can and cannot do. You have to have a great disciplined strategy, which, quite frankly, if you don't stick to, you won't stick around too long. It really requires a disciplined model that is based on a very objective definition of risk that has to be objectively managed against an amount of capital, and the reward that you seek." But, make no mistake, Viola's heart is also fully invested in his horses, "These animals give so much to us. They give us so much more than we give them," Viola said. "As a young kid, I would look at these magnificent athletes, and realized they had an unique intelligence. I was, and am, fascinated by the breed. For my money, it's the most exciting sport in the world."
Viola first became an owner in the late 1990s, when his father became ill with congestive heart disease, and he wished to provide his dad with something positive to focus on. He later took a sabbatical from racing to concentrate on his then involvement in the ownership group behind the National Basketball Association's New Jersey Nets.
A fews years ago, the Violas re-entered racing and became equal partners on several horses with West Point Thoroughbreds, whose managing partner, Terry Finley, is also an alumni of West Point. Racing under the nom-de-course St. Elias Stables, the Violas campaigned graded winners Ring Weekend and Freedom Child with West Point Thoroughbreds.
Teresa said having Liam's Map compete in the Whitney, Saratoga's signature race for older male horses, has provided her with an "overwhelming" feeling of gratitude. "For us, this is just the best part of this whole meet," she said with a broad smile.
Collins has yet to see his namesake compete in person, but Vincent Viola said it is his wish for that to happen someday.
"I've not wanted Liam to come to his races because I don't want him to be disappointed if the horse loses," Viola said. "But Liam's Map keeps winning, so I promised myself if we're lucky enough to win a graded stakes with him, the next race, no matter what it is, I will make sure Colonel Collins is here to see him."