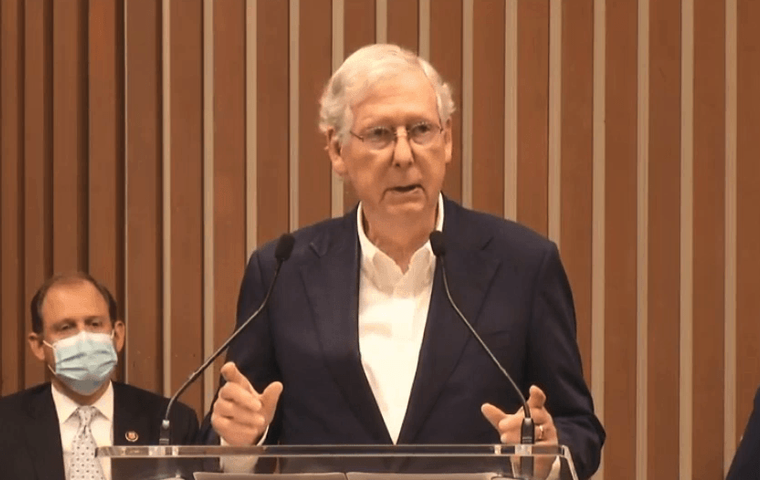 U.S. Senate Majority Leader Mitch McConnell held a press conference at Keeneland on August 31 with a number of industry leaders to announce his plans to introduce legislation in the U.S. Senate to help set national standards to promote fairness, increase safety and help preserve Thoroughbred racing.

The Horseracing Integrity and Safety Act, which will be introduced in September, has the potential to be the most important legislative achievement for racing since the Interstate Horseracing Act of 1978, which was passed to regulate interstate wagering and pave the way for simulcasting and account wagering across state lines.
However, we need to go back a decade to understand the background and significance of this proposed legislation.
At the Jockey Club Roundtable in 2011, executives from McKinsey and Company presented some bleak statistics on Thoroughbred racing. Total wagering on Thoroughbred racing in the U.S. had declined 37 percent, attendance at the racetracks had declined 30 percent, and starts per horse and the number of racing days had declined 14 percent.
Not up to the task
In 2008, the racing industry finally banned the use of anabolic steroids in the wake of Big Brown's failure in the Triple Crown, and it was becoming increasingly clear that the 30-plus individual state regulatory agencies were not up to the task of keeping cheaters out of the sport and providing a level playing field for all racing participants.
The states simply did not have the money, the sophistication in testing and the desire to catch cheaters.
On July 15, 2015, Congressman Paul Tonko (D-NY) and Congressman Andy Barr (R-KY) introduced the Thoroughbred Horseracing Integrity Act of 2015. The Act called for the establishment of a Thoroughbred Horseracing Anti-Doping Authority, which was to be set up as an independent organization and would retain the United States Anti-Doping Agency (USADA) for its enforcement and administrative work.
The bill directed the authority to establish: 1) a list of anti-doping rule violations; 2) standards of accreditation for laboratories in sample testing; 3) rules for anti-doping results management and the disciplinary process for anti-doping rule violations; 4) uniform rules imposing sanctions for anti-doping rule violations.
There was some significant support for the bill from organizations such as the Water Hay Oats Alliance (WHOA), some industry organizations and prominent owners and breeders. However, the major horsemen's organizations and the Association of Racing Commissioners (ARCI) vowed to fight the legislation aggressively. The positions on both sides became more entrenched when the Horseracing Integrity Act of 2017 added a 'no Lasix' stipulation to the legislation.
However, there continued to be safety concerns throughout the industry. In 2008, the Jockey Club created its Thoroughbred Safety Committee "to review every facet of equine health and to recommend actions the industry can take to improve the health and safety of Thoroughbreds".
Since 2008, that committee has promulgated 37 new policies, involving drug testing and laboratory standards, pre-race inspections, a rider accident database, the Equine Injury Database, the use of the riding crop, discontinuance of the use of bisphosphonates and many other excellent initiatives.
While the Horseracing Integrity Act was gaining incremental support throughout the industry, a major challenge arose when 30 horses died between December 26, 2018, and June 2019 at Santa Anita Park. While some tracks had similar breakdown rates in prior years, the prominence in social media on horse racing, the increasing power of animal rights activists and the national reach of mainstream media became a threatening issue for racetracks across the U.S.
In addition to breakdowns, the subject of excessive whipping of a racehorse also demanded modified practices, which were partially put in place across the country.
Startling announcement
During this time, various segments became more vocal about eliminating Lasix as it was increasingly viewed as a performance-enhancing drug. This was exacerbated by the fact that around five percent of the racehorse population were real bleeders and over 90 percent of the horses in most Thoroughbred races ran on Lasix.
In the ongoing Lasix debate, up until this point the racetracks had stayed on the sidelines and generally did not argue a pro or con position. However, on April 19, 2019, right in the middle of the uproar about breakdowns at Santa Anita, a coalition of major tracks representing 86 percent of all of the Graded/listed stakes in the U.S. made a startling announcement. Starting in spring 2020, these tracks would not allow Lasix use in 2-year-old races, and in 2021 they also ban Lasix use in all Graded/listed stakes.
The tracks included all those owned or operated by Churchill Downs Incorporated, the New York Racing Association and the Stronach Group as well as Del Mar, Keeneland, Remington Park, Los Alamitos, Oaklawn Park and Tampa Bay Downs.
At the time, I was very interested to read the following quote from Bill Carstanjen, CEO of Churchill Downs: "Over the past several years, we have met with numerous stakeholders to drive action on many of our sport's central issues. This is a significant and meaningful step to further harmonize American racing with international standards. We will continue to work with other stakeholders, including our horsemen and regulatory agencies, to fully implement this and important other reforms."
While I had not spoken to Carstanjen on this topic, I believed as did many others, that Churchill Downs was not supportive of the Horseracing Integrity Act at that time and certainly never would have believed that Senator McConnell (R-Ky) would be sponsoring an enhanced new legislation in the U.S. Senate.
Important safety initiative
Then, last November, once again the racing organizations took the lead on an important safety initiative when Keeneland, Churchill Downs, the Breeders' Cup, Del Mar, NYRA and the Stronach Group announced the formation of the Thoroughbred Safety Coalition. Their priorities are: 1) ensure the well-being of the horses and jockeys; 2) increase accountability; 3)promote a culture of safety in the sport.
The future of the Horse Racing Integrity Act achieved a significant milestone in December 2019 when a bi-partisan majority of the House of Representatives signed on as co-sponsors of the bill. Congressmen Tonko and Barr have served our industry very well and the legislation was well positioned as we entered 2020.
Perhaps, the industry reached a tipping point on cleaning up the 'cheaters' when indictments were served by the Southern District of the New York U.S. Attorney's office and agents from the FBI on Monday, March 9. They were serving arrest warrants on well-known Thoroughbred trainers Jorge Navarro, Jason Servis and 26 other people relating to Thoroughbred and Standardbred racing. Click here for more on this.
These two Thoroughbred trainers had been racing at major racetracks in multiple jurisdictions up and down the East Coast for many years. In 2019 alone, they had purse earnings of almost $18 millon. The indictments for all of these individuals allegedly tied them to a concerted effort to regularly use performance-enhancing drugs.
The current state regulatory bodies and the labs they work were dramatically failing racing. The industry must have much stronger investigative abilities, stronger legislation and more serious penalties for violations. Without significant progress in catching the cheaters, the industry will fail.
The Horseracing Integrity Act of 2019 has been gaining real momentum. A similar bill in the Senate sponsored by Kirsten Gillebrand (D-NY) and Martha McSally (R-AZ) was moving in the Senate, but with only 20 sponsors.
That has all now changed after McConnell announced his plans to introduce legislation in the Senate to help set national standards to promote fairness and increase safety, and help preserve Thoroughbred racing. This was the launch of the Horseracing Integrity and Safety Authority, which will be an independent, non-governmental regulatory body responsible for improving current regulations, bringing a new level of transparency. This new Horseracing Integrity and Safety Act will provide federal recognition and enforcement power for a new Horseracing Integrity and Safety Authority to develop uniform, baseline standards for racing.
Here are select informed comments from industry leaders at the press event:
Drew Fleming, President and CEO of Breeders' Cup: "This legislation gives us an opportunity to make the single most significant and far-reaching safety and integrity enhancements in the history of Thoroughbred racing."
Bill Lear Jr, vice chair of the Jockey Club, detailed how a 'blue-ribbon panel' would choose an 'independent board' that would govern the authority. The independent board will primarily comprise people outside the industry, and it will be supporting two substantive standing committees - one for medication and anti-doping, and another for track safety. A third panel would evolve over time into a permanent nominating committee.
Bill Carstanjen, Chief Executive of Churchill Downs Incorporated: "The crux of the bill is this new entity, the authority, will have jurisdiction over the design, implementation and enforcement of anti-doping and medication controls as well as racetrack safety protocols."
Alan Foreman, Chairman Thoroughbred Horsemen's Associations: "It has been our widely expressed view that the original Horseracing Integrity Act as proposed should encompass mandatory equine safety and welfare standards for all racetracks and horsemen, and the creation of an investigative and enforcement arm of the industry … it appears that in his Horseracing Integrity and Safety Act, Senator McConnell has substantially incorporated our views. We intend to continue to be a constructive participant since the legislation, if enacted, will require substantial industry support and assistance." This is very good news.
The subtleties of testing
Since Senator McConnell's announcement, Dennis Drazin, Darby Development CEO and Monmouth Park Operator, has issued an enlightened statement that appeared in the TDN Headline News of September 5. Drazin has been very close to the original House of Representatives legislation from the outset and was asked to testify at a hearing on the legislation on January 28,2020.
At that time, he had opposed the passage of the bill for many reasons, but most importantly because he felt that it did not go far enough since it addressed the medication issue and did not address racetrack safety and integrity concerns outside the medication issue.
While in Washington, Drazin took the opportunity to meet Travis Tygart, CEO of USADA, and learned a great deal of the subtleties of testing. He closed the article with this statement.
"I will continue to work on behalf of Monmouth Park and the horsemen I represent to advocate for the passage of this historic legislation designed to enhance the future of our industry for generations to come." This is also very good news.
Immense improvements
I have followed the progress of the Horseracing Integrity Act since its launch in July 2015 and have been a very keen supporter. However, there are two elements in this new Senate bill that improve it immensely.
First, the addition to the legislation of a parallel initiative regarding a racetrack safety program to develop, implement and enforce standards for safety and performance accreditation for racetracks is brilliant. The Jockey Club Safety Committee, the Jockey Club-Grayson Foundation studies, the Equine Injury Database and the NTRA Safety and Integrity Alliance can contribute to the improvement of many industry racetrack safety initiatives. This could be a great collaborative effort.
Second, I believe that setting up the Horseracing Safety and Integrity Authority, under the Federal Trade Commission (FTC), gives this new entity independent power and potentially access to resources that no individual state racing board could ever achieve.
The FTC currently has enforcement or administrative responsibility for more than 70 laws. Also, while I am not a lawyer, it would appear that the new authority can agree to work with any state racing board but is not compelled to do so. It should be a partner in solving problems instead of creating or ignoring problems as the states often did.
There are very substantive, important issues still to be worked out, such as the organizational structure and the financing.
USADA a huge asset
Regarding organizational structure, I believe USADA will be a huge asset on all aspects of medication testing and enforcement. It has been very active in U.S. Olympics and internationally in track and field, cycling and swimming.
USADA may not have worked in racing, but it has closely followed and exposed Lance Armstrong in cycling and Alberto Salazar in track and field. Not surprisingly, many of the same performance-enhancing drugs used in horseracing can be found across the broad range of sports.
As for finances, I shake my head every time I think about that amount of money that was spent on drug testing in the eight years I worked at NYRA with nothing to show for it.
Finally, I am cautiously optimistic that, for many reasons, people in the industry are currently more willing to work together towards a mutually rewarding outcome than ever before. The battles that we have all endured over Lasix were very destructive for many aspects of the industry.
I spent 15 years on one side of the argument and now ten on the other, and little progress was made. We must make the Horse Racing Safety and Integrity Authority work. It may well be the last chance we get.