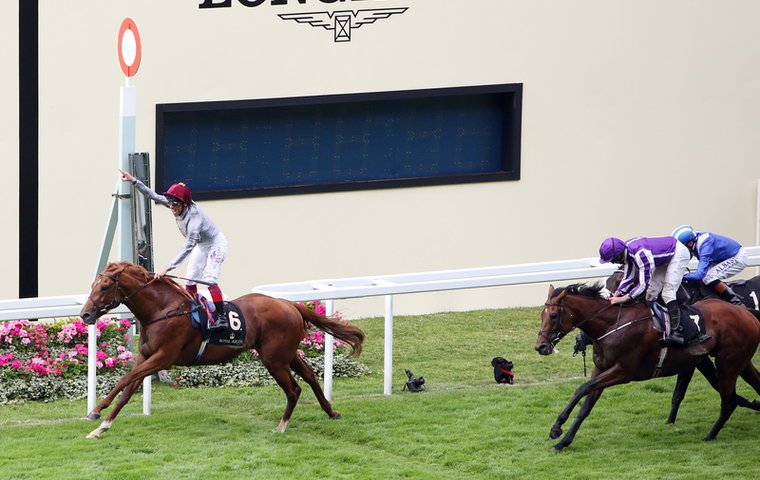 It's been a great Royal Ascot so far this week for the shooting star among British trainers - the 35-year-old Hugo Palmer, who sent out Galileo Gold to win the battle of the three Guineas winners in the St James's Palace Stakes on Tuesday, Palmer's fourth Group 1 win in the last 12 months in just his fourth full season with a licence.

But, as all trainers will say, a yard's results are really a reflection of the strength of the team behind them, and a key member of Palmer's team is assistant Miguel Clement, son of none other than leading U.S.-based trainer Christophe Clement. James Crispe caught up with Clement junior in Newmarket.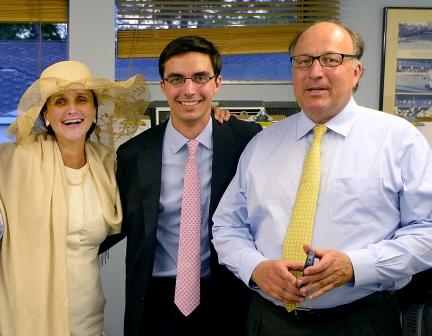 Should racing stage its own version of the fashion industry's 'America's Next Top Model' reality television show in an attempt to identify future training talent, Miguel Clement would be banned from competing in order to give other contestants a chance.
To say that 25-year-old Clement has an unfair advantage - as son of the Belmont Stakes-winning handler, Christophe – is, of course, correct. But, you only have to meet Clement junior, who is currently based in Newmarket, to be struck by the passion, intelligence and inquisitiveness of someone who is destined to become a major player in America's training fraternity.
Family history has an important role in anyone's personal development, and Clement's background is steeped in racing. His eponymous grandfather was a Derby-winning trainer in France before his life was cut short by a car accident, while his uncle, Nicolas, numbers France's top race, the Prix de l'Arc de Triomphe, among the over 800 contests he has landed in a near 30-year training career.
But his most formative influence has been his father, a leading U.S. East Coast trainer for a quarter of a century, renowned for his meticulous preparation of the likes of Gio Ponti and Tonalist.
"I never once was tempted by a career outside racing and I have always wanted to train," Clement admits. "Although I went to university to get an economics degree, that's just in case anything happens to racing in the States. It's a great backup."
Tradition for adventure
Clement need not have left the security of his father's barn for a successful career surrounded by top-class horses to have been virtually guaranteed.
But that would have gone against his family's tradition for adventure – Christophe criss-crossed the Atlantic to learn under Shug McGaughey (in America) and Luca Cumani (in Britain) before leaving Europe for good at the age of 25, while Nicolas was schooled by two of the all-time greats, Vincent O'Brien and Francois Boutin, before going it alone.
Miguel has taken this a few steps further by gaining experience on four continents rather than just two, greatly assisted by gaining a place on the Darley Flying Start programme, a full-time two-year international leadership and management training scheme sponsored by Sheikh Mohammed. Clement reflects on his time with the Darley Flying Start in the most glowing terms.
"You learn about every stage of the racehorse, including as a foal and a yearling – if I had stayed with my father I would only have seen the final stage, when they are in training," he reports. "I have recommended the Darley Flying Start to all my friends. I couldn't speak highly enough of it."
Different training methods in Newmarket
Surprisingly, when asked for his favourite part of the programme, he selects a spell spent at a farriery school. "We were there for two whole weeks, only focussing on a horse's feet," he explains. "It was eye-opening."
Typically, however, Clement has not rested on his laurels since graduating from the scheme last summer. Building on the relationship he developed with trainer Mike de Kock during a Flying Start placement with his satellite yard in Dubai, he spent two months at de Kock's base in Johannesburg, South Africa.
This added to his Australian experience with Chris Waller on another Flying Start placement and he then came back to Newmarket, 'headquarters' of British racing and, coincidentally, the town where his parents were living when he was born, just a couple of months before they emigrated to America.
"The main reason why I wanted to spend some time in Newmarket was that training methods are so completely different here compared with the States and I can learn so much," he says. "But I wanted to branch out a little and work for someone who was completely outside my father's circle of friends, hence I approached Hugo Palmer."
Clement has been acting as Palmer's assistant since November and, despite finding the winter weather rather different from what he was used to in Florida (seven layers of clothing topped by a woolly hat were sometimes employed), he quickly settled in.
A workaholic - just like Dad!
Placed in charge of a pair of barns housing 32 two-year-olds, he is on parade at 4.45am every morning in order to get their feed ready.
Clement is a big sports fan and on his travels has even developed an interest in cricket and rugby. His love of Arsenal Football Club in England dates back a fair bit further – but his profession always comes first, meaning he doesn't get much chance to see Arsenal play live.
"I hate not being with the horses" he confesses. "I think that I'm a workaholic, a bit like my father."
Remarkably, given their 3,500 miles of separation, new technology allows Clement to keep an incredibly close eye on his father's training operation. Not so much as a single race, a single entry or even a single workout is missed (young Clement extols the virtues of digital recording binoculars to allow him to snoop on trackwork using the internet) and, even from afar, Miguel is able to help with his father's website and social media interaction.
"All my father's emails come to my phone and we speak twice a day – my mother is constantly reminding us about our astronomical phone bills," he admits.
"I am aware that, whatever I've seen in a horse for the first time, my father's probably experienced it a long time before me, and we talk about these things constantly."
'Sound horses don't need medication'
Clement's opinions about the two biggest issues in American racing, medication and artificial surfaces, are both fervent and well-reasoned.
"My father and I advocate less is always better with regards to medication," he says "There is a perception issue in the States that all horses bleed, which is not true.
"And sound horses don't need medication. When we were preparing Tonalist and Gio Ponti for big races, we published their medication records on the internet.
"My father has trained all this time and never had a positive [dope test]. But you have to be very disciplined, stay on top of it and be hands-on if you don't want to make a mistake with medication because the rules in New York are a lot stricter than lots of other jurisdictions around the world."
He added: "Another big misconception is that dirt is not safe. It's perfectly safe, it's a great track, as long as it's fast and not sloppy.
Golden rule
"We have a golden rule that we don't train horses on the slop, which means that intended work mornings can be very frustrating.
"Artificial tracks have many benefits, especially when it rains, and ideally you should be able to use both, a dirt track in the dry and artificial in the wet, but it's a question of finance and the cost of installing them alongside one another."
So, when might we see Miguel's name on a training licence? The answer, somewhat surprisingly, is 'no time soon'.
"My dad and I are exceptionally close and work very well together," Clement explains. "I'm incredibly fortunate that Hugo has been kind enough to give me the opportunity to work full-time away from home for a while and maybe, after a couple of years, I'll head back to my father.
"My dad's still very young, he's only just turned 50, and there have been a lot of very successful father and son partnerships in the past."