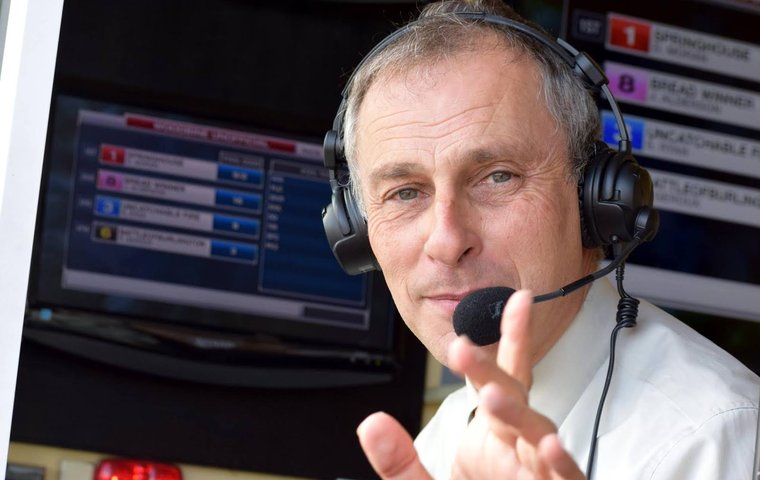 The field for the $500,000 Woodbine Oaks swarmed into the stretch and the pressure was on. 66-1 shot Academic led by open lengths, and it was only Robert Geller's second day as Woodbine's new announcer, replacing a man who had been their voice for 27 years. As he watched the drama unfolding, fingers gripping binoculars to his eyes, Geller exclaimed in his lilting cadence, "But Academic might be stealing this one! Academic's gone five in front!"

That became the first of Geller's many memorable Woodbine calls, amassed in less than two seasons on the job. The globetrotting announcer, who gave up a steady career to pursue his dream, now fits right in with the atmosphere of the course, providing keen race coverage while daily conquering one of his greatest fears: heights.
Born in Birmingham, England, Geller moved with his family to Melbourne, Australia, when he was just three. "We went to the racetrack every single weekend together," he recalled. "My parents loved racing, and my two sisters and I tagged along. I was really into it, to the point where I created mock racetracks in my bedroom. I would turn my floor into a racetrack. I think I spent all my childhood doing that."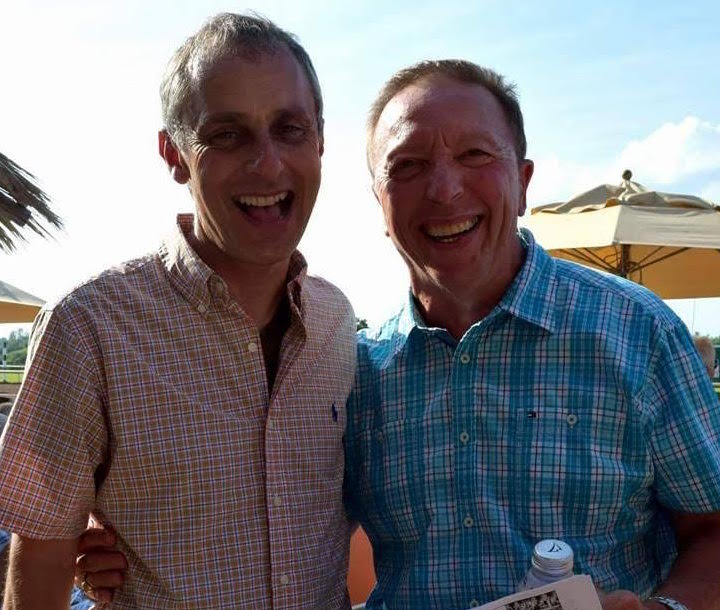 Geller graduated the Lincoln Institute of Health Sciences as a qualified speech pathologist, but while holding a hospital position he began to practice race calling on the side. "I had a good profession," he said, "but I realized I really loved calling and that's what I wanted to do."
Geller spent several years working on Australia's country circuit, which requires immense travel on the weekends. "It's a very slow process," he explained. "I had to start with harness trials three hours away, and maybe once a year I would get a call for a racetrack with Thoroughbreds. I did that for years, and it's good experience because you start to call all these different circuits and travel around. The country circuit was a big part of my life."
Move to Hong Kong
Geller even called greyhound racing in pursuit of stable work, but it wasn't in Australia that he finally found it. Geller was offered the job as the English-speaking race caller with the Royal Hong Kong Jockey Club, an esteemed position that meant another intercontinental move. "I had given up by that point," he recalled. "There are so few jobs and people stay forever. But then I got the chance to go to Hong Kong, and felt I'd really worked so hard towards it."
Geller called at Sha Tin and Happy Valley for over six years, but a little track being built in Seattle drew his attention. "I had heard this new track was coming up, and it was key to me that I would be their only voice, a fresh voice," he said. "Not only did I really like Seattle, but I wanted to be at a small track, because while there's financial gain and status at the big tracks, I felt on a personal level that I wanted a different type of journey."
Robert Geller became the voice of Seattle's Emerald Downs in 1996, and stayed until June, 2015. Although beloved at Emerald Downs, Geller felt it was time again to make another move, this time back to a bigger track. "There's no difference between the big and small tracks for me," he said. "You just do your craft wherever you go."
But the transition to Woodbine outside Toronto, Canada, would not be seamless.
Just as new Emerald Downs announcer Matt Dinerman was stepping in to fill a gaping void left by the popular Geller, the man himself would be replacing the cherished Dan Loiselle, a Woodbine staple.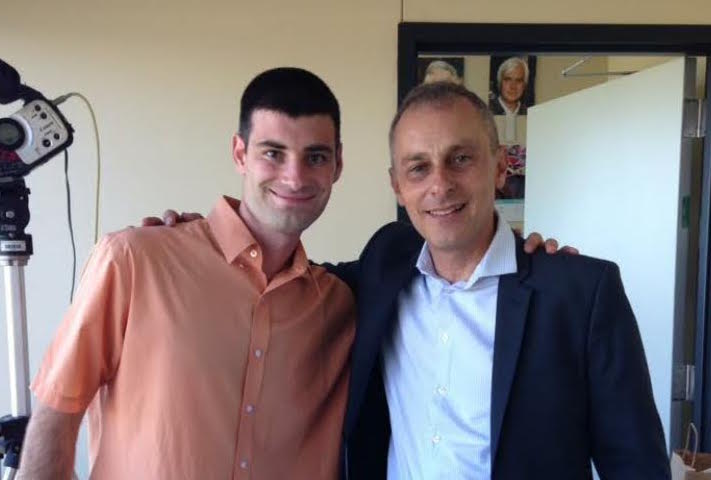 Jim Lawson, Woodbine Entertainment Group's CEO, said, "Dan was the legendary voice of Canadian horse racing for 27 years, so we understood getting acclimated to a new announcer would take time for our fans."
Geller said, "It's a testament to Woodbine how much they did love their announcer. I knew deep down that this was the right job for me, and Dan Loiselle was really the type of person who was the best for me to have a transition with. He's very humble, and while people do love him, I was having the exact same thing mirrored to me when I was leaving Emerald and Matt was stepping in. I'm always nervous at the beginning of any transition, I have a lot of anxiety and not a lot of confidence, so I have to feel my own way."
Another issue was the view of Woodbine's sprawling turf track, which sits outside the inner main track and wraps around so widely that the only way to fully see the top of the stretch was to lean out the announcer's booth window. For Geller, who is still terrified of heights after decades of race calling, this change was an impossible task.
"Dan would just hold his binoculars and hang out the window. I was so nervous that I stood back and compromised my calls by not looking far enough out," Geller admitted. "Eventually I got a box to stand on that helped me see around the obstruction. Your work gets compromised if you are worrying about falling out the window or dropping your binoculars on someone's head."
Woodbine assuaged some of Geller's fears by raising the floor inside the booth during the last off-season, making it so that he is now high enough to see above the obstruction. "After a certain age, your fears are wired into you and it's hard to pretend they are not," Geller said. He claims to be both a relaxed person on one level but a very nervous person on another. "I've always had phobias of things," he said, "like blood tests and water. I'm a very good swimmer, but I'm a land person, really."
Dynamic and diverse city
Geller has settled into his new role and embraced yet another major life change, even though the acclimation to Toronto took some time. "Toronto is just like me when I start a new job," Geller said. "We're not an instant 'wow'. It's a very condensed city full of concrete apartments, and I was leaving such a beautiful, green place in Seattle, but it really grows on you. I love the dynamic aspect and the diverse city. The Canadian mentality is a bit like that of Australia, so that's nice."
Lawson said, "Robert has been wonderful, bringing a distinctive international flair to our race calls while being embraced by the horseplayers, who value his sharp, professional race commentary."
Geller's calls were never sharper than when 15-1 shot Sir Dudley Digges upset the 2016 Queen's Plate.
"Two days before the race I just really felt like he was going to win," Geller said. "I gave him out as my longshot on the horseplayer's show. I had my eye on him during the race, and ended up really liking my call." Geller proclaimed that the eventual winner was "running home well" while only fourth at the top of the stretch, and the son of Gio Ponti subsequently won by a half-length.
Hidden gem
Geller also calls at Sunland Park in New Mexico, wintering in the warmer climate and sunshine that he started to miss while in Seattle. "It's a hidden gem," he said of Sunland. "It's gray in Seattle and cold here in Toronto, but working there was the biggest surprise of my professional career. I am not a fit with the cowboys in that world but somehow it all works. I was there for the birth of the Sunland Derby and I get to call such nice fillies for the Sunland Oaks. It's a nice relationship."
Those that watch Woodbine have now adapted to Geller's style, which is somehow both laid back but also shrewd. "I don't like to overdo a big race," he said. "A horse has to take me to that point, such as when Lexie Lou looked beaten and she came back to win. She took me to a, 'My God!' type reaction; I was shocked."
Fan favorite Lexie Lou, winner of the 2014 Queen's Plate, won the G2 Dance Smartly Stakes last year despite appearing beaten in midstretch.
After calling in four different countries, Geller knows that acceptance takes time. "Everyone has their own style, so you have to have a little room to adapt to a new audience. Each circuit is a little different, and the configurations and the energies are different. There were a few negative social media comments at first and I'm learning to become more thick-skinned about it because that element will always be there."
Geller's passion for race calling has never wavered. "I love calling 2-year-olds and 3-year-olds because there's no fixed form. I love finding a hidden gem. Big fields aren't tough. I actually prefer them over small fields because I don't want to overthink and call something that isn't there."
And, sometimes, he gets to call a special, historic moment.
"Tepin," he answered, when asked his favorite Woodbine memory. Popular mare Tepin won the 2016 G1 Woodbine Mile over males in her first start after winning at Royal Ascot. "They were closing on her, but in my mind she had that race well and truly won. I loved that Mark Casse ran her here for the fans. That was my favorite moment here."