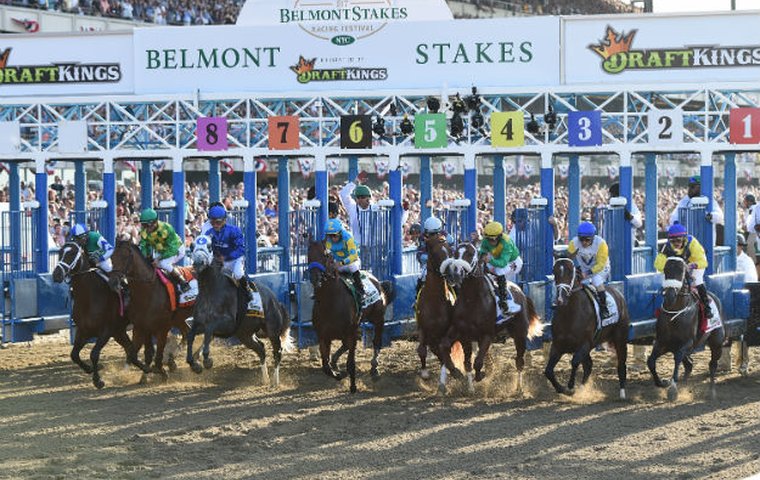 The Kentucky Derby winner Nyquist spiking a temperature since his Preakness defeat may be a blessing in disguise for his reputation. The 12 furlongs of the Belmont Stakes was surely a step too far for this speedy colt, and back-to-back defeats may have caused him to lose his lustre.

If the late-running Exaggerator were to beat him again, wouldn't history likely cast the Preakness winner as a Triple-Crown-winner-in-talent who was denied the crown by getting too far back at Churchill Downs? Exaggerator, it should be noted, is by the long-winded Curlin out of a mare by the Seattle Slew stallion Vindication.
But this will remain hypothetical with Nyquist confined to the sickbay. And, when he recovers, he can re-gather his energy and restore his reputation as champion of his generation with wins in races like the Haskell and Travers, which will put the emphasis back on speed.
It is surprising that some concluded from Nyquist's Preakness defeat that he would find the Belmont distance within his compass. It is fair enough to throw jockey Mario Gutierrez under the bus for allowing him to dispute a killing pace, but the under-fire rider rode a similar race in the Derby, staying just the right side of over-exuberance through nothing more than chance.
Incredible speed
The reason for both performances? Nyquist is a miler-in-disguise, blessed with incredible speed which needs very little catalysis. Last year, the son of Uncle Mo and a Forestry mare romped in the Best Pal Stakes (6.5f, won by 5.25 lengths) and Del Mar Futurity (7f, won by 3.75 lengths). And he didn't come off as some top-notch two-turn horse empowered by superior class; he looked the same way he does now – fast.
It is interesting to compare the boldness of Nyquist's owner Paul Reddam and trainer Doug O'Neill with a more conservative route chosen for a top horse on the other side of the Atlantic. The impressive 2000 Guineas winner Galileo Gold was ruled out of the Derby at Epsom by his connections – trainer Hugo Palmer and the impressive Al Shaqab Racing operation – following a celebrated genetic test that determined him unlikely to be suited to a mile and a half. (He has since been defeated in the Irish 2000 Guineas at the Curragh, ironically running as if extra ground would have suited.)
Nyquist's defeat in the Preakness had made his Belmont engagement entirely optional, with no Triple Crown on the line. So, why were his smart-thinking connections entertaining it? Had a European horseman faced the same decision, the same thing that troubled Palmer and Al Shaqab – stamina concerns – would have likely caused Nyquist to be ruled out of the Belmont as soon as the dust had settled at Pimlico.
That Nyquist was shipping to New York regardless was probably a function of the lack of alternative options to run for $900,000. It may also have been motivated by the incentives reportedly agreed on when the colt was sold to Darley America after his victory in last year's Breeders' Cup Juvenile.
Star-aligned moment
The terms of that arrangement are not clear, but it is my view that picking a fight with Exaggerator over a mile and a half wouldn't exactly have been my first choice, if Nyquist were joining my stallion roster at the end of his racing days.
By contrast, the decision to miss the Derby with Galileo Gold looked a good call before the Curragh, and it actually still does. Time will tell whether the son of Paco Boy is actually as brilliant a colt as he looked at Newmarket in April. Trainer Palmer had his horses well forward and the colt had one of those star-aligned moments when he got into an uninterrupted rhythm and parlayed that to a determined win. But, unlike Nyquist, he had looked a less-than-brilliant racehorse as a juvenile, and again looked short of explosive acceleration in Ireland.
The careers of so-many top horses – in fact, racehorses in general – are path-dependent. Whatever it is that trainers do to deserve associations with brilliance, one habit that successful horsemen have on both sides of the Atlantic is shrewd placement.
Palmer is doing what he feels is right with Galileo Gold, and, if he can freshen the colt up to reverse the form with Irish Guineas winner Awtaad at Royal Ascot, then it will be another feather in his cap. Incidentally, that race (the £400,000 G1 St James's Palace Stakes on June 14) looks to be a clash for the ages, with highly impressive French 2000 Guineas The Gurkha joining the fray in a clash that will likely confer on its winner a greater value as a stud animal that whoever wins the Epsom Derby (on June 4).