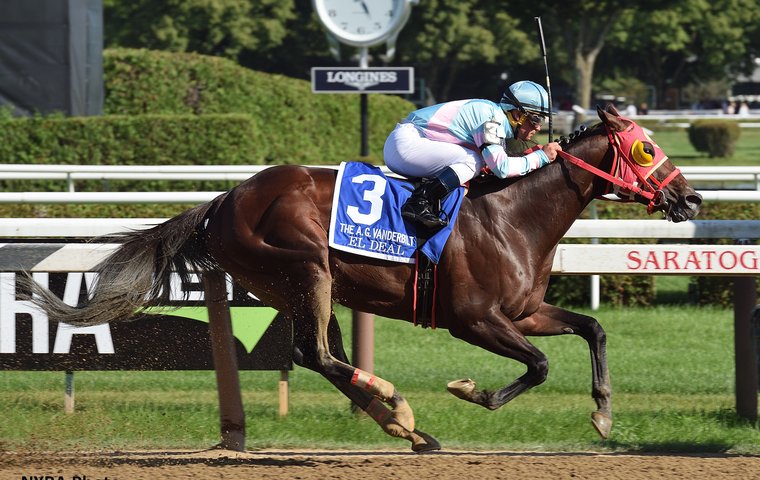 American dirt sprinters - and one in particular - have been given a particularly raw deal in the latest World's Best Racehorse Rankings, argues international handicapper Geir Stabell, founder of Globeform ratings.

He won one of the most prestigious G1 sprints in America of 2017 by a staggering eight lengths, under a hand ride, clocking the fastest six-furlong time at the entire Saratoga meet. According to my figures, that made him the fastest dirt sprinter in the country on a mark of 126. So how come he was not deemed worthy of a place in the top 250 horses of 2017 - or even the top ten dirt sprinters in the U.S. - in the recently published Longines World's Best Racehorse Rankings?
The WBRR list means he wasn't considered even worth a rating of 115 by the assessors of the IFHA (International Federation of Horseracing Authorities)?
This mystery doesn't just involve one horse, however. U.S. sprinters generally have been given a bad deal in the official ratings – and not for the first time.
Rating El Deal as 114 or lower makes little sense.
He produced a tremendous performance to win the G1 Alfred G. Vanderbilt at Saratoga (see video above). Coming off two impressive wins in lesser company on his first two starts for trainer Jorge Navarro, El Deal went straight to the lead, comfortably setting fractions of 22.5 – 45.2 – 57.0 to complete the six-furlong trip in 1.09.26. Yes, the track was riding fast and that clearly suited him, but El Deal kicked right away at the top of the lane to win by eight lengths with his rider, Javier Castellano, just waving his whip a little to keep him focused. He absolutely crushed his rivals.
So how good were they? Or, if you like, how bad were they?
Awesome Banner finished second. His two preceding runs: third to Whitmore in the G3 Maryland Sprint (where multiple G1 winner A.P. Indian ran second) and second to Breeders' Cup runner-up Imperial Hint in the G3 Smile Sprint. Third home in the Vanderbilt, Limousine Liberal, was on a roll, having won the G2 Churchill Downs, the G3 Aristides and the Kelly's Landing on his most recent outings.
The Vanderbilt lost the likely favorite when A.P. Indian was scratched on the day – but El Deal beat a solid field and he returned a Globeform mark 126 in the process, making him my highest-rated dirt sprinter last year.
Even after listening to arguments saying the result was assisted by circumstances, I see no reason to doubt this rating.
Okay, the two other dirt sprints on the day were also won gate to wire, indicating that there was a speed bias, but Good Samaritan won the Jim Dandy from a long, long way off the pace on the same card. It's hard to believe he could have done that if there was such a strong speed bias. Also, it's well worth bearing in mind that Awesome Banner and Limousine Liberal are speed runners too and should have been just as well suited by a fast track. Other than the fact that they came up against a rival who quickly took them right out of their comfort zones, they had no excuses.
The winning time backs a high-class rating. El Deal won in 1.09.26. That's 1.26 sec. slower than Speightstown's track record, set in the 2004 Vanderbilt, but note that El Deal's winning time was a clear cut faster than any other winner over the distance at Saratoga last year. That's saying something. Six panels isn't exactly a rarely used distance at the Spa.
How did I arrive at 126 for this win? Working on three pounds equalling one length, El Deal's performance was 24 pounds better than Awesome Banner's. The latter is not top class, but he is no slouch either and he had returned a Globeform (GF) of 116 when runner-up to Whitmore at Pimlico, a rating Awesome Banner also produced back in 2016.
The placed horses ran below par, no doubt about that, but giving Awesome Banner 101 and Limousine Liberal 105 (he was spotting the two in front four pounds), both significantly below their best, the winner's rating becomes 126.
El Deal's win in the Vandebilt was not a surprise. He had outclassed the subsequent allowance winner Ostrolenka when winning the Decathlon at Monmouth Park and he had earned Beyer figures of 101 and 102 in his two first wins for Navarro. El Deal was given a Beyer of 112 for his win at Saratoga. This is the division where Beyer figures really mean something, and 112 is very high - on a par with Gun Runner's G1 Whitney win and one point better than Roy H's in the Breeders' Cup Sprint.
El Deal was given a two-month break after the Vanderbilt, and his next start came in the G1 Vosburgh Stakes at Belmont Park in September. Once more tackling six furlongs, he went off favorite and was sent to the front again. Takaful, the only 3-year-old in the mix, got the better of him. Edging past after tracking El Deal from the outset, he beat him by a length. Stallwalkin' Dude – as good a benchmark as you could wish for in this division – was half a length further adrift in third. El Deal did not run to 126 on this occasion, but he hardly ran to below 115 either.
The WBRR panel have given Takaful 115 for his win at Belmont, but it's hard to believe he was merely a 115 horse. He was badly beaten at the Breeders' Cup, where he was given a terrible ride, but his Vosburgh win was solid, earning him GF 124. Beyer gave him 107, the same figure handed out for Drefong's easy win in the G1 Forego at Saratoga.
Just ten American dirt sprinters are included in the WBRR list of the world's top 250 horses for 2017:
Roy H - 122
Drefong - 121
Mind Your Biscuits - 120
American Gal - 115
Paulassilverlining - 115
Practical Joke - 115
Ransom The Moon - 115
Takaful - 115
Unique Bella - 115
Whitmore - 115

El Deal has been retired. The son of Munnings out of Spirit Of Wailea (by Out Of Place) is standing at Red River Farms in Louisiana.
Omitting him is the biggest mistake I have seen in the WBRR list, going back to the days of its original predecessor, the International Classifications, nearly half a century ago.
But this is not the first time U.S. sprinters have been given mysteriously low ratings by the official assessors.
At the end of 2016, Mind Your Biscuits beat Sharp Azteca and Mor Spirit in the G1 Malibu Stakes, yet his official rating was just 115. With this moderate figure next to his name, Mind Your Biscuits went for the G1 Dubai Golden Shaheen on World Cup day last March, a race he won as he pleased. His official rating for 2017 was 120.
Twelve months earlier, X Y Jet – like El Deal trained by Navarro – was in danger of not getting into the Golden Shaheen since he had not won a G1 and his official rating was no higher than 112. He had just won the Sunshine Millions Sprint and G3 Gulfstream Park Sprint, producing 126 and 122 on my ratings. At Meydan, he lost by just a neck to Muarrab (who set a new track record), despite sustaining an injury in the race.